Garnier's latest campaign takes experiential marketing into the digital realm of social media by turning a street campaign into a viral video.
The brand's celebrity spokeswomen Kandy Wong and Jeannie Chan dressed up as schoolgirls and competed against each other to see which essence was the most moisturizing and the least sticky by applying the products onto the hands of passers-by on the street.
The moisture of the skin after applying was measured with a tool after applying one of three essences – labelled A, B and C – whereas the stickiness was measured by asking people to sink their hands in bowls of polystyrene balls and see how many stuck to their hands.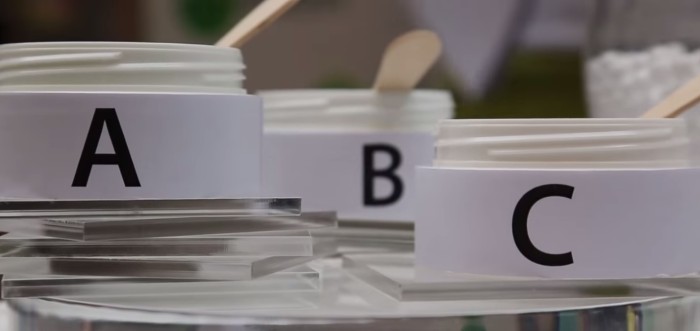 How many polystyrene balls are stuck on the hand after applying the cream determines its stickiness.
The experiential marketing campaign was filmed and the video was posted on YouTube as content and as an ad.  It was also shared on the brand's Facebook page.
"Instead of presenting the product messages in a boring way, we added dramatic elements to the video to make it more enjoyable for the audience," Venus Mo, L'Oreal marketing manager who oversees Garnier, said.
Around 100 passers-by and 14 bloggers took part in the experiment.
Two rounds of testing later, the brand and product name of A, the winner, is revealed to be a Garnier product.  The video ends with behind-the-scenes footage.
Mo says the concept behind the campaign is the customer's desire to keep trying new skincare products to see if they are right for them.
"This type of experimental marketing helps recruit new consumers as well as build loyalty among existing ones," she said.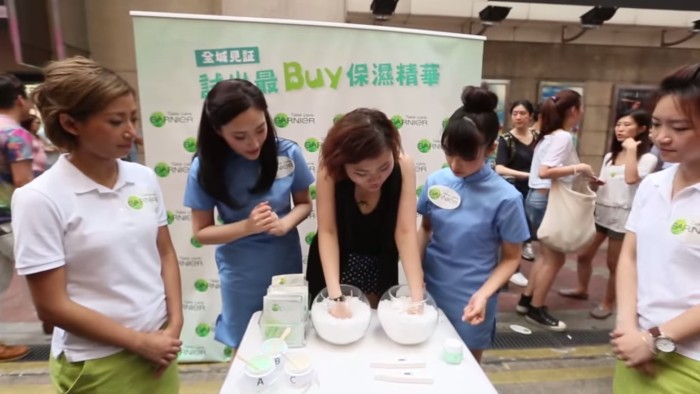 Mo added that doing the competition on the street helped the brand gain extra exposure in mainstream media.
Also part of the campaign is a Facebook contest asking people to answer a question based on the video and the first ten people to get the right answer win a prize.
"Although there were only 10 prizes on offer and the contest emphasises speed, it is more of a catalyst to boost the social media excitement surrounding the campaign so that the video can go viral more easily," Mo said.
Wong and Chan were chosen as the hosts of the street campaign because their image fits into the young, energetic and healthy brand image that Garnier hopes to promote.  Chan also starred in the TV drama M Club.
"Their fans are our target consumers, so they are also key influencers for conveying our campaign messages," Mo said.
Video credits:
Executive Creative Director: Mark Birman
Creative Director: Daisy Lau
Senior Art Director: Barry Ho
Business Director: Avila Law
Account Manager: Sandy Ng and Maggie Lau
Media agency: Carat