Gap has apologised for selling a shirt with an incorrect map of China after photos of the shirt found in an outlet store in Canada made the rounds online. The fashion retailer has also pulled the product off its shelves in China and destroyed the shirts, a statement on its Weibo read. It also added that it would implement more rigorous reviews to ensure the same thing would not happen again.
The move followed after a netizen had posted pictures of the shirt on Chinese social media platform Weibo, which saw Chinese territories such as south Tibet, Taiwan and the South China Sea being omitted from the map. The netizen also added that the photo was taken at an outlet store in Canada, Reuters reported.
In its Weibo apology, Gap said that it respects China's sovereignty and territory and confirmed that a t-shirt sold in overseas markets had contained an incorrect version of a map of China. It also apologised for "this unintentional mistake and is currently conducting internal investigations to quickly rectify this mistake".
"We sincerely thank our consumers, the media, employees and government regulatory agencies, as well as relevant parties for their concern and support. Moving forward, we are dedicated to having stricter reviews to prevent similar instances from occurring in future," the statement added. View the full post here: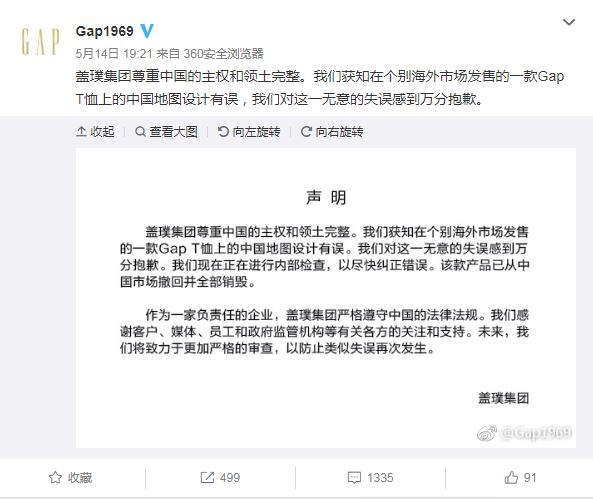 Gap is not the first brand to land in hot water over how it references Chinese territories. In January this year, Marriott emailed a Chinese-language questionnaire to its customer rewards programme members which asked members to list their country of residence, giving Tibet, Hong Kong, Macau and Taiwan as possible options.
Listing the four Chinese-claimed regions as separate countries immediately triggered an online uproar that asked for a Marriott boycott, as well as an official investigation from Shanghai Authorities. Other brands were also pulled into the spotlight, including fashion brand Zara and medical equipment maker Medtronic, which were ordered by the internet regulator in Shanghai to update their websites after they were found to have listed Taiwan as a country. Both companies apologised on their website.