The world is a big and we all pride ourselves as being different. But according to Mindshare Malaysia, there might be an underlying feature tying us all together.
The agency did a research on the travellers in Malaysia and discovered four distinct segments, despite diverse ethnicity, shopping habits and travel preferences of this consumer group. The research used GroupM's proprietary research tool 3D, which measures three aspects of the marketplace – consumer relationship with brands, attitudes and lifestyle of consumers and media behaviour.
The four segments of Malaysian travellers identified were Movers & Shakers, The Social Jack, The Deal Seeker Influential and The Rooted Spirituals.
The Movers and Shakers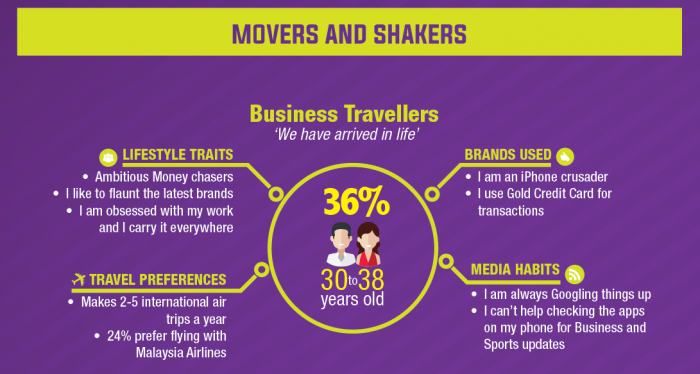 The Movers and Shakers are also known as the business travellers, who are majority (36%) 30 to 38 years old.
This group is filled with ambitious money chasers who like to flaunt the latest brands and work-obsessed. Business travellers are part of this segment and usually make two to five international trips a year, with 24% preferring to fly with Malaysian Airlines.
These individuals are also huge supporters of Google Search, and frequently check their mobile apps for news updates.
The Deal Seeker Influentials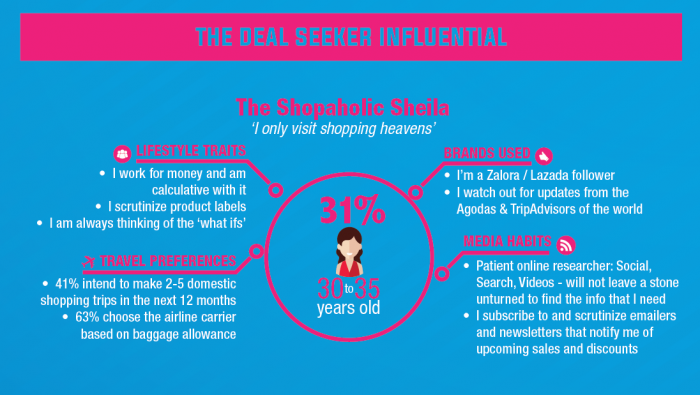 The Deal Seeker Influentials are a bunch that loves shopping, where 41% intend to make two to five domestic shopping trips within the next 12 months.
About 63% choose their airline carrier based on the baggage allowance. 31% of those in this group are aged between 30 to 35 years old.
The deal seeker is always on the look out for upcoming sales and discounts, subscribing to emails and newsletters from brands and utilising their online resources fully to search for what they want.
The Social Jack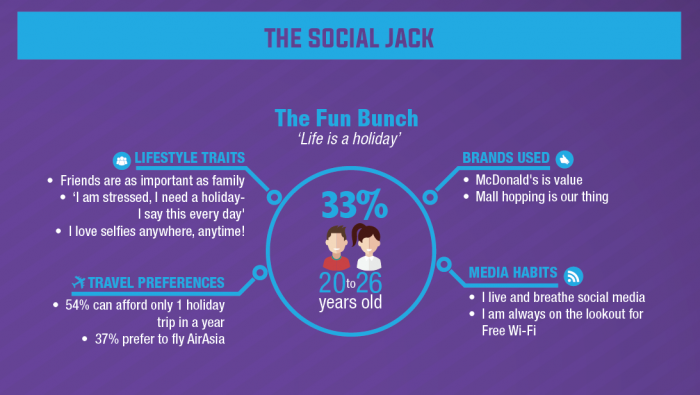 The Social Jack prioritises  friends and family. Those in this group alsoabsolutely enjoys a holiday for stress relief.
This group is younger, with 33% being 20 to 26 years old. Around half of the Social Jacks can afford only one holiday trip in year, and 37% prefer to fly AirAsia. Social media, selfies, and free wifi are also big on their priority lists.
The Rooted Spirituals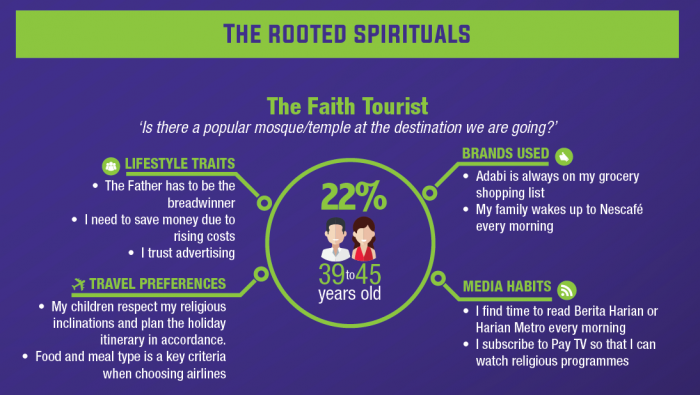 The Rooted Spirituals are made up of the slight older travellers, with 22% aged 39 to 45 years old. This group of travellers are mainly interested in looking for mosques or temples at their destination, and plan their travel itineraries accordingly.
Food and meal types are a key criteria when they choose an airline. These Rooted Spirituals frequently read the papers, and subscribe to PayTV as well, in order to watch spiritual programmes.
Dheeraj Raina, head of strategic planning at Mindshare Malaysia, said, "Despite consumer confidence being low over the past two years, we noticed an upswing in the travel intent of the Malaysian consumers. When we dived deeper into the inherent motivations behind travelling,  four distinct segments emerged.