Thai Beverage (ThaiBev)'s Singapore-listed unit Fraser and Neave (F&N) has expressed an interest to acquire the Peroni and Grolsch beer brands.
F&N has also circulated a company announcement regarding the matter stating that the company is constantly on the look out for "strategic opportunities to grow its business".
However, F&N statement confirmed that at present "there is no certainty of any transaction materialising". It has also advised its shareholders to exercise caution when dealing with the company's shares.
The full statement reads: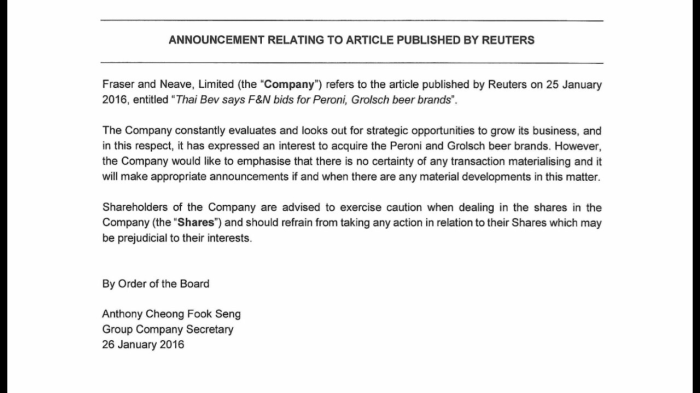 Earlier this year, Reuters had reported that ThaiBev was one of the bidders who made it to the final stages of an auction to buy the two brands. The deal is said to worth up to three billion Euros.
Among the bidders are Japan's Asahi Group, private equity firms PAI Partners and Bain Capital and European buyout fund EQT have also been shortlisted by the seller, Anheuser-Busch InBev (AB InBev), the world's largest brewer headquartered in Belgium.
ThaiBev is owned and controlled by tycoon Charoen Sirivadhanabhakdi. ThaiBev acquired F&N  in 2013 and have a combined market share of 14% by value in Southeast Asia.