With Filipinos increasingly hooked on multiple mobile devices, Millward Brown recommends that campaigns that are consistent, concise and connected across screens are more likely to deliver brand value.
The agency says that multiscreen user in the Philippines consume nine hours of screen media per day during a six hour period. This means that within the same six hours Filipinos watch the TV, they also check their social media accounts, view websites and videos on devices such as tablets, laptops and smartphones
"Meshing  in  the  Philippines  is  much  higher  compared  to  almost  all  other  countries  and shifting still occurs half of the time, creating a big multiscreen marketing opportunity  that  brands can  take  advantage  of  using  synergistic  multiscreen  campaigns, "says Goutam Mitra (pictured), managing director for Millward Brown Philippines.
"Combining receptivity with screen time shows that digital minutes and receptivity among Philippines screen consumers are much higher than global averages and, thus, good opportunities for marketers."
Below are tips from Millward Brown on how marketers can the opportunity brought by booming multi-screen use in the island nation based on AdReaction Report 2014 that Marketing first reported in March.
Be where your audience are – For brands, this means being on mobile and a change the media mix in favor of the medium. Filipino who owns multiple screens spend a daily average of 531 minutes, of which 174 minutes are on smartphones.
In comparison, an average user spends just 99 minutes on TV. Eyeballs are also hooked far longer on laptops at 143 minutes daily and on tablets at 115 minutes.
Be always on.  Screen usage varies a lot by time of day. Understand need states by time of day and overlay this against your messaging and media planning.
For the Philippines, smartphones dominate screen usage for most of the day but a very pronounced spike is observed for TV particularly at early evening (primetime).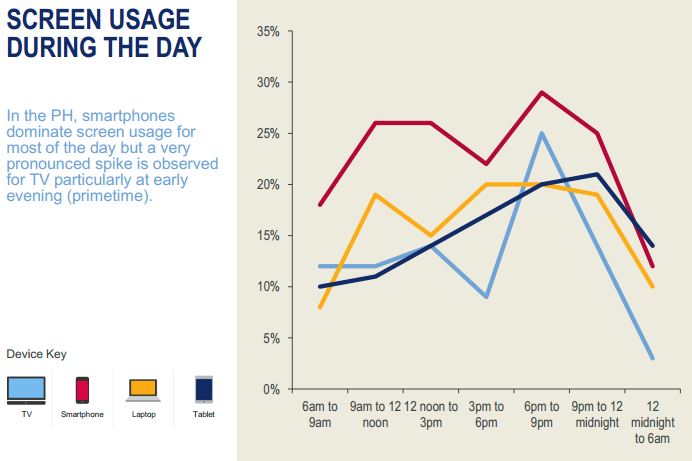 Be connected.  Multiscreen opportunities for all devices and receptivity towards all possible marketing approaches are high. Exploiting all available channels could create monumental effects.
While fewer locals spend time on the tube, 47% of them say they are most open to engage with TV ads compared to 29% who found smartphones favorable.
TV is generally more of a trigger/ start-point and digital devices are generally used more to continue/ complete tasks. Thirty-three percent of those who see an ad on TV, for instance, typically continue the activity on smartphones while 29% and 25% turn to laptops and tablets, respectively.
Be deliberate.  All screens can achieve all brand-building tasks, but ads on smartphones renders prominence and trend-setting for a brand. Let these starting assumptions work to your advantage.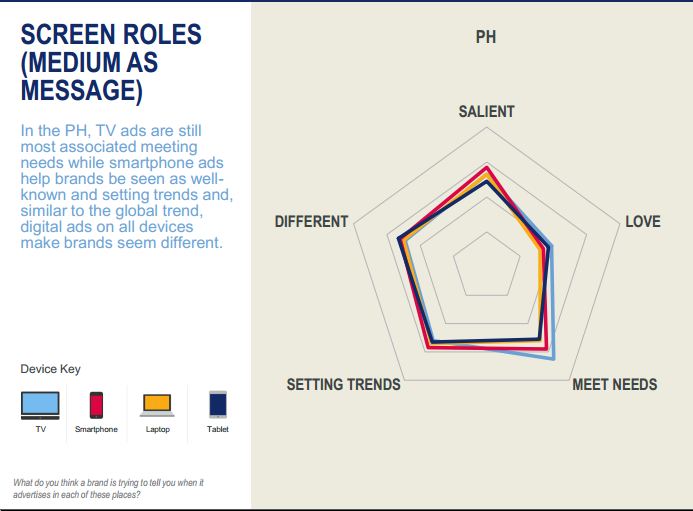 Most of all, be consistent. There is a fine line on whether viewers simultaneously consume or shift from one screen to another. What is glaringly clear is that viewers do use multi-screens, thus, being present whenever and wherever consumers choose to engage with the brand is vital.
In terms of simultaneous use, 53% use one device at a time while 47% use it all together. Filipino respondents in the study were divided 50 -50 on meshed and stack viewing.
Around 41% of Filipinos who use TV and a second screen for related content (meshed) to look for more information about what's on TV like sports scores and character bios while 24% use it to start discussion with other people typically on social media.
As for those use of a TV and second screen for unrelated content (stacking), 57% used it to burn time during ad breaks while 41% keep up with friends on social media but are not talking about the show. Only 12% say they use another screen to follow up on a TV ad.