Mane 'n Tail has to be one of 2014's most intriguing marketing proposition: Sell Hongkongers a shampoo that can be used on both horses and humans.
But the brand believes it has the answer.
To back its core product, the US-based Mane 'n Tail brand, has created a horse mascot, aptly named Mr. Horse, to front a new campaign to help users achieve long and luxurious hair.
Named Mr. Horse, the mascot, as a Mane 'n Tail salon hair stylist, has been put in the limelight together with
Popular TV actress and host Priscilla Wong, appears along side Mr. Horse in a series of print, outdoor ads, with an online video in collaboration with YouTuber group "Bomba" launching tonight.
"We wanted to create a distinctive mascot that symbolizes Mane n' Tail's shampoo range," said Charles Wong, creative partner at Uth, the agency behind the work.
He added that a retro Shanghainese-style salon is featured in the campaign in order to create a more unusual look to stand out from the standard look and feel of shampoo ads in the market.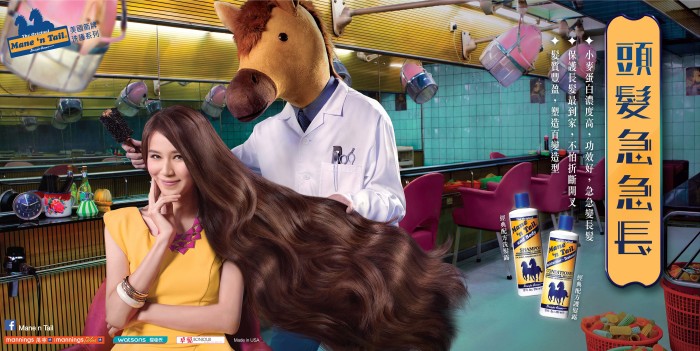 [gallery link="file" ids="74256,74257"]
Credits:
Creative director: Charles Wong
Writer: Ah Ho Yip, Lili Cai
Art director: Iris Lau, Joy Wong, Mivan Mok
Media: Mindshare