60% of marketers have commissioned influencers to make content in 2016. Agencies still rank first as the source of content for marketers, but 17% of B2C marketers now consider influencers one of their top three sources of content, the latest report by Forrester's Ryan Skinner revealed.
Dunkin' Donuts, for instance, told CBS News that an ad it had commissioned one influencer to create and post, "had the same reach as a primetime TV ad", the report quotes.
However, while more marketers now have some experience working with influencers, few know the best places to apply them to, nor the measurements of their values.
To formulate the most relevant application of influencers to a brand and digital strategy, the report suggests that marketers should first identify which assets the brand is trading with the influencers in question.
Why would I need an influencer?
Paid product placement and advocacy
A brand who wishes to trade with an influencer for their own audience reach usually asks the influencer to promote a product and describe their interest or reviews for the product in their own voice.
Content creation
Creators, much like designers, photographers, musicians, and creatives can reach audience in the billions on social channels. Brands which hire these creatives are looking to utilise their talent, content or ideas, not reach.
Media personality
Marketers who wish to trade for the influencers' face, voice or personality, may hire an A-list celebrity for younger demographics who gained fame through new media but not tranditional media.
Which influencer should I choose?
Once the brand has identified the elements they are looking for, marketers should aim to align their brand and the predisposition of the influencer with measured and considered criteria, such as:
Influencers' historical activity
Based on influencers' historical activity, brands can measure and analyse the frequency or paid and unpaid product mentions, personality, product or lifestyle preferences, market experiences, and breadth of interest or expertise.
Followership
Brands need to understand the background of the followers. Intuitively, someone with few followers but whose followers are hugely influential may be a better vector for driving ideas, while those with millions of relatively uninfluential followers may be a better vector for disseminating content.
Another thing to watch is the standard viewership rate of these users' content. According to Forrester's analysis, no more than 20% of brand's YouTube subscribers view the channel's videos.
It's also essential to review the difference between brand metrics from influencer content versus brand content.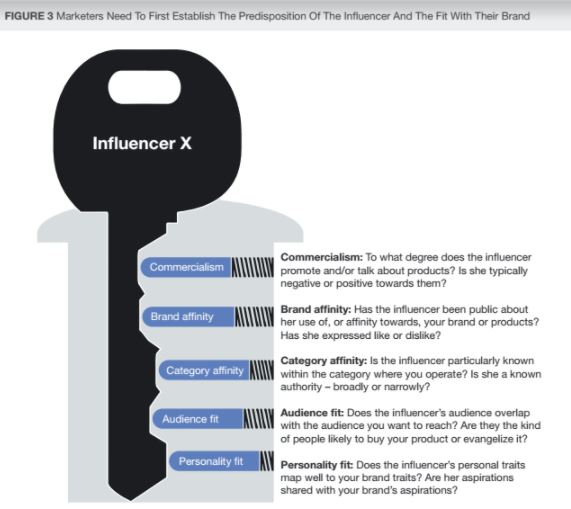 Source: Forrester
What is the right measurement model in influencer marketing?
To start with, brands need to identify several wrong assumptions that exist in the industry.
While some vendors claim that influencers who have more followers than the average, but less followers than global celebrities, tend to engage audiences better than celebrities and thus more reach for the cost, the study suggests that the claim is far from consistent.
More followers equals more sales - no surprises there.
Furthermore, it would be wrong to assume that optimisation of engagement or engagement rate is the key to influencer programme success, as engagement is neither net negative nor net positive. According to media analysis vendor Chartbeat, the correlation between sharing content on Facebook and the reading of the content was "quite weak".
Econometric modeling
Affirming that tracking engagement is no way to ascertain the value of working with influencers, the study suggests marketers lean on econometric modelling, sales uplift against controlled holdouts, or hard conversations.
The key is to drive a clear, measurable before-and-after effect.
Sales data uplift market-to-market
Marketers who drive a sale directly on their own site can either tag traffic driven by an influencer - by giving them a unique URL with influencer-specific tagging - or access how that influencer's geographic audience drove sales uplight in that region, suggests the report.
For product manufacturers' marketers, for instance clothing and cosmetics spaces, they can drive sales directly through influencer activations.