It seems like ads in the entertainment arena, in particular relating to Halloween, did not sit well with locals. The category came in as the second most complained (the first being the electronics industry). This is the first time in three years that the category has shot into limelight, unfortunately for the wrong reasons.
According to ASAS, a large increase in feedback was observed regarding entertainment establishments and it received 26 such feedback in 2017, compared with seven in 2015 and 16 in 2016. 12 out of 26 feedbacks were about advertisements for Halloween-themed events that the public found distasteful. In particular, one that resembled a cenotaph and another that depicted self-harm.
ASAS has since informed the advertiser who created the advertisement that depicted self-harm during Halloween, that it had breached the Singapore Code of Advertising Practice (SCAP) guidelines on violence and influence to children and young people.
"Advertisers are reminded that advertisements addressed to or likely to influence children and young people should not contain anything that might influence them to harm themselves mentally, morally or physically," ASAS said.
As the feedback was received at the end of the advertisement's run, the advertiser agreed to take ASAS' feedback into consideration for future Halloween events.
While ASAS declined to comment on the identities of the advertisers following queries by Marketing, it explained that the Halloween-themed promotion that featured a cenotaph appeared during the Halloween period in the Orchard, Heritage and Central Business Districts. As for the advertisement that depicted self-harm, ASAS confirmed it received feedback from one complainant about an advertisement that appeared in a shopping mall during the Halloween period.
"It was part of its in-house promotional material for a haunted house event to 'solve the mystery of the missing girl'. A mannequin in blood-stained schoolgirl's uniform that had lacerations on its arms was placed next to the directory panel that promoted the event," the ASAS spokesperson explained.
Last year, companies such as Resorts World Sentosa (RWS) and *SCAPE copped flak for distasteful ads used to promote their Halloween events. RWS came under fire for its eerie Horror Nights OOH ad found at bus stop shelters at Bugis Village, Clarke Quay and Hotel Rendezvous. The execution featured a marble wall commemorating lives which were "innocently taken in the Southpoint Mall collapse" – a fictional tragedy. On the wall were misspelled names in alphabetical order followed by flowers and pictures of the "deceased" placed at the foot of the wall.
Meanwhile, *SCAPE's gained criticism over its Halloween display of a long-haired mannequin in a blood-soaked gown hanging from a tree outside the building. Following the furore, *SCAPE removed the mannequins, which netizens called "awfully scary", "not cool" and "severe". The organisation was also flaked for trivialising suicide.
"The increase in feedback in 2017 suggests that consumers are less willing to accept distasteful and extremely scary advertisements, or that advertisements are beginning to cross the limits of what the public deems acceptable," the ASAS statement read.
Electronics also in need of improvement
With regards to feedback over advertisements relating to electrical and electronic products, and entertainment establishments, the number rose to 29, up from 20 in 2016 and seven in 2015. Seven out of 29 of the feedbacks received were about advertisements in tradeshow flyers. This was largely because consumers felt that the actual price of each model advertised was ambiguous.
This was seen in tradeshow flyers which featured one product image and description, but had multiple model numbers and types of prices. This includes "usual price", "sale price" and "show price", in each listing.
According to ASAS, even though consumers did not make any purchases, it recognised the potential for consumers to be misled and as such informed the retailers concerned to be clearer in their advertisements. This is to ensure that each product listing in future ads featured only one model number and one price. The electrical and electronic retailers concerned have since amended their advertisements to make the price and product claims in the flyers clearer.
Top 5 industries for consumer feedback in 2017
ASAS received a total of 269 feedbacks in 2017, down from 289 in 2016 and 272 in 2015. Here are the top five industries which received the most feedback.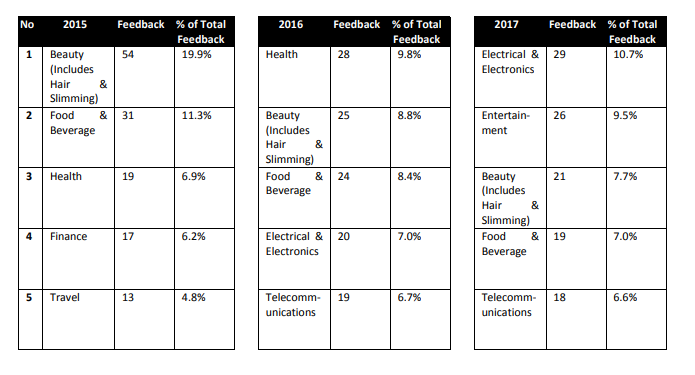 This includes requests for advertising advice and complaints that are either consumer-to-business or business-to-business in nature.