If you had one completely free day, what would you do? This is what ECCO China is asking its base of female customers.
The brand has teamed up with digital AGENDA Shanghai to launch "Dress Comfort", a digital campaign that calls for women to take a break from their stressful schedules and enjoy a relaxing day.
Integrating social media, desktop and mobile platforms, the "Dress Comfort" campaign for ECCO's Spring/Summer collection shows that however women choose to go about their day, there's always a perfect pair of ECCO shoes and bag for the occasion.
Qin Lan, actress and ECCO's first-ever brand ambassador alongside nine other local fashion and beauty bloggers will share what their dream days would be like, and where ECCO shoes and bags can take them through an entire day.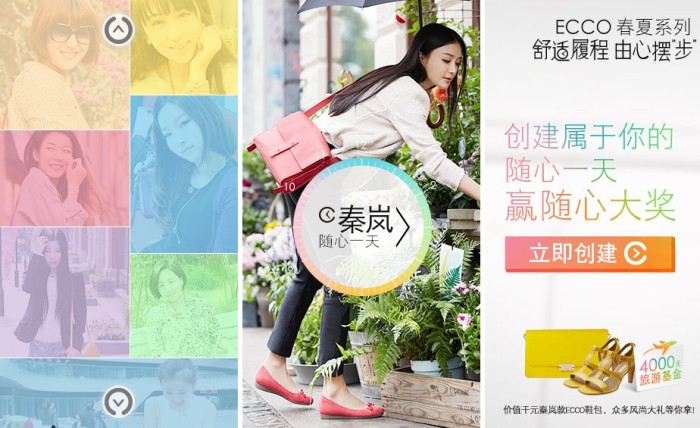 The "Dress Comfort" campaign on Sina Weibo enables consumers to create their own customized day-in-the-life timelines.
By answering a short quiz with questions ranging from the standard ("What kind of music do you like?") to the whimsical ("What do you dream about at night?"), users will receive suggested activities befitting their personalities—such as going to a spa or singing karaoke—and discover which ECCO collections would best suit their styles.
People are encouraged to share their results on social media platforms and will also stand a chance to win prizes.
"Women are experiencing increasingly busy lives, performing multiple roles every day and often have little time to themselves," said Mellisa Lim, ECCO APAC marketing director.
"We would like to encourage women to take control of their daily lives."
Phase one of this campaign generated a total of 170,000,000 impressions, driving more than 200,000 unique visitors to the campaign site. In addition, the site acquired over 5,800 consumer database for following e-newsletter communications and increased social media fan base by 5,000.
The second phase of "Dress Comfort" will run until 31 May on Sina Weibo.