Consumers showed 81% and 68% increase in online visitors to e-commerce sites two weeks before and after the first day of Lunar New Year respectively, latest report from Criteo revealed. The findings are based on an analysis of 65 million online transactions in Hong Kong, Singapore and Taiwan before, during and after Lunar New Year in 2016.
Other highlights during 2016's Lunar New Year from the report included:
32% of all eCommerce transactions happened on a mobile device
Online purchases of apparel and jewellery increased by 57% and 62% respectively
More than 6 in 10 consumers browsed on a combination of PCs and mobile devices, before making a final purchase on either device.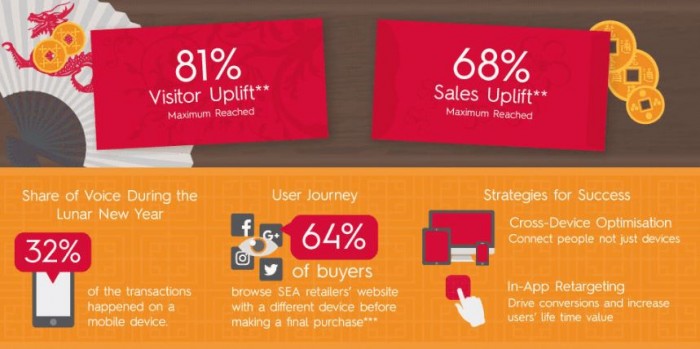 These figures show that consumers tend to continue shopping indoors and online throughout all 15 days of Lunar New Year, Yvonne Chang, executive managing director, Asia-Pacific at Criteo said. "Consumers have come to expect exclusive online collections and discounts during this period, timing their purchases so they have the best deals and new clothes or jewellery to symbolise the new beginning," she explained.
The study also pointed out two additional trends which will impact regional retailers during the Lunar New Year season:
Consumers will use mobile to make high-value purchases
Desktops were once the king of big-ticket purchases, but in 2017, consumers in Hong Kong, Singapore and Taiwan will feel equally comfortable purchasing expensive items on smartphones. The Average Order Value (AOV) on mobile applications was 27% higher than desktops in Q2 2016. The AOV on mobile browsers was only 9% lower than desktop during the same period.
Retailers will see a high web influence on offline sales
Shoppers in Hong Kong, Singapore and Taiwan are becoming experts at "showrooming" – the phenomenon of looking at items at a brick-and-mortar store whilst checking the prices available online. In Singapore, while in physical stores, 62% of local shoppers are browsing similar products online and comparing prices to ensure they get the best deals, 69% of these consumers end up purchasing the same product or service online rather than offline. In Hong Kong and Taiwan, 32% and 47% of consumers are looking to make purchases online, rather than offline.