Cathay Pacific has re-branded its wholly owned subsidiary Dragonair as Cathay Dragon to strengthen connectivity with Mainland China.
The two brands will remain as separate airlines, operating under their own licences, but will now be much more aligned.
The rebranding, said Cathay, aims to capitalise on the parent company's international brand recognition and leverage on Dragon's connectivity into Mainland China – one of the world's fastest-growing business and leisure travel markets.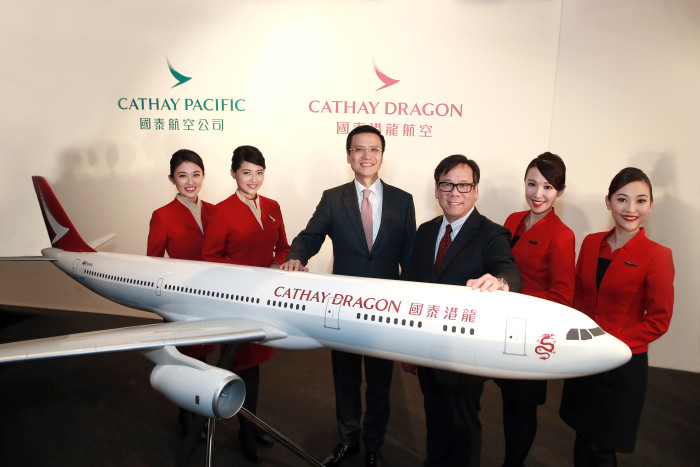 Dragonair became wholly-owned by Cathay Pacific in 2006 and has since added 23 new destinations and the number of passengers travelling across both carriers has grown five times to more than 7 million in 2015. The combined annual passenger number of the two airlines grew from 22 million to more than 34 million last year.
"Cathay Dragon is a brand that will be recognisably part of the Cathay Pacific Group for our customers from different parts of the world," said Cathay Pacific chief executive Ivan Chu.
"The rebranding will enable us to capture the fast-growing passenger flows across the two carriers by creating a more seamless travel experience.
"We are building on what is a true Hong Kong success story that has made our city a leading international aviation hub and gateway to and from Mainland China markets.
"This rebranding will sharpen our competitive edge by offering an attractive Cathay-led brand package that carries the assurance of a consistently high-quality customer experience."
The rebranding will see a new livery created for Cathay Dragon that features a Cathay-style brushwing logo. This livery will appear for the first time on one of Cathay Dragon's Airbus A330-300 aircraft in April and will be progressively introduced to the rest of the airline's fleet.
Cathay Dragon CEO Algernon Yau said: "We can assure our customers that Cathay Dragon will continue to provide the same high level of products and services that made us a four-time winner of the World's Best Regional Airline award.
"We will have the same dedicated team continuing to offer their friendly and caring service style. We will also continue to build on our experience and understanding of what our passengers like and treasure, such as speciality Chinese and Asian dishes as well as popular local Hong Kong snacks."
The Cathay Pacific Group will launch a major international advertising and marketing campaign later this year to promote recognition of Cathay Dragon and the benefits this rebranding will bring to passengers.