Digital Broadcasting Corporation Hong Kong (DBC) yesterday announced its decision to give up its operating licence and shut down all channels on 7 September, affecting 113 staff members.
DBC CEO Loh Chan said the decision was made last Wednesday by DBC's shareholders and board of directors.
He cited the company had no immediate financial difficulties, and even achieved better advertising revenue this month, but a lack of prospects in digital broadcasting, and failed government policies to help digital broadcasters reach wider audiences made it difficult to be a sustainable operator.
"After six years we are still facing a lot of difficulties, especially in terms of distribution and reception in car radios," he said.
"Even if the government requires all 50,000 imported cars every year to be equipped with both FM and DAB radio players, it would still take us 12 years to compete on the same footing with FM radio broadcasters."
He described it as an "unfair" situation.
Under such circumstances, I can say for sure digital broadcasting does not work at all.
DBC is the second digital radio station to announce its closure within a year, leaving only Metro Broadcast and the government-owned RTHK in the field.
Last year in September, URadio, a digital station under the Chinese channel Phoenix TV, made the same announcement. The request to give its broadcasting licence back to the government was approved in November by the chief executive-in-council.
As for DBC, the media announcement cited it had informed the government yesterday in the morning, and would remain in operation until the government granted permission to terminate broadcasting services.
Most of the employees will be dismissed on 7 September, with holidays and severance pay addressed individually in accordance with the employment ordinance.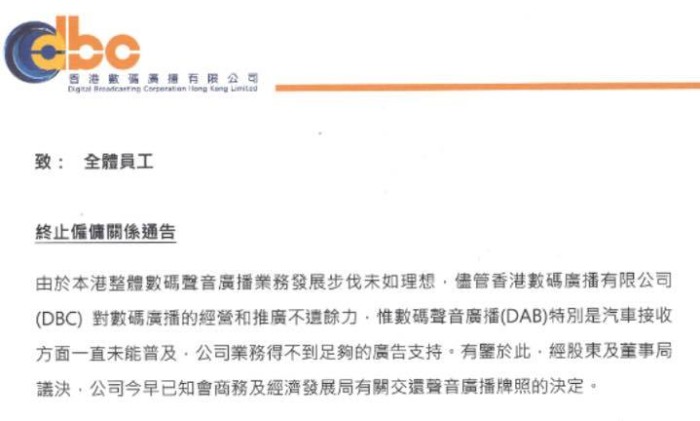 Secretary for Commerce and Economic Development Greg So said he felt sorry about DBC's move but he understood that it was a business decision.
He said the government had been actively promoting digital audio broadcasting but it had to take into consideration how the public would like to listen to the programs.
A producer from DBC, who asked not to be named, told Marketing rumours about the shutdown had been swirling for a long time, but many were surprised when the announcement was made."We were informed there would be an announcement, but we were just expecting some rearrangements on channels – we were shocked to know the whole company will be shut down next month."
The digital audio broadcasting operator was granted a licence in March 2011. The company had shown signs of trouble when it laid off 60 staff and underwent a reconstruction last year in October.