Malaysia saw buoyant recruitment activity for sales and marketing professionals across the board in 2014, with particularly strong demand in the IT&T, media, FMCG and manufacturing industries.
In fact, vacancy activity was high throughout the entire year and is expected to remain so in 2015.
A key driver of activity is Southeast Asia's impressive economic growth and the fact that many companies are setting up businesses in Malaysia to be part of the action.
These are the key findings of 2015 Hays Salary Guide.  According to the study, more companies are opening in the country, ranging from start-ups to large established MNC's that previously did not have a strong Asian focus.
Salaries stagnate
Despite this activity, sales and marketing salaries will remain fairly steady this year, as they have done in recent years, the study noted. The Malaysian Government is currently in the process of introducing reforms to shift the entire country into high wage earning territory, but this will take time.
"While salaries remain steady for the most part, we will see high demand for brand managers, product managers, sales managers, sales directors and digital marketers," the study said.
Read also: Can Malaysia keep its senior agency talent?
Is Malaysia's cosmopolitan image under threat?
"We also expect to see demand for Shopper Marketers, especially in the FMCG space where there has been a shift of focus to consumer marketing as competition gets stronger, the study said."
Here are some comparative stats across various roles and regions:
• Salaries are represented in local currencies
• Typical salary range in '000
• Salaries are representative of the total package value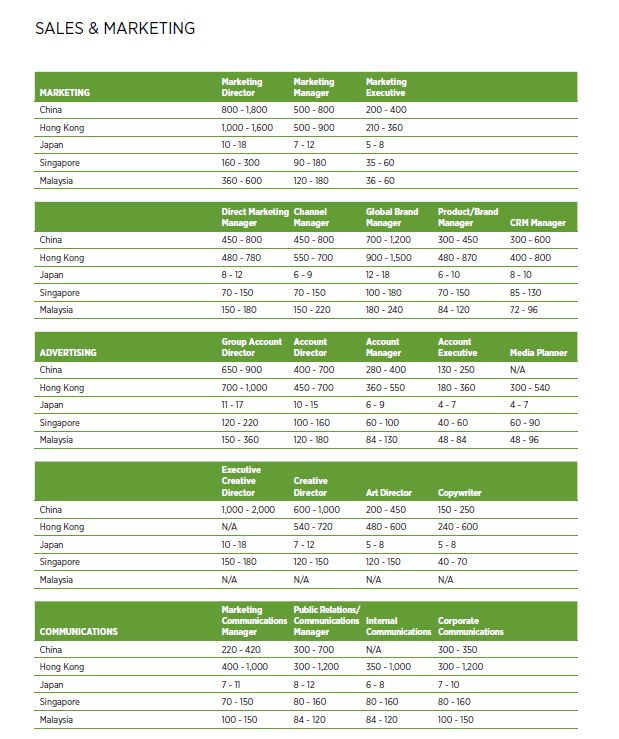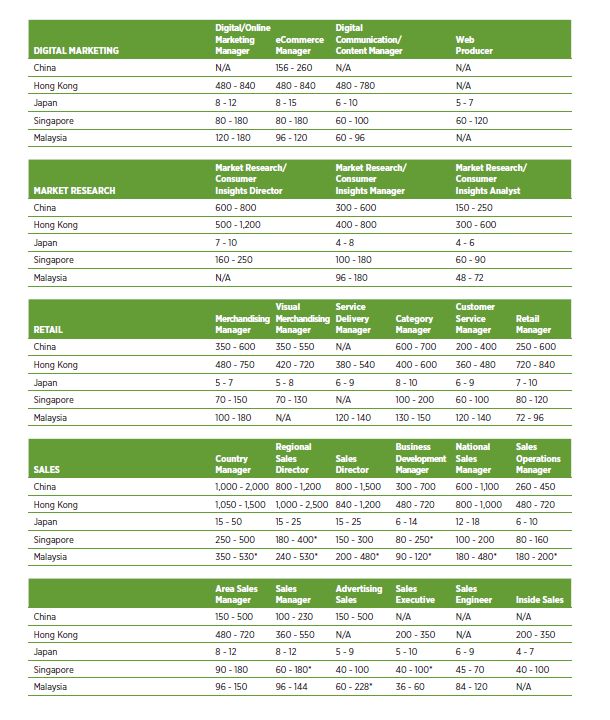 Source: 2015 Hays Salary Guide - Asia
[Image by Shutterstock]