Lowe and Partners Malaysia's executive creative director, Zaidi Awang shares with us his proudest moment and who he looks up to the most.
Zaidi is new to the agency, but not to the ad world, having joined Lowe and Partners in February this year. Prior to joining Lowe, Zaidi was with Leo Burnett Malaysia, where he spent eight years leading the team with brands such as Maybank, Petronas, Proton, Celcom, Malaysia Airlines and McDonald's, and has a string of key awards to his name.
Read also:
Creative Catch-Up: TBWA's Sa'ad Hussein
Here's the man behind the work:
How'd you stumble into this industry? 
I have loved art and design from when I was very young. My primary school teacher always assigned me to help her with posters for science and so forth.  When I was 13, I was elected to be the president of school art club, and designed the school's bulletin board, posters, banners and mural paintings.
In fact, at school I got into the science stream, much to my dad's delight. He'd always tried to steer me to become a science major. But I went on to study art and design later. For me science is logic, art is aesthetic.  In advertising, you need both: logic and a feel-good factor to like, to believe and to buy. So it all worked out for the best in the end. And thank you dad.
 How do you get inspired when you aren't?
Talking, and telling stupid jokes to people.
What's the most frustrating thing about being a creative?
Good ideas do not sail through.
Proudest moment in your career? 
When the late Yasmin Ahmad called me to join her at Leo Burnett , and of course joining Lowe Malaysia.
A mistake in your career you won't forget
Refusing good offers from other places before this, and not stepping up [complacency ].
Mentor you look up to most?
The late Yasmin Ahmad.  A charmingly funny person, who you could equally enjoy talking rubbish and very intellectual topics with. On top of this, her work is very real and insightful. It touches people, makes you laugh, smile, or even tear.
Over my 12 plus years working with Yasmin, she was a most pleasant encouraging person, and taught me lessons I still hold to today: Be humble. Be likeable. Only be afraid of God.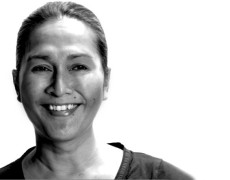 Advertising's not an easy business. What's the meanest thing you've heard someone say to anyone in the industry?
You're a bunch of conmen.
What about the harshest thing anyone has said to you in your career?
None. I suppose I have been lucky!
And the harshest thing you yourself have said to anyone at work? (And do you regret it?)
You're wasting your time in the wrong field.
What's the dream brand you'd like to work on and why? 
No particular preference.  But in general I think a great client to work with is one that can see the big picture and not get stuck with nit-picking. Also, a client that treats its agency like a friend and an equal, as a partner, not a supplier.
What makes the difference between an average creative and a mind-blowing one?
Never settle with what you have.
If you weren't a creative what would you be?
My dad still wants me to be a doctor.
How you wind down on the weekends?
Eat, sleep and be merry!  (Thai noodles are a favourite!)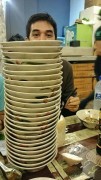 Creative Catch-Up is an ongoing series with Malaysia's top creatives.