As one of Singapore's well-known local creative names, Pann Lim first cut his teeth in the ad industry at DDB Singapore. He later started local ad shop Kinetic with Carolyn Teo, Roy Poh, Adrian Tan, Sean Lam and Benjy Choo.
With a long list of creative awards to his name, Lim talks about his early struggle to get the better of the Singaporean education system and about staying down to earth in Marketing's latest Creative Catch-Up.
How did you stumble into this industry?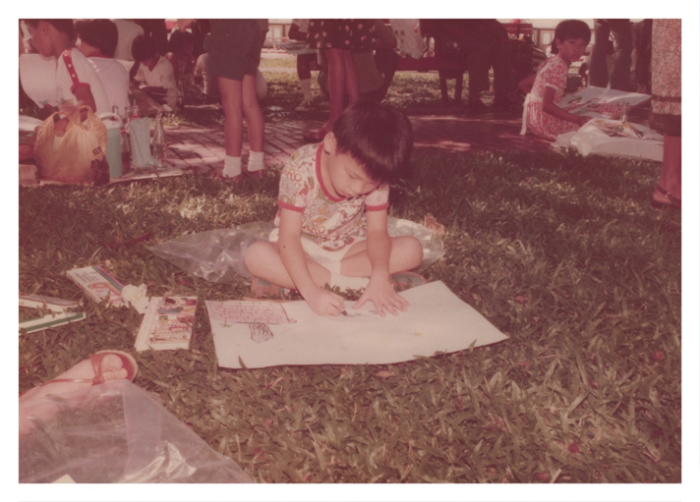 I have never been interested in my studies since I was young, although I love doodling a lot. I belonged to the "last" class and I was not considered a good student. I went to two primary schools, one secondary school, two pre-universities, two junior colleges and two polytechnics and took almost all the subjects the Ministry of Education had to offer.
In the end, I realised I was only interested in art and economics. I took exams for these two subjects and skipped the rest because I knew the results would be the same as attending them.
After I got out of the army, my good friend from the same art class in junior college, Leng Soh (now my head of design at Kinetic), told me to enrol into Temasek Polytechnic's visual communication course and I have not looked back since.
At Temasek Polytechnic, mentors such as Chong Jin, Iskandar Jalil, James Na and Hon inspired me on the various disciplines of art and communication. It was during my second year there that I realised all of my classmates would graduate with a "similar" portfolio. So together with my girlfriend (now wife and partner at holycrap.sg), we went around Far East Plaza and offered our design services to the retailers there.
For SG$50, we would design name cards or paper bags, etc. We managed to get a few projects, eventually it grew and became a "small" business. After I graduated, I freelanced for a while and landed a junior art director job at DDB Singapore. Within half a year, I was promoted to art director. Shortly after, I joined Batey Ads with Andrew Lok and worked on the Singapore Airlines account for a year. In 2001, Carolyn Teo invited me to start Kinetic Design & Advertising with Roy Poh, Sean Lam, Benjy Choo and Adrian Tan, the print arm of Kinetic Interactive.
How do you get inspired when you aren't?

To be honest, I feel it is quite difficult for me to feel uninspired. There are so many interesting things I love that are going on in my life. Like music (from jazz to metal), vinyls, guitars, cameras, objects, furniture, lamps, vintage collectibles, plants, nature, movies, animations, books, art, interior design, product design, architecture, exhibitions, photography, fashion, cinematography, philosophy, illustration, advertising, digital experiments, internet, Instagram, conversations, running, performance art, installation art, food, cooking, education, close friends, my family, etc, etc. I usually don't have enough time to fully consume everything that inspires me as there is very little time available daily.
What's the most frustrating thing about being a creative?
I have never really felt the frustration because our line of work is one of the many careers that actually reward us as who we are.
We have the freedom to think the way we are, dress the way we like, surf the web, go for discussions over coffee, have tattoos, have long hair, short hair, coloured hair or even skinhead – no one really cares as long as we deliver the ideas on time. And some might complain it is very difficult to get good ideas across to the client, then I say, there are also many things that are difficult in life as well. Should we be frustrated with all the challenges that come our way? I believe the energy used for complaining and feeling frustrated will be more effective if you translate it into worthy ideas.
Proudest moment in your career?

I have a few "proud moments". They are usually linked with educating the next generation of creatives. When we won YoungGuns' International Design Agency of the Year in 2011, it was definitely better than winning 4D.
When our designers and art director picked up designer and art director of the year at the CCA Gong show, it made me want to impart more of my experiences to them.
I have also been adjunct lecturing at Temasek Polytechnic, and when my students do well for their final year projects, or when you see the sparkle in their eyes the moment they understand what you are sharing with them, that is to me far more rewarding than winning awards.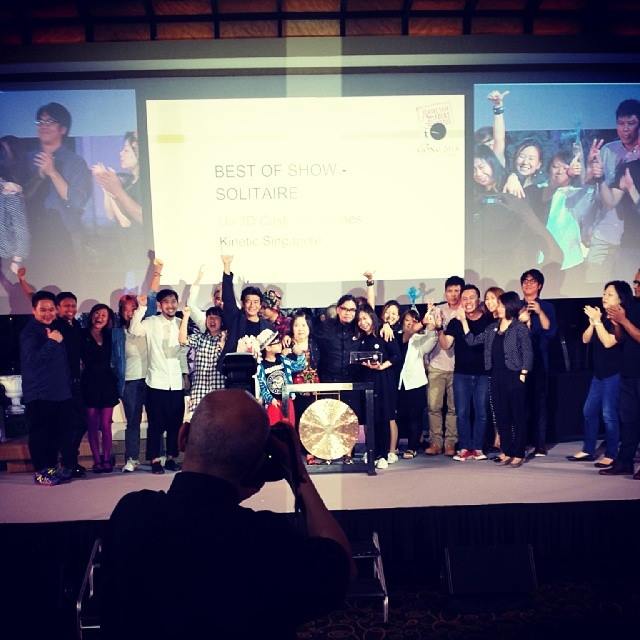 A mistake in your career you won't forget?
I have made so many mistakes in my career that I cannot remember them all. But when I look at the projects done by Kinetic from 2001 until now, I must say there are improvements and it is an amalgamation of all the errors that we have learned from day one. Of course, we are still learning until this very moment. I believe one has to be a student our whole life to improve in what we do.
Mentor you look up to most?
I absorb all the interesting conversations I have with everyone that comes into my life. These conversations can be brief or they can be lengthy, it does not really matter. What matters is the essence that I distil and keep with me. They can be with students, vendors, close friends, acquaintances, ah bengs, ah lians, pyramid scheme sellers, strangers, telemarketers, property cold-callers, foreign workers, taxi drivers, clients, colleagues, my children, my wife, etc. They are the true mentors in my life because without them, I will not have real stories to share.
Advertising's not an easy business. What's the meanest thing you've heard someone say to anyone in the industry?
I have not heard, but I have seen the meanest thing. During a client presentation, the main client was sleeping throughout the pitch. I was thinking, "Is our work really that boring or maybe the account was already awarded to another agency?" And we were the first to present.
What about the harshest thing anyone has said to you in your career?
I think I have been very blessed that no one has actually said any harsh things to me. The only time I have been abused by harsh words was not work-related.
This is the only one incident I can remember, I don't think it makes good reading material. Anyway, I was working on a brochure design and the creative lead came to me and said, "What are you designing? And what is this illustration about. It's so weird". With a snigger, he added: "Which school are you from, which school taught you to design like this?"
And the harshest thing you have said to anyone at work and do you regret it?
I really can't remember me being very harsh to anyone because my working style is never about being harsh. It's easier to be persuasive and convincing then to be harsh. Anyway, when this interview gets published, someone might comment on something I did that I cannot recall!
What's the dream brand you'd like to work on and why?
I actually never dream of such things. To me, a grounded working partnership is more important than having a dream brand. Like the question before on the frustration of being a creative, it does not really apply to me. I'd rather spend my time thinking of ideas that I can propose to my existing clients. And the clients we have are so far quite receptive to our proactive efforts and this has become a dream partnership that we treasure.
Weirdest thing you've ever done in your career?
I have done many things at Kinetic, but to me, it's not weird at all. I will share them here, you guys decide. I have unclogged the ladies' toilet twice. Many would not do it, but it's OK for me. I was a car park attendant at one of my client's campaign launches. I was seen giving out campaign flyers and someone texted my wife to ask if everything was OK at work.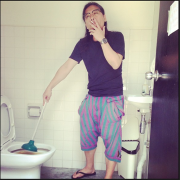 What makes the difference between an average creative and a mind-blowing one?
I believe anyone can come up with a nice idea once in a while. The big difference between a great creative and an average one will depend on the consistency of being able to think of something fresh and relevant all the time. Of course, the list of attributes can go on, like being hungry, having the eye, interesting point of view, etc. But above all this, I treasure attitude and character more than talent sometimes.
If you weren't a creative what would you be?

If I was not a creative in the communications industry, I would still be a creative in another industry. Creativity is boundless in nature. It exists in any industry. I can be in the property market and I believe I will sell houses creatively. If I end up selling insurance, I will sell it in the most creative and persuasive way. Running a family and raising kids can also be creative, many people misunderstand that it is a method, but to me it is an approach, a way of life.
How do you wind down on the weekends?

In 2011, my wife and my kids started an art collective called Holycrap.sg. We focus on expressing our thoughts through the arts. To date we have had three successful exhibitions, and we also recently launched a biannual Family Zine called Rubbish Famzine. We are in the midst of completing issue two and we can't wait to share it with you guys. So during my weekends, it's about spending family time laughing, painting and working on our family projects. I guess that's how I love my weekends.