A long-timer with BBDO, chief creative officer Ronald Ng has held several senior roles in the agency's network.
Read our other profiles also:
Creative Catch-Up: JWT's Valerie Cheng
Creative Catch-Up: Y&R's Farrokh Madon
Creative Catch-Up: Mangham Gaxiola's Robert Gaxiola
Creative Catch-Up: Havas Worldwide's Victor Ng
Creative Catch-Up: Ren Partnership's Chris Chiu

He talks about the best and worst moments of his career, and the time he watched his art director set a brief on fire.

How did you stumble into this industry?

I was a college major nomad. I wanted to be a hairdresser first (check out my mullet in the photo below), but my mum did not approve of it. Then I went to law school, and meandered in and out of psychology, sociology, literature and business schools. I liked all of those disciplines, but didn't love them. At this point, I had to choose between being a college dropout or do something with my life. I somehow found the journalism school interesting, especially because it offered majors in advertising and broadcasting. From then on, I made the leap from being a below average student to an average student!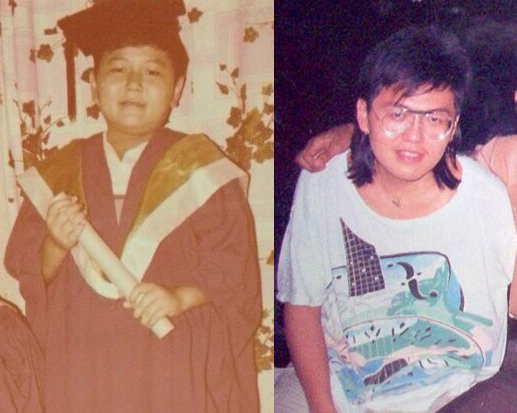 Harshest thing anyone has said to you?
My mentor and former ECD Dharma Somasundram once asked me nonchalantly in a creative review, "Ronald, you didn't spend too much time coming up with these ideas, did you?" That was a slap, punch and 'get the hell out' moment for me. Like a five-year-old schoolboy with his head down, I said, "I'll see you again tomorrow". I did not sleep that night and returned the next morning with 100 ideas. She unknowingly said the harshest thing ever, but it was my best lesson ever. I never let her down again after that day.
All credit goes to my phenomenally thick skin – an essential industry prerequisite.
Meanest thing you've heard someone say to anyone on the job?
The meanest thing was more of an act than a statement. My former art director once set a job brief on fire (in front of the AE) because he didn't like the brief. But I have to say the industry in general is not as nasty as many people think. The madmen prima donna days are over. Thank god.
Meanest thing you've personally said to anyone. Do you regret it?
 Admittedly, I'm tough on my team. Heck, I'm tough on myself. We all should be if we want to create great work for our clients. But I don't think I'm mean. My departments have always been like gangs. Everybody has the "all-in" attitude and we are ridiculously loyal to the brands we serve.
Proudest moment in your career?
When my creative wunderkinds won Young Creative of the Year on three different occasions. And when five of my former creatives became ECDs in the last few years. All those amazing folks, and many more, contributed to the BBDO and Proximity Malaysia office ranking the 8th most awarded agency in the world in 2009.
Weirdest thing you've ever done in your career?
Nothing is weird enough in advertising. That's why I love this job.
How do you get inspired when you aren't?

Have you watched Dumb & Dumber? I've watched it 12 times and have an autographed DVD. If you're ever uninspired, watch Dumb & Dumber. It's the greatest movie ever.
Mentor you look up to most?
I have two.
The first is David Lubars. He showed me there is no replacement for commitment and hard work, even if you're David Lubars.
And my former ECD, Dharma Somasundram, who always told me: "Ronald, you'll never be ready for anything. Just do it."
What makes the difference between an average creative and a mind-blowing one?
 Hard work. This job is 99% sweat, 1% sweat.
A dream brand you would like to work on and why?

I'm currently working on a few of those brands.
How do you wind down on the weekends?

My wife, kids, food. You can't beat that.