In Asia, reputation matters. According to a new study by PR agency Weber Shandwick, on average Asia Pacific executives attribute 61% of their company's market value to their company's overall reputation. Singapore executives attribute 53% of their company's market value to their overall reputation, while Indonesia executives attribute 73%.
The study titled "The State of Corporate Reputation in 2020: Navigating the Omnidriver Era" said a company's reputation is "omni-driven" and affected not just by a few driving factors, but by a multitude of factors. More than half of the global executives surveyed ranked 23 different elements which contribute to a company's reputation almost equally high, with no distinctive factors that stood out from the rest.
These factors include marketing and communications, quality of products or services, financial performance, ethics and values, and even quality of the CEO. Based on the survey results, Weber Shandwick interpreted that everything matters to a company's reputation now.
The study added that companies need to focus on all marketing and communications elements when driving their products and services.
The survey sees most global executives viewing a company's ability to address crises and issues, as well as to communicate and deliver upon its mission, vision, and values as important. Fewer executives viewed participation of company leaders at industry events and their presence on the company website and social media as important, but that still made up 51% of them.
Even though communicating corporate values is seen as most crucial to a company's reputation, the report also showed there was a difference in how this factor is viewed across different industries.
Additionally, the report finds that most reputational crises in companies are self-inflicted. Among the global executives who report that their firms experienced a crisis in the past two to three years that impacted their reputations, 76% claim that the crisis was preventable.
Here are some other findings from the report that you may be interested in: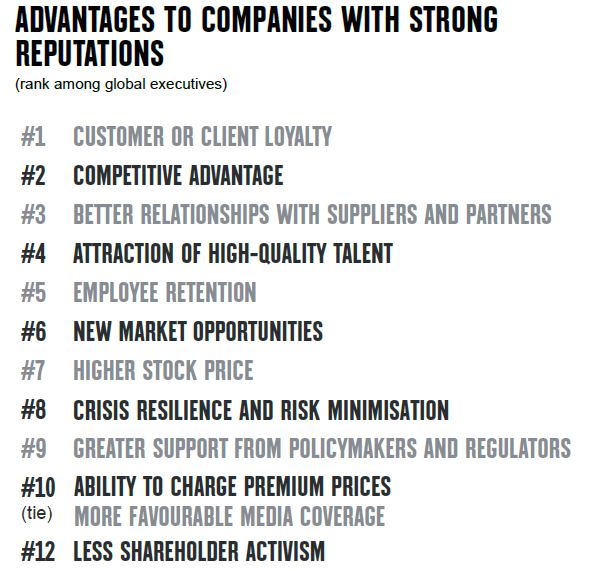 The State of Corporate Reputation in 2020: Navigating the Omnidriver Era report comes in the form of an online survey, and was conducted by Weber Shandwick in partnership with public opinion research consultancy KRC Research. The survey was done among 2,227 executives in high revenue companies across 22 markets worldwide, including Asia Pacific countries such as Singapore, Indonesia, Hong Kong, China, Australia, India, Japan, and South Korea. The agency surveyed approximately 100 executives in each of the markets from July to August 2019.
[MARKETING magazine is proud to once again present the PR Awards – the definitive awards programme for PR practitioners on both the client and agency side, designed to recognise outstanding work in the PR and communications industry across Southeast Asia, South Asia and ANZ regions. Submit your entries now.]