Singaporeans are the least engaged with paid content, said a recent study by content discovery platform Outbrain. Conversely, Australians were found to be the most engaged.
These were the scores from the study across Asia Pacific: Australia (-3%), Philippines (-0.5%) and India (-0.4%) had lower bounce rates, while Indonesia (+2%), Malaysia (+2%) and Singapore (+4%) had higher bounce rates.
Also, across Asia Pacific, paid content that falls in the Technology and Internet, Health and Electronics categories have the highest bounce rates, which means visitors who enter the site "bounce" or leave the site rather that continue viewing other pages within the same site.
Meanwhile content related to news, sports, and business and finance show the highest levels of engagement.
This is based on OutBrain's first Asia Pacific Content Consumption Trends report. The data pulled from a global network of over 100,000 sites, including CNN, Channel NewsAsia, Fox News, The Times of India, ESPN, Times and The Guardian. The study aims to  reveal the content consumption behaviors and preferences of consumers in Australia, India, Indonesia, Philippines, Malaysia and Singapore.
APAC consumers also prefer to consume content on their mobile phones and tablet devices at night. This is with the exception of Australia and India, where overall hourly content consumption peaks in the day at 1:00pm and 2:30pm respectively. Hourly content consumption peaks at 9:00pm in the Philippines and Indonesia, and at 10:00pm in Singapore and Malaysia.
All Asia Pacific markets showed peak content consumption on mobile phone and tablet devices at night, between 9:00pm and 11:00pm.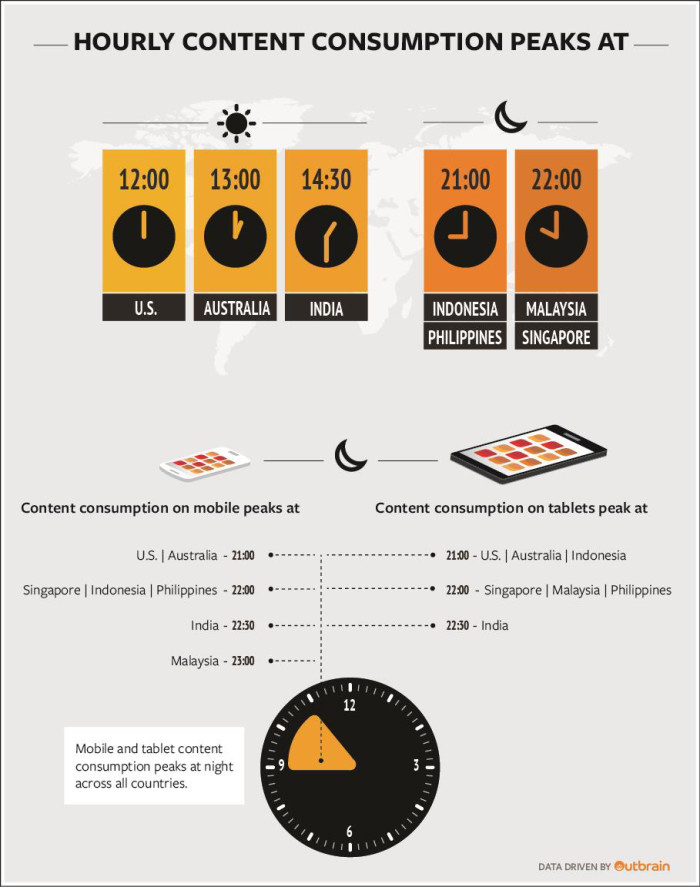 "Everyone wants to get on board the content marketing train today but not many recognise that consumers now have full control of the content they receive and consume," Anthony Hearne, regional director, Outbrain Southeast Asia & India said.
"While telling interesting, relevant stories is certainly key to any content marketing strategy, the second half of the equation lies in understanding the where, when and what of how consumers want to consume content," he added.
Content related to celebrities are the most favored among Indonesians, Singaporeans, and Filipinos ; Australians however, prefer crime news; Indians prefer investing; while Malaysians go for soccer.