Hong Kong's consumer confidence index reported an eight-point decrease over the previous quarter, from 111 to 103, the biggest regional confidence declines, according to Nielsen's latest consumer confidence survey.
Within the region, consumer confidence in Hong Kong is higher than that in Taiwan (75) and Singapore (98), but lower than China (111).
Consumer confidence levels above and below a baseline of 100 indicate degrees of optimism and pessimism, respectively.
As of May 2014, all key index drivers including job prospects, state of personal finance and readiness to spend, have recorded a decline in optimistic level this quarter.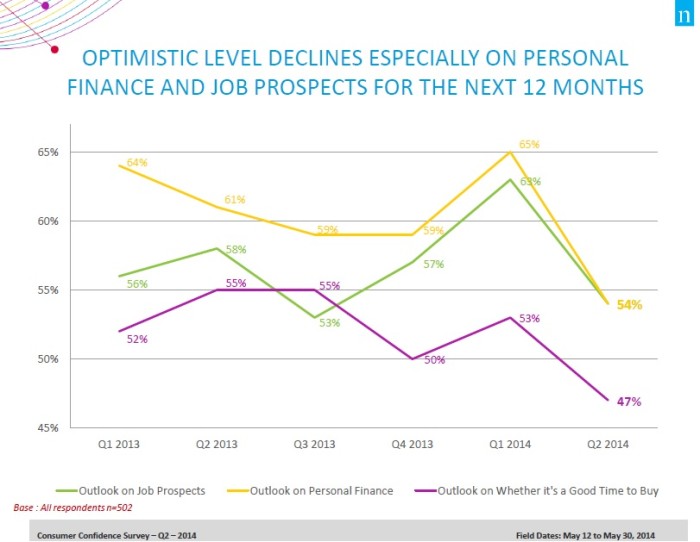 "Retail sales figures reported by the government showed a decline of 4.1 percent in May over a year earlier, reflecting economic uncertainty is still an underlying concern." said Eva Leung, managing director, Nielsen Hong Kong and Macau.
"A slowdown in mainland visitors, believed to be related to tightened control, is likely affecting the sales decline. Consumers are more concerned about job security, which is reflected in a job outlook decline of 9 percentage points in the latest Nielsen consumer confidence results."
The biggest declines, however, goes to out-of-home entertainment (36%) and holidays/ vacations (23%), which dropped 6% points accordingly. Putting spare cash into savings is still the favourite choice for most Hong Kong consumers, with 70% in this quarter.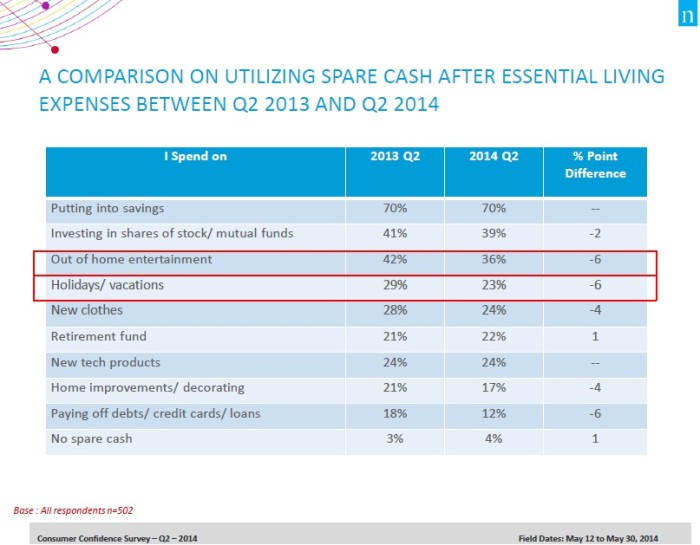 So what are consumers concerned about?
Economy continues to be the top of the list (16%), followed by job security.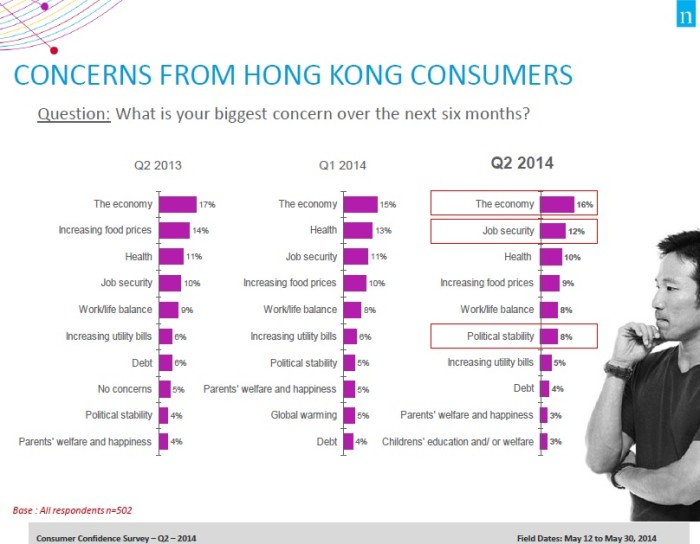 "Hong Kong GDP growth was revised to a slower 2.5% in the first quarter, as merchandise exports decelerated markedly," Leung said.
"Together with the slowdown in growth rate in mainland visitors, consumers are getting more concern on the economic performance which may have a direct effect on their job security level."
Notably, Hong Kong respondents indicate a greater concern regarding political stability (8%) compared to the first quarter, due to the different attitudes towards Occupy Central and protests.
The Nielsen Global Survey of Consumer Confidence and Spending Intentions was conducted May 12 – 30, 2014, and polled more than 30,000 online consumers in 60 countries throughout Asia-Pacific, Europe, Latin America, the Middle East, Africa and North America. Sample size for Hong Kong Consumer Confidence Index is 502.