In the first quarter of this year, Hong Kong's consumer confidence has reached a new peak since the 2008 financial tsunami, according to a survey by Nielsen.
Hong Kong's consumer confidence index stood at 111 points, which comes to 15 points above the global average, 12 points above that of Singapore and ties with China's index.
The survey sample for Hong Kong was 501 people over 15 years old, who were surveyed between 17 February and 7 March online.
Globally, the survey had a sample size of 30,000 in 60 countries.
Compared to Q4 last year, people have more plans to spend their discretionary income in Q1 this year. For example, 28% of people surveyed want to buy new clothes, up from 24% in Q4 2013. In the same period, people planning to spend on vacations, or buy new gadgets went up by 2% respectively.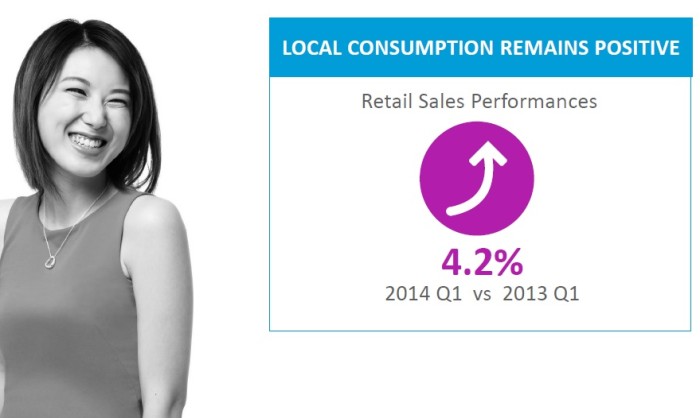 Respondents were more positive about their finances in general, with 63% of respondents optimistic about the job market and 65% have a better outlook on their personal finances for the coming year.
"The positive forecast on salary adjustment, which is higher than the forecasted inflation rate, reflects Hong Kong consumers' better purchasing power outlook," said Eva Leung, managing director of Nielsen Hong Kong and Macau.
However, the consumer confidence index does not take rent and property prices into account.
"The confidence index survey didn't cover local consumers' concerns about the property market. As rent is considered an essential living expense, it is true to say that property prices can be one of the factors affecting Hong Kong consumers' purchasing power," said Leung.
"If you take a look at the latest HKSAR figures on property prices, it should be a stabilized trend in Q1 2014."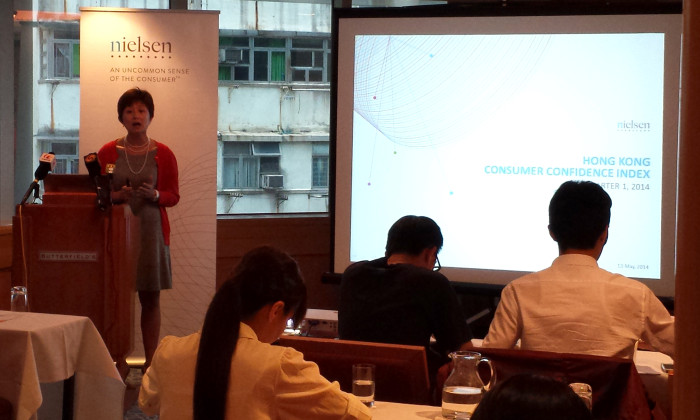 In terms of Hong Kongers' biggest concerns for the next six months, the state of the economy continues to top the list compared to Q1 last year but 5% fewer respondents saw this as their number one concern.
After the economy, the next three concerns are health, job security and increasing food prices.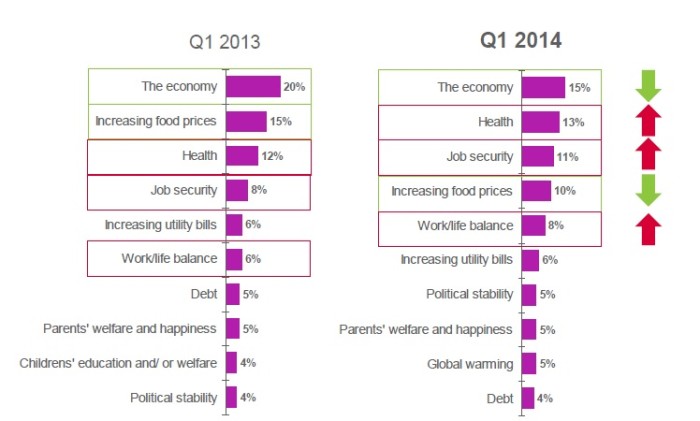 Compared to last year, work-life balance overtook increasing utility bills and became the fifth greatest concern of Hong Kongers for the next six months.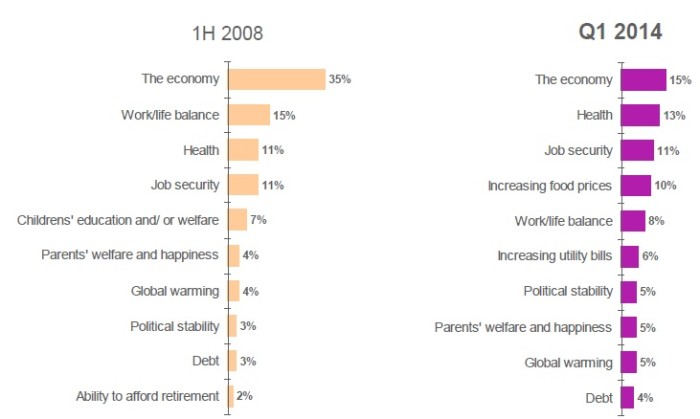 This is a stark contrast to the first half of 2008, where work-life balance was the second biggest concern.
Leung said, "The demand for work-life balance, however, captured the attention of consumers even more than health issues. The impact of tsunami hit pushed Hong Kong people a need to work extremely hard to keep their job which led to concerns about both economy and work life balance back then."