Coca Cola doubled its spending in May, pushing the beverage group to the top 10 advertiser groups, according to data from admanGo.
Lion, Dairy Farm Group, Coca Cola and Nestle Group were the only advertisers recording a year-on-year growth among the top 10 advertiser groups.
Samsung (-35%) and P&G (-28%) both experienced a significant YOY drop in adspend.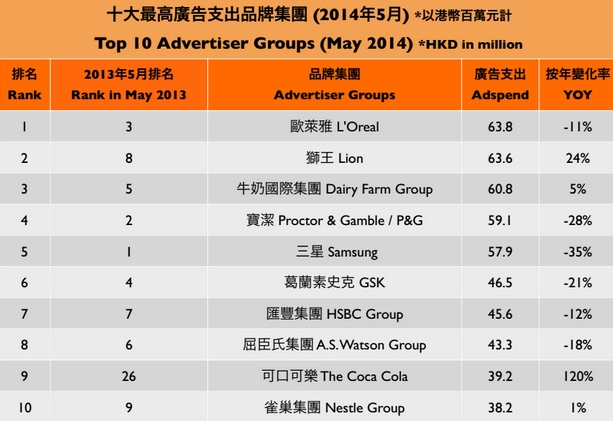 Source: admanGo
Lion was the second biggest advertiser group with a YOY 24% adspend growth. Its spend was mainly used for the promotion of Systema and Mizutori Zosan.
Ranked third, Dairy Farm Group increased 5% when compared to the same period last year.
For Coca Cola, 27% of its spending went to the promotion of Minute Maid Orange Juice while another 26% contributed to the promotion of the Coca Cola World Cup Quiz.
Meanwhile digital media grew 20% YOY, while mobile spending jumped 84%.
Adspend for free newspapers in Hong Kong dropped 6% when compared to May 2013.
One-third of the free papers adspend came from banking & investment services, retail and pharmaceuticals & healthcare.