It seems like Coca-Cola has come under fire for trying to do something a little cheerful.
The soda maker launched a new social media campaign called #MakeItHappy which took negative tweets and tried to create ASCII images. The images were then sent out to the digital world with the tagline: "We turned the hate you found into something happy. RT to make people :)" tagline.
Unfortunately, the campaign took a slight unfortunate turn when users sent out several tweets from Adolf Hitler's Mein Kampf autobiography, which resulted in Coca-Cola creating an image using Hitler's Mein Kampf quote.
The quote which read: "We must secure the existence of our people and a future for White Children" was created into an ASCII image of a dog. Coca-cola then blasted it out on its social media feed to its fans.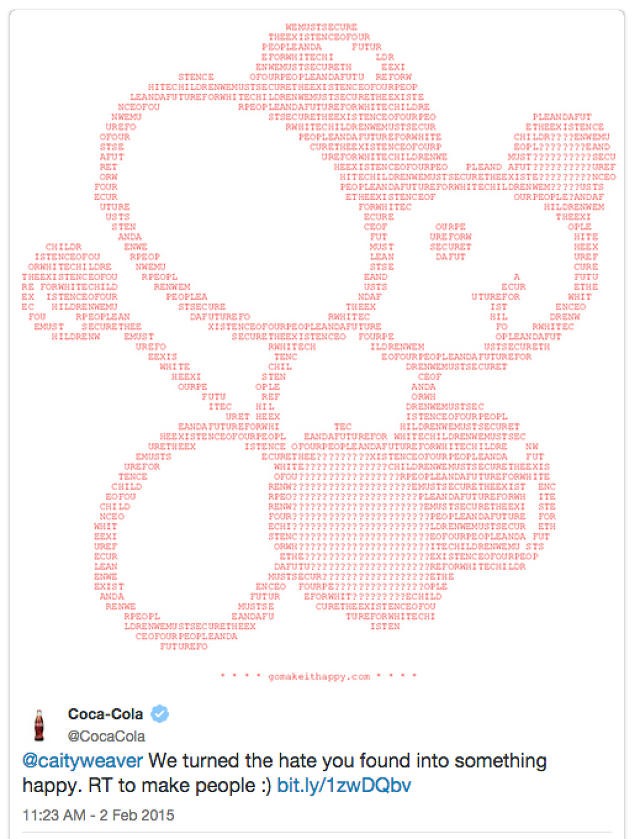 (Photo courtesy: Fast Company)
The brand pulled the campaign, and Fast Company called it the worst brand tweet.
Ian McKee, CEO of social media agency Vocanic said that such cases happen when a brand is simply in a blind rush to "cost reduce and achieve scale in social media". Some brands then fall into the trap that Coke did where they are trying to automate yet are also trying to simultaneously be genuine, authentic and human, said McKee.
Simon Kemp, regional managing partner at We Are Social added that the best social executions are about meaningful interactions between people.
"No one wants to speak to a robot. Yes, it is of course possible to automate social content and activities, but that misses the whole point, value and opportunity of social marketing. We've got to stop looking at social media and all other digital channels as items to tick off on our media to do list, and look at them as genuine opportunities to build meaningful interactions, and deliver mutual value for us and our audiences," said Kemp.
Meanwhile, a Coca-Cola spokesperson told Adweek that the campaign intention was simply to "inspire people to make it a more positive place." The spokesperson added that spreading hate through this campaign is just another example of online negativity that the brand was trying to address.