Hong Kong advertisers have kicked-started 2015 in a big way, with Chinese New Year driving a big surge in advertising spend across Hong Kong.
According to admanGO, local ad spend for February this year has reached HK$3.3 billion, a 17% increase on February 2014. More significantly, however, is the total ad spend for January and February combined, which amounted to $7 billion, a year-on-year growth of 10%.
SEE THE BEST OF CNY COMMERCIALS HERE
Heineken promotes froth-free CNY resolutions
Lifebuoy turns CNY into a soapy affair
Apple debuts a new TVC in China for CNY
Oreo takes a "Wonderfilled" journey for CNY
THE NEW POWER CHANNELS
With the exception of an 8% decrease in spending on magazines and a 1% drop in ad spend in paid newspapers and radio, year-on-year growth was recorded for all other media. Ad spend in TV was up a healthy 8%, while the spending in free papers and outdoor ads jumped 12%.
The bigger story to emerge from the Jan/Feb data is the growth of interactive and mobile channels. Spending on interactive increased 46%, while spending on mobile alone saw a strong 80% surge.
According to admanGo data, digital now commands 12% of Hong Kong ad spending, 20% higher than the fourth quarter of 2014.
Kevin Huang, CEO of Pixels, said the result was not surprising given the fact digital (interactive and mobile) advertising had grown at a very high rate and at the expense of traditional media.
"The growth of digital ads will continue to accelerate and I believe at a faster pace in the next several years."
But he said the growth would not be as pronounced as Western markets.
"Hong Kong advertisers have now seen the value digital ads bring to their marketing objectives and will continue to shift more of their budgets to digital. I predict that by 2020, digital will command the lion's share of budgets in Hong Kong, replacing television advertising."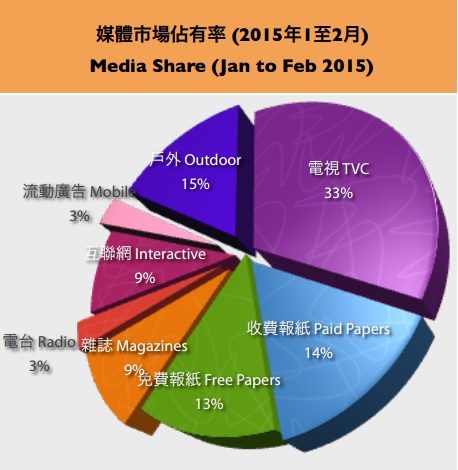 So who is spending this money?
Dairy Farm Group remained the top advertiser group with a 13% YOY increase in ad spend. There was a 19% YOY growth in ad spend on P&G, but a 18% YOY drop on L'Oréal. Ad spend for Nestlé increased by 53% when compared with a year ago.
Spending on baby milk powder, Wyeth GOLD was 1.5 times more than last year and accounted for 58% of the overall ad spend of its advertiser group. The ad spend of another baby milk powder Illuma also accounted for one-fifth of the group.
There was a drastic 73% YOY growth in ad spend on Hang Seng Bank and its ranking was up from 25th to ninth place. The ad spend on the Hang Seng Enjoy Visa Card and Platinum UnionPay Card was both 1.5 times more than the previous year. 20th Century Fox made the top 10 advertiser groups for the promotion of the various movies shown in theatres.