Get your tissues out. It's time for a epic love story.
Most recently, a customer decided to publicly break up with StarHub through a social media post. The former StarHub customer, in a heartbreaking (but funny) letter, said he will be cancelling his current line as he is choosing to take up another plan with newly inducted online telco Circles.Life.
The customer, known on Facebook as Leonid Smorgon signed off with the phrase: "You will always be in my heart as my first telco. My little green star. Goodbye."
The matter was brought to Circles.Life attention on its own Facebook page by another user Lewis Loh, who referred to them as the "third party" in this break up. Not missing out on the opportunity to be part of the drama, Circles.Life decided to defend itself in this "broken relationship".
Here's what it said: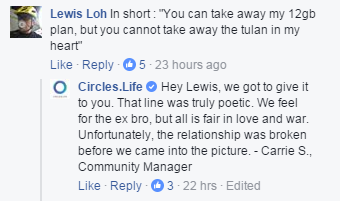 But StarHub didn't sit silently either. On the original post, it said, very emotionally, "We have always loved you. All relationships are bound to have their complications."
Gut wrenching isn't it? Read the full conversation here: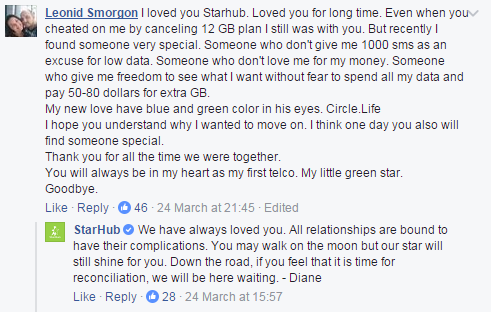 A conversation with the heartbroken StarHub
At the time of writing, StarHub had not yet responded to the Circles.Life post and did not say if it will be responding.
However, Rod Strother, head of digital transformation, told Marketing, "While we are sad to see this customer leave us, we are heartened with the approach taken by our community management team in which a big part of their role is to drive engagement with our customers." He added:
We are glad that the breakup had been an amicable one. It is certainly our wish to reconcile with this customer should he have a change of heart.
"We will continue to work on improving our offerings and customer service to delight our customers," Strother said.
Break-ups a part of Circles.Life's personality?
Meanwhile a spokesperson from Circles.Life simply said its response to the consumer was written up in "good fun" and declined to comment further.
The break up concept is not one which is new to Circles.Life, which launched a campaign spot last year featuring customers of Circles.Life who are classified as "Super Users" of the telco. The spot showed four individuals talking about what seems like a personal break up experience, only to reveal later on that they were referring to their past mobile data contracts, which are inferred to be from competitor telcos.
Earlier this year, the online telco also pulled a marketing stunt which saw the vandalising of "competitor" out of home (OOH) assets. The competitor in question was SGMobile, a fake company claiming to be Singapore's "fourth telco".
This was to highlight the frustration of data-savvy Singaporeans with the limited amount of data available in mobile offerings today. It also poked fun of the existing data packages using SGMobile, and build up to its own campaign which promotes "20 GB for SG$20 Data Plus" option.