Circle K has made its biggest step in branding in eight years with a new TV-led campaign launched last week, associating the brand with a concept of "Be a daring new generation".
The last branding campaign was a TV commercial featuring local celebrity Sammy Leung (森美) in 2007.
The latest campaign, developed by Uth Creative, highlights four parody characters to represent the "daring new generation" concept. They include Steve Shop, Oliver James, Drink Dragon and Hello Mikki, with more characters coming up in the next few months.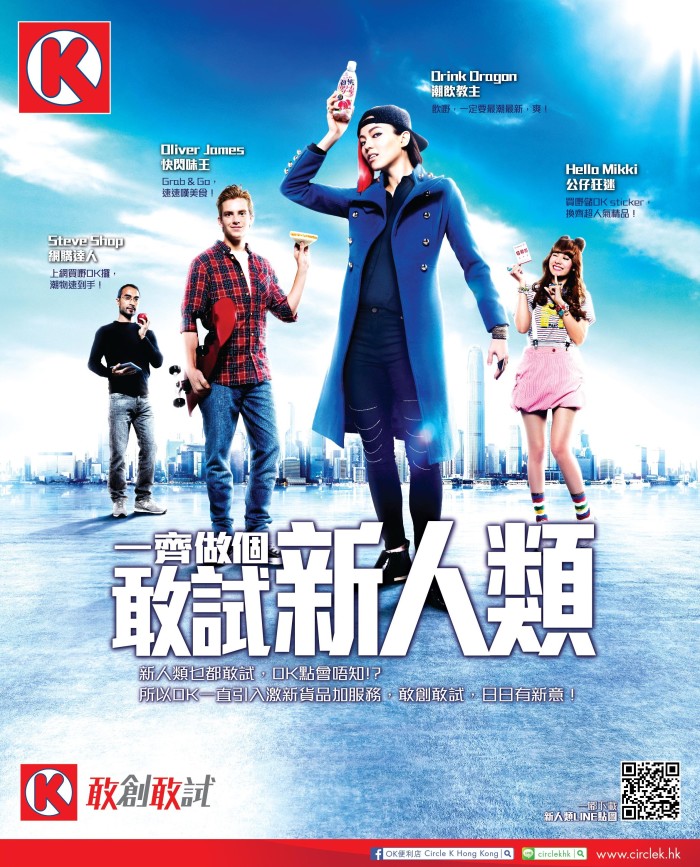 Fred Yeung, marketing services controller at Circle K Convenience Store, said the concept aimed to reflect that Circle K customers were independent, in control, cheerful, casual, socially connected and exploratory.
"Sharing the same attitude of 'Dare to Try' as the new generation, we always try to be innovative and 'daring' in terms of customer experience, product assortment, convenience servicing and promotions."
The campaign has been launched with a focus on food service offerings. With reference to popular sandwiches in Japan, Oliver James introduced a new product "Hot & In Super Soft Sandwich". The new sandwich has been launched with four flavours.
On the social media front, the campaign runs with a set of thematic stickers available until 28 October.
[gallery link="file" ids="112845,112846"]
Circle K TV commercial 2007:
Credit
Client: Circle K Convenience Stores (HK) Ltd.
Creative: Uth Creative Group Ltd.
Managing partner: Desmond So
Creative partner: Charles Wong
Associate creative director: Ahho Yip
Senior copywriter: Lili Cai
Senior art director: Tony Leung
Art director: Jonathan Kwan
Senior account director: Bianca Tam
Account manager: Erica Chan
Account executive: Adrian Kwong
Head of digital: Ada Lee
Media: PHD Hong Kong
Production: Bingo Production Ltd.
Production director: Binn