Joanna Kot, Chow Tai Fook's deputy head of public relations and media, has resigned from her position after a social media outcry about her ill-timed comments mocking victims of sexual assault at Occupy protests.
"Kot has resigned and taken responsibility for her knee-jerk response [to the victims of sexual assault in the protests] on social media," a Chow Tai Fook spokesperson told Marketing.
Kot, the deputy head of public relations and media at Chow Tai Fook for two years, has deleted both her Facebook and LinkedIn accounts short after the bold comment has rapidly been panned on social media, along with the company she represents.
[caption id="attachment_68472" align="alignnone" width="700"]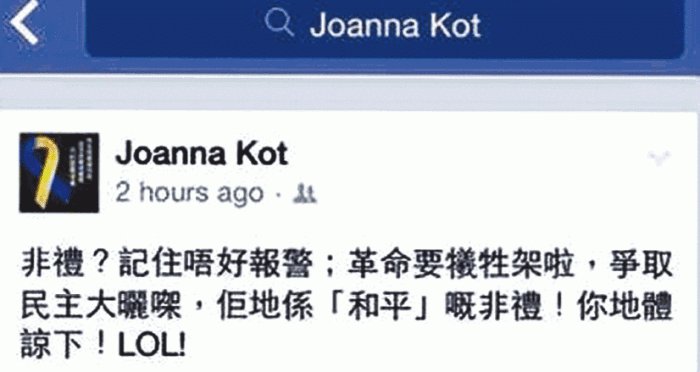 Photo courtesy to Apple Daily.[/caption]
One of her posts read:
"Molested? Remember do not go to the police; revolution requires sacrifice, fighting for democracy is beyond everything.
"They(anti-occupiers) are 'peacefully' molesting you. Be considerate! LOL!"
On 4 October, Chow Tai Fook also took to social media to response with a statement of clarification:
"It is with much regret that the words posted by one of our staff members on her personal Facebook account have aroused discontent among members of the public".
"We hereby clarify that any individual staff's personal words and opinions have no relation with the company and do not represent the company's stand. Your attention and understanding are much appreciated."
The statement has received some 2,234 comments to date.
It is understood the company is on the hunt for a replacement. Kot could not be reached for comment at the time of publishing.