China's wearables market will overtake the US this year, according to eMarketer's latest wearables forecast.
In 2017, more than a fifth (21%) of adult internet users in China will be donning a wearable device, such as an Apple Watch or Mi Band, at least once per month. By comparison, wearables penetration in the US is expected to reach 20.4%.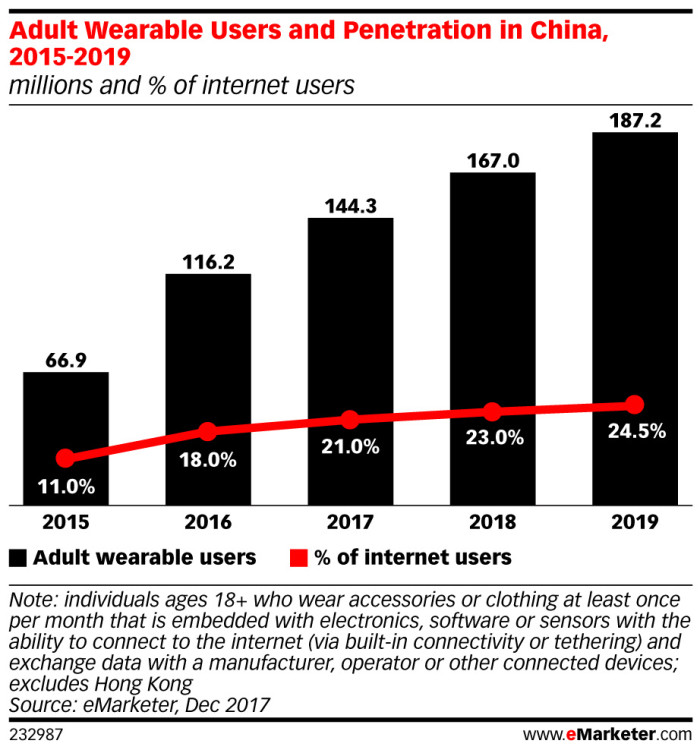 The wearable technology market made its way to China more than five years ago, and the sector has seen triple-digit growth there, with little indication of slowing down.
Though the Fitbit wasn't initially successful among consumers in the country, the subsequent arrival of inexpensive trackers, such as the Mi Band, ignited the market and helped drive mass adoption among the tech-savvy Chinese. In addition, the launch of the Apple Watch in 2015 appealed to the rising middle class who have a propensity for high-end luxury goods.
By 2021, eMarketer estimates, almost a quarter of adult internet users in China will be using a wearable device regularly.
"Wearable devices will continue to experience high growth among those in China," said Shelleen Shum, senior forecasting analyst at eMarketer.
"Thanks to the availability of inexpensive devices with constantly improving functionalities, coupled with an enthusiasm for new technology among working adults, it is not surprising that the adoption of wearable technology is on the rise in China and will surpass the US in 2017."