China joins the ranks of the world's 25 most-innovative economies, while Switzerland, Sweden, the United Kingdom, the United States of America, Finland and Singapore lead the 2016 rankings in the Global Innovation Index (GII), released by Cornell University, INSEAD and the World Intellectual Property Organization (WIPO).
Fifteen of the top 25 economies in the GII come from Europe. Switzerland retains the top position for the 6th consecutive year, followed by Sweden and UK.
In Northern America, the U.S. (4) continues to be one of the world's most-innovative nations.
Singapore (6), the Republic of Korea (11), Hong Kong (China) (14), Japan (16), and New Zealand (17) lead in the South East Asia, East Asia, and Oceania region. The majority of GII innovation leaders are in this region or Europe. Among upper-middle-income economies, China (25), Malaysia (35), and Thailand (52) rank first in the region.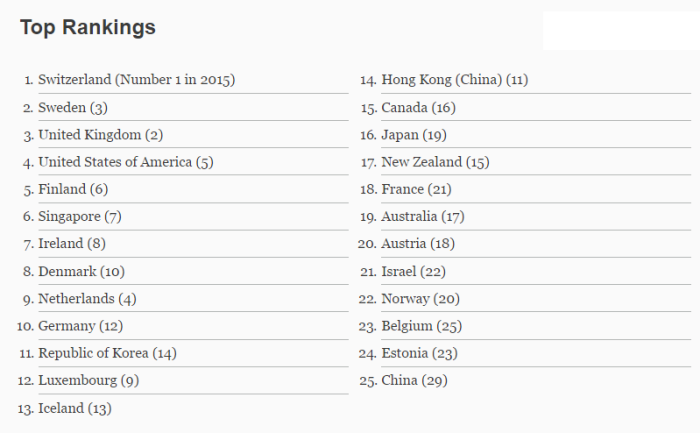 China's top-25 entry marks the first time a middle-income country has joined the highly developed economies that have dominated the top of the GII in its nine editions of surveying the innovative capacity of over 100 economies.
Despite China's rise, an "innovation divide" persists between developed and developing countries amid increasing awareness that fostering innovation is crucial to a vibrant, competitive economy.
"In this current economic climate, uncovering new sources of growth and leveraging the opportunities raised by global innovation are priorities for all stakeholders," said WIPO director general Francis Gurry.