Organisations in China spend significant revenue on digital investments to keep pace with today's "always connected" Chinese consumers. But the technology investments being made are not closely aligned with business strategy, according to PwC's 7th Annual Digital IQ Survey.
The survey interviewed 1,988 senior and C-suite executives from 51 countries across a broad range of industry sectors, with 51 respondents from China.
According to the result, 55% companies in China are spending more than 10% of revenue on digital, while 10% are spending more than 20% of revenue on digital.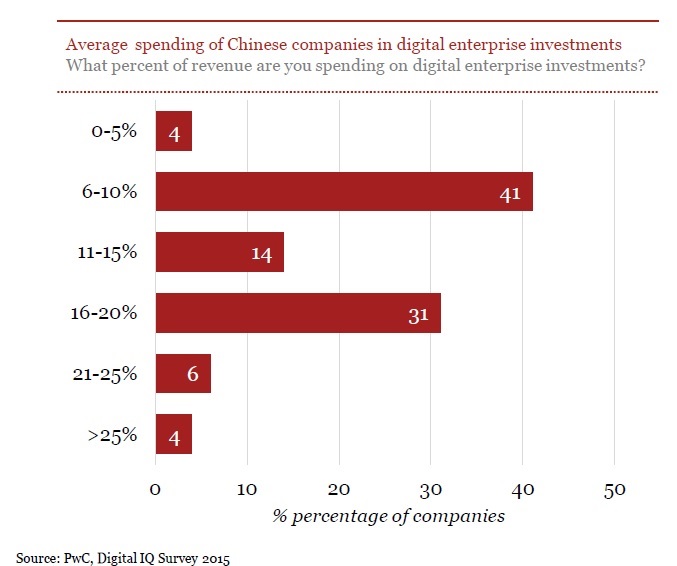 More than half of business leaders in China (56%) are confident in their organisation's digital vision and capabilities, which was higher than the global average.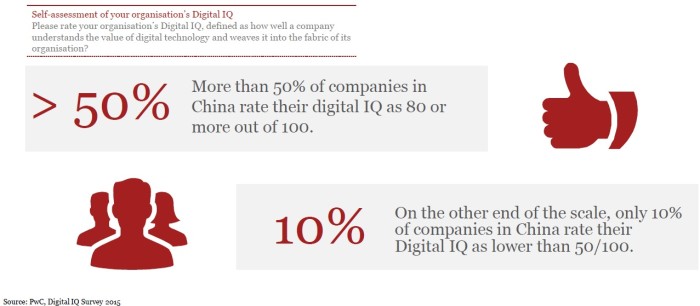 In terms of analysis, almost half of all respondents (47%) in China consider their data analytic skills to be "highly developed", higher than the global average of 40%.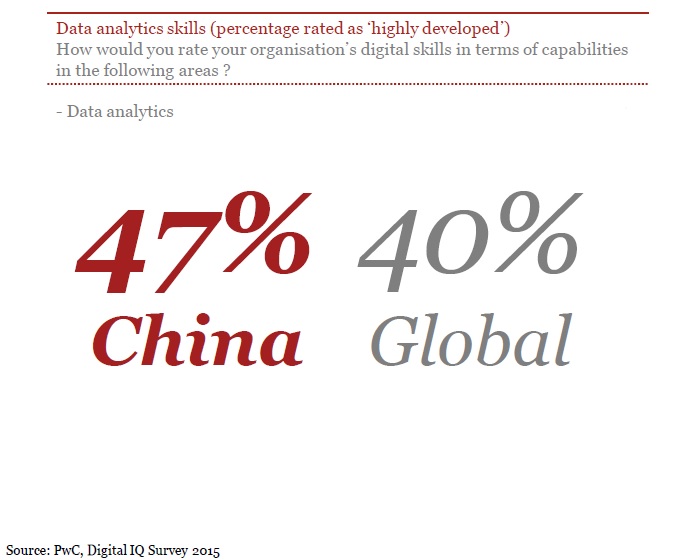 In contrast, when asked to gauge how effectively data is put to use in driving business value, only 16% of respondents in China responded with confidence, notably lower than the global average of 26%.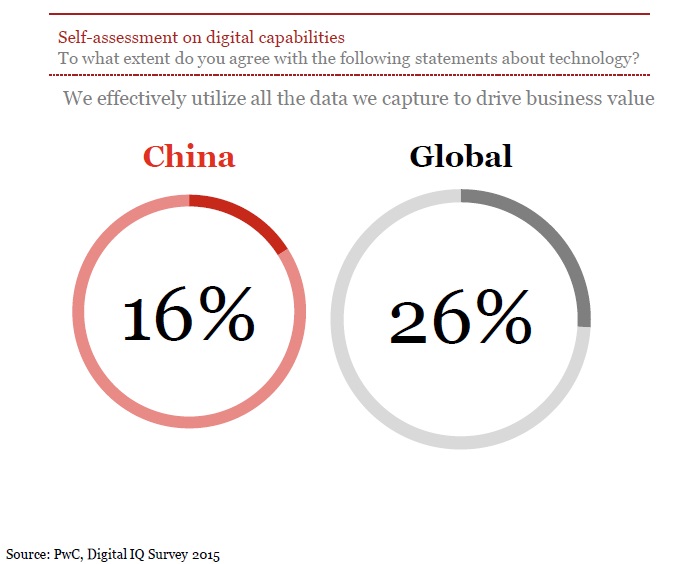 Scott Likens, PwC China and Hong Kong digital and analytics leader, said the low confidence in using data to drive strategies may serve as a signal for companies to reassess how sustainable current approaches to digital investments are.
"Based on the feedback, we think there could be significant scope for companies to more closely align their digital strategies with revenue growth," he said.
Respondents from China consider location-aware data and mobile customer interaction to be the most important types of data for competitiveness in China (59% and 51% respectively). Respondents in China also rate social media the and Internet of Things as less important than their global counterparts.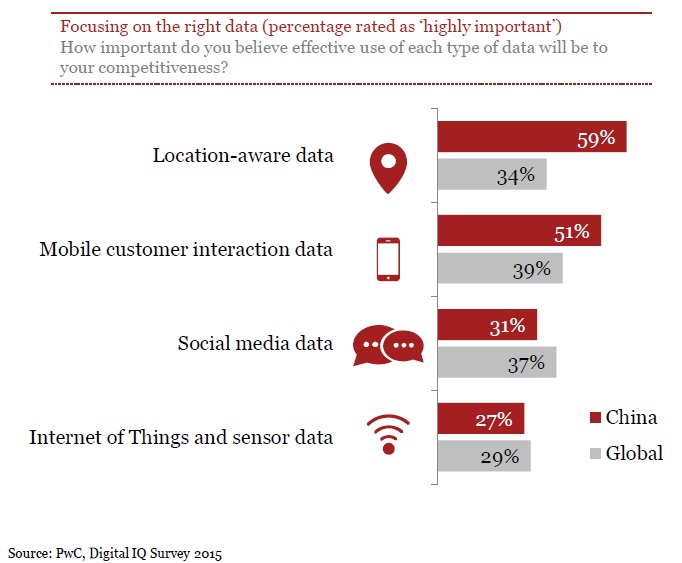 The survey identified that Technology Architecture and Design is considered to be the most important digital skill for business success by respondents in China (76% vs 40% globally). Conversely, more global respondents prized data analytics skills than Chinese respondents (40% vs 25%), which indicates a notable difference in how digital skills are prioritised in China.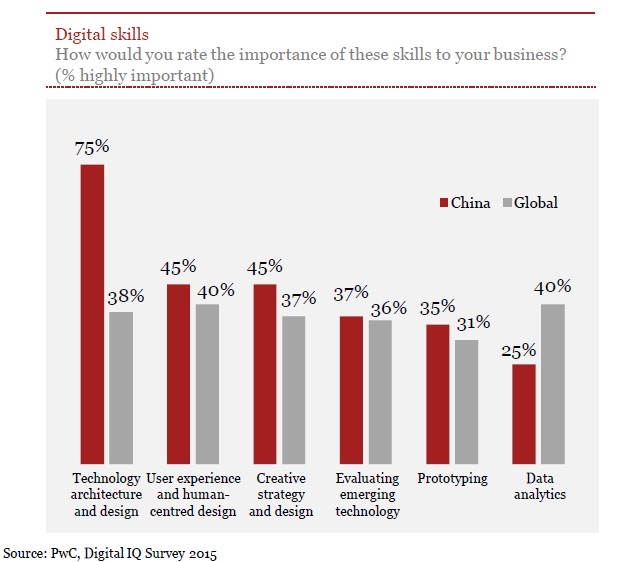 In China, digital budgets are focused mainly on IT, sales and marketing, while the average global spending is broader, spread over customer service, operations and enterprise functions such as human resources, finance, risk and compliance.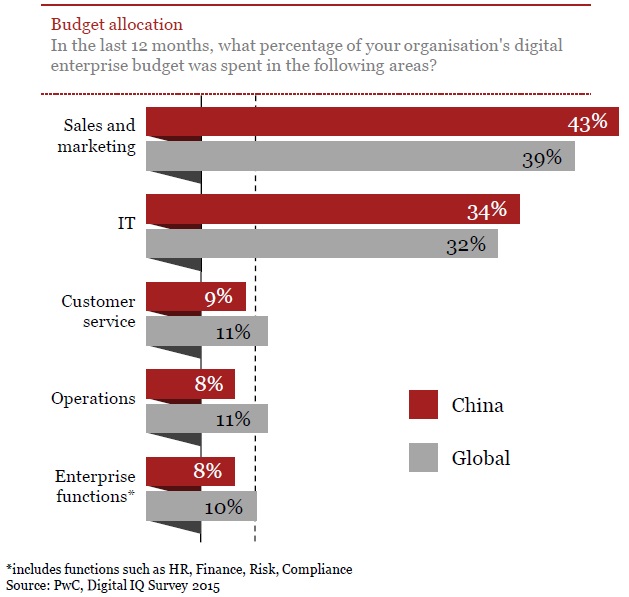 Findings also highlight the current prominence of technology in forming business strategies, with 67% of respondents taking a technology-driven approach by adopting new and emerging technologies that can impact business performance. In addition, fewer companies in China characterise their approach as being business-driven compared to the global average (18% vs 32%).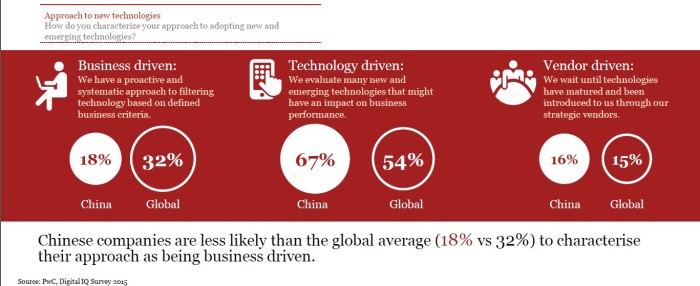 "Embracing the potential of data to drive digital strategies will be a critical success factor and while the majority of companies are already confident in their digital capabilities, they are not yet using their data optimally," added Likens.
"Looking ahead, there are clear opportunities for companies to invest in digital technology strategically, particularly in high-impact areas such as automation and digitisation of business channels."
Source:   http://www.pwchk.com/home/eng/consulting_analytics.html