Calm down. We know you have seen life-sized Pikachus strolling at Changi International Airport. This is a part of the first ever Pikachu Parade organised by Changi Airport Group to kick off its year-end festivities.
Banking on the recent Pokemon fever, Changi Airport's Terminal 3 (T3) unleashed the yellow monsters in its premises to drive footfall to the airport. When reached out to by Marketing, Ivan Tan, SVP of corporate and marketing communications said that the response has been strong, and has attracted much attention on social media. Changi Airport has since changed its social media image to include a Pokemon as well.
"With a strong suite of activities, we hope to attract more footfall to Changi Airport, benefitting our tenants, while bringing cheer to passengers and customers," he said. He explained that retail is an important part of Changi Airport's business. Profit from Changi's retail business are channeled into covering the costs of running the airport, allowing it to keep charges for airlines and passengers low and hence maintaining the overall competitiveness of the air hub.
He added that with the upcoming year-end holiday season, Changi wanted to bring something special for travellers and visitors, to add to the festive cheer. This is something the airline does every year to keep the holiday season "fresh and exciting".
Last year, Walt Disney has partnered with Changi Airport to bring a part of the franchise to to visitors, with two of the film series' iconic star-fighters landing in Singapore for the very first time. Prior to this, themes based on Mickey Mouse, Spongebob SquarePants and Angry Birds attracted a lot of attention.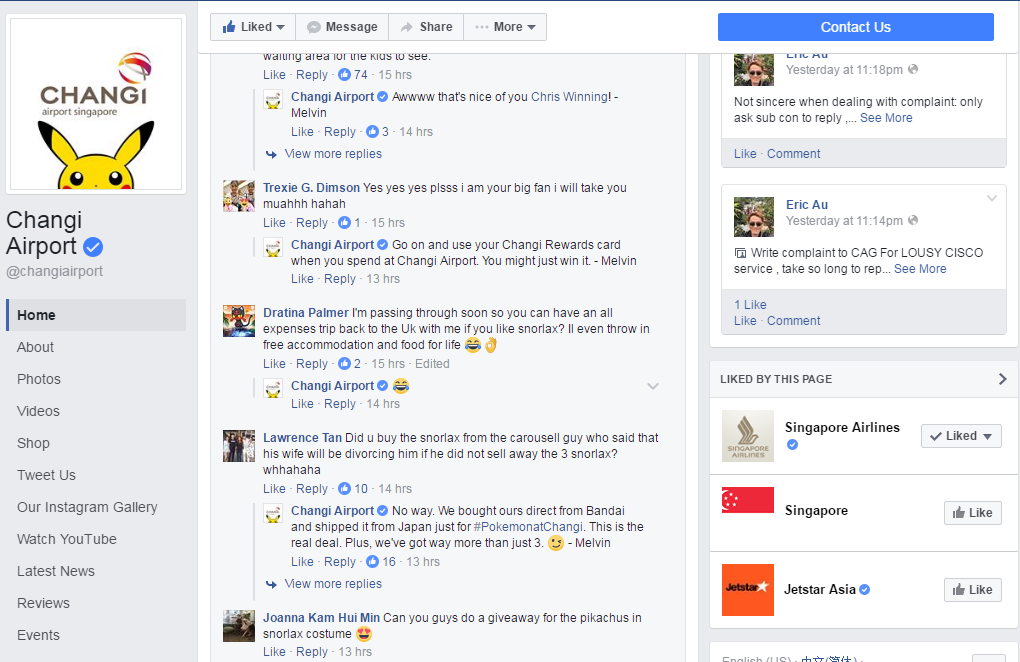 As for the celebrations, a light show, would also be held until 8 January, along with a seven metre-tall Pikachu, the largest character installation at Changi Airport by far.
The year-end celebrations at Changi Airport will also include other activities and performances for its visitors. Three life-sized Snorlax set up at the Snorlax Garden presents a photo opportunity not to be missed. Pokémon trainers and visitors who are game for more adventure can embark on a Poké Trail to hunt for 26 Pokémons and win exclusive merchandises.