To commemorate the 20th anniversary of its M.S.Sc. in Corporate Communication programme, the School of Journalism and Communication of The Chinese University of Hong Kong (CUHK) staged a first-time one-week celebratory Public Relations Week from 11 to 18 March 2016.
The week of events included an international forum for PR practitioners, public seminars, panelist discussions, and international conference. Over 400 participants from the academia and business community attended the Public Relations Week.
One of the major events of the week was "The International Forum: Bouncing Ideas with Communication Professionals" held at the Hong Kong Convention and Exhibition Centre on 16 March 2016.
The full-day forum brought together communication professionals and academics to explore the new opportunities and challenges in the digital era. In the forum opening section, Chi-yue Chiu, dean of social science of CUHK mentioned the importance of dialogue and ideas exchange between researchers and professionals. Anthony Fung, director of School of Journalism and Communication at CUHK, highlighted that PR goes beyond a subject but a practice to reach the community and a commitment to society.
Speakers at the conference including Erika Wang, managing director of Yahoo Taiwan and Joe Kelly, vice president of international media affairs at Huawei shared the latest digital marketing trend, from web world to app world, and the best tips to engage stakeholders using digital communication in a shareable way.
Clara Shek, managing director of Ogilvy Public Relations Hong Kong pointed out that facts are not enough but emotional engagement in digital era. Other speakers also had an extended discussion with participants on how organisations and brands build trust and win the hearts of smart consumers in this information explosion age.
As a speaker and a participant, James Hacking, senior vice President of BlueCurrent Hong Kong, said "PR Week was a great opportunity for academics, communications practitioners and students to come together to discuss the most important issues impacting the industry and, most importantly, how communications professionals can play a role in shaping the future."
Meanwhile, Pamela Leung, president of HK Public Relations Professionals' Association (PRPA), also indicated that "it was a great learning and sharing at the forum. It was a very insightful and fruitful event that has brought much inspiration to communication professionals, local and regional alike."
Another highlight of the event was the "International Conference on Emerging Trends and Challenges of Public Relations and Strategic Communication in the Digital Era" held at CUHK on 17 March 2016.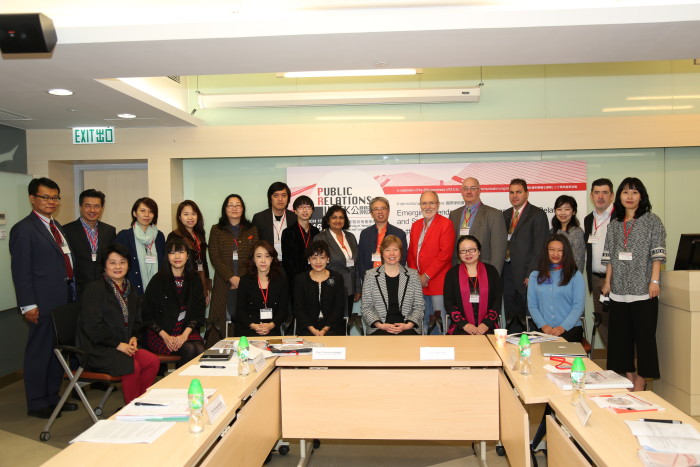 Leading international PR scholars from University of Florida, University of Tennessee Knoxville, and the University of Waikato, New Zealand gathered and shared their latest findings on the relationship between PR and digital media, and challenges of PR practices in Asia-Pacific countries with the emphasis on the Greater-China region and the trends of communication convergence.
Craig E. Carroll from New York University shared his finding on the "Transparency Signaling and Disclosure Alignment in the CSR Reporting of Chinese Companies: A Cross-Cultural Extension" while CUHK's Sora Kim expressed her study about "The Use of CEO Personality in Crisis Communication on Social Media: Focusing on Alibaba Chairman Jack Ma in China".
Christine Huang, programme director of M.S.Sc. in Corporate Communication programme believed that the PR Week has facilitated exchanges between academic and industry insights and is a significant milestone of the programme.
PR Week co-conveners, Shih-Chia Wu and Kaman Lee from CUHK also stated the appreciation to PRPA and Council of Public Relations Firms of HK (CPRFHK) who provided support on closer collaboration between the two spheres.