Investment scams are still rampant today, with experienced investors also falling prey to unregulated investment schemes. As such, the only way to educate investors would be through first-hand experience.
This led to the Securities Investors Association Singapore (SIAS) collaborating with MoneySENSE, creative partner Water's Edge and media partner BRIQ to launch an educational campaign titled "Beware! Investment Scams". As a result, Water's Edge won Gold - Excellence in Corporate Social Responsibility at the recent Marketing Excellence Awards Singapore 2017.
This post was done in conjunction with Water's Edge.
Problem
News of local investors losing their money to unregulated investment schemes has been appearing intermittently in the media. In many cases, even seasoned investors were being scammed. Unregulated investment schemes offer different types of products with various underlying assets, ranging from overseas properties to commodities. And despite the adage of "If it's too good to be true, it probably is", many investors still end up falling prey. Greed, over-confidence and savvy manipulation by the scammers were key reasons that investors ended up succumbing to such schemes.
Solution
While the Monetary Authority of Singapore (MAS) is making legislative changes to extend capital markets regulatory safeguards to non-conventional investment products, investors themselves remain the first line of defense against the ever-evolving types of investment scams. Therefore, the approach towards this campaign stemmed from a consumer psychology standpoint, where investors deem themselves experienced or have the mind-set that being scammed is not a situation which will happen to them – leading to a key insight: investors must feel a "pinch" before a message can truly affect behaviour.
So what if the investors did fall prey? What if, to create awareness and education surrounding this growing issue, a campaign leveraged the very same tactics as the fraudsters?
Water's Edge started by studying the various reported scams to date to identify common tactics, including posh offices and demonstrations to "awe" investors and establish legitimacy, pressure tactics such as limited time offers, and making attractive promises of high returns and capital guarantees.
This led to the creation of two fake investment schemes. Investors were then exposed to press ads on credible newspapers like The Straits Times, The Sunday Times, Lianhe Zaobao, and TODAY. Digital ads were also made contextual to investing, with Facebook ads and search engine marketing leading to scam landing pages – one per "scheme".
Once there, the lure of high returns, referral commissions, and testimonials culminated in a call-to-action to have investors indicate a potential investment amount, before committing via a "Submit" button. The scam was then revealed, leading to educational material about how to best avoid such schemes.
Objective
The Securities Investors Association Singapore (SIAS), MoneySENSE, creative partner Water's Edge and media partner BRIQ came together to develop an educational campaign in order to:
Raise consumers' self-awareness of their vulnerability to falling prey to investment scams.
Empower consumers to better identify "red flags" of such investment scams.
Encourage consumers to deal with regulated entities when looking to invest.
Execution
Phase 1: Experiential Learning
Set up two fake investment schemes based on the two most common types of investment scams, namely Gold and Property.
The schemes were marketed via print and online ads to "entice" potential investors to engage.
Investors are led to a professional-looking website where they are asked to commit.
Scheme was unveiled as a "scam" once the investor tried to indicate a potential investment amount, and were directed to our educational content to help them avoid falling prey again.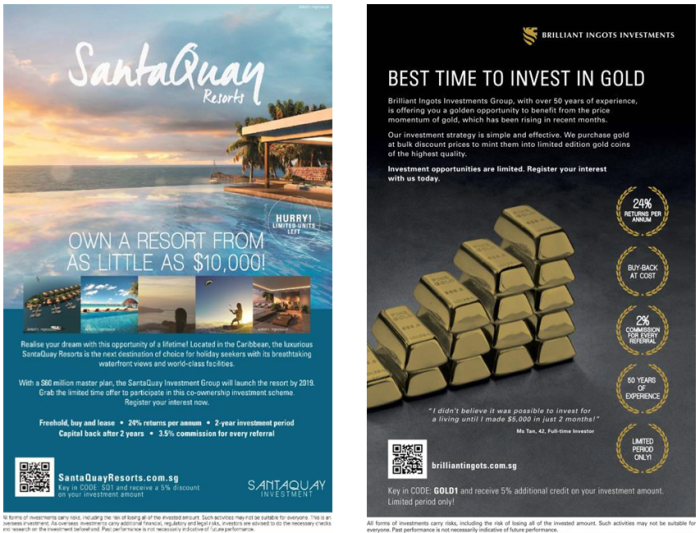 User Journey at the 'Scam' Site – Both Resort and Gold have similar user journeys
1. Home Page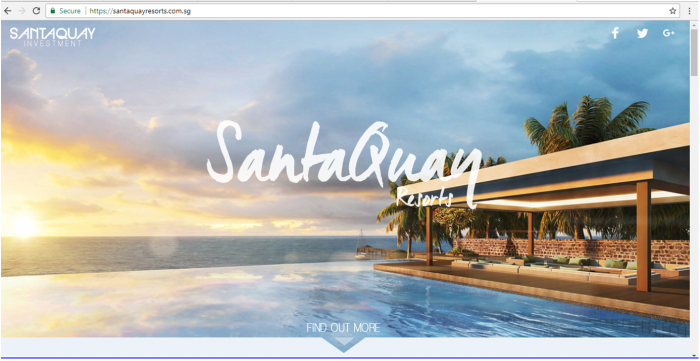 2. When users scroll from the home page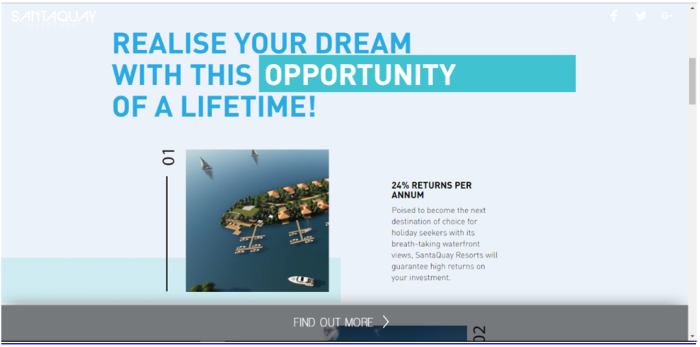 3. When users click "Find Out More", they are brought to the "Invest" page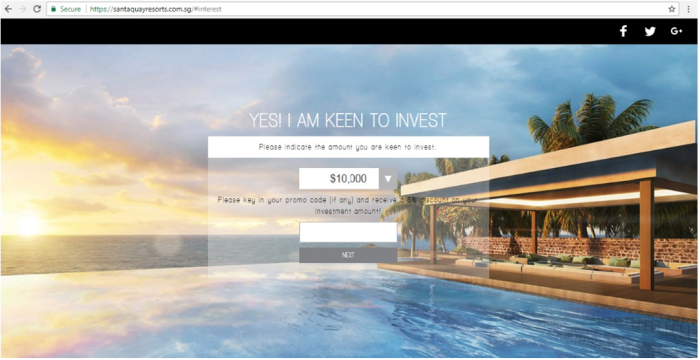 4. The reveal – after an amount is submitted or when users click "Next"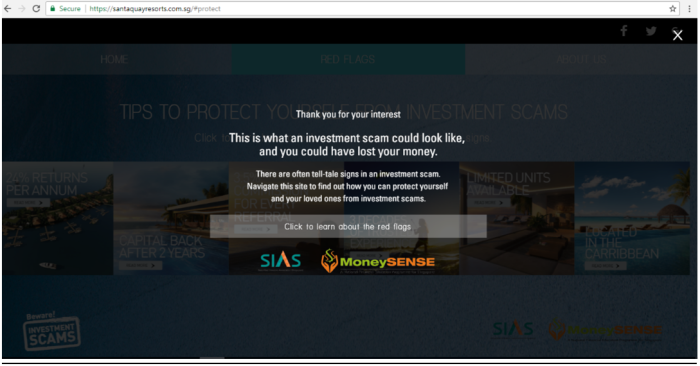 Phase 2: Multi-faceted education drive
Establish an educational website containing key information on avoiding investment scams and call-to-actions - "Ask. Check. Confirm".
Leveraged newspapers, social media and bloggers, variety shows (Hua Hee Tio Ho) and on-ground outreach such as posters, roadshows and talks to drive consumers to our educational website.
Conveyed call-to-actions in a light-hearted manner to the public using video starring Hossan Leong; also worked with Dollars & Sense on a social experiment video.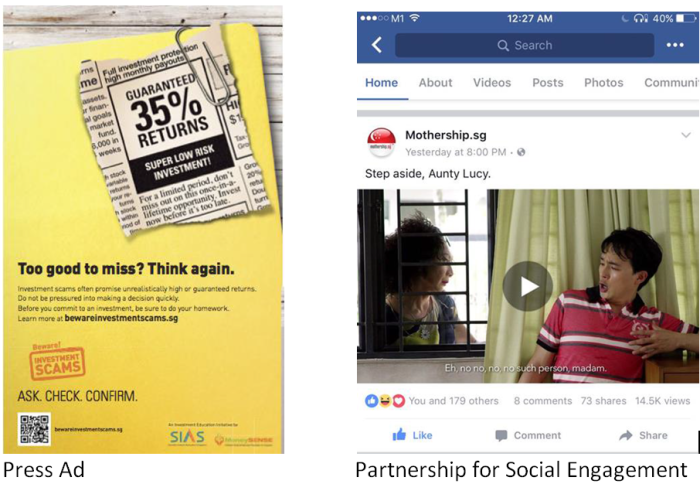 Results
The campaign delivered a total of 17,081,338 impressions and 145,836 clicks across media to the campaign websites. Display ads performed at twice the industry benchmark and the use of social media and video also drove excellent traction at more than double the average standards.
During the "scam" period of only two weeks each, the campaign piqued the curiosity of the target audience, resulting in more than 14,000 searches. There was a total of 2,556 unique users who committed investment amounts totaling to 37 million. The majority of the users were aged 25-54.