During the hottest months in Singapore, Ben & Jerry's launched its new Cookie Core flavours, featuring a thick core of spoonable cookie butter. The Boom Chocolatta! Cookie Core and Spectacular Speculoos Cookie Core launched in Singapore with the help of a Twitter campaign #CookieCoreWith.
The campaign was launched with the support of media agency Mindshare.
Fans of the ice cream brand who tweeted and tagged friends they would like to #CookieCoreWith stood a chance to have the new Cookie Core ice cream delivered to them. Ben & Jerry's was able to further the engagement by offering fans the ability to choose where they would like the ice cream to be delivered - home or office - through a customised Twitter poll.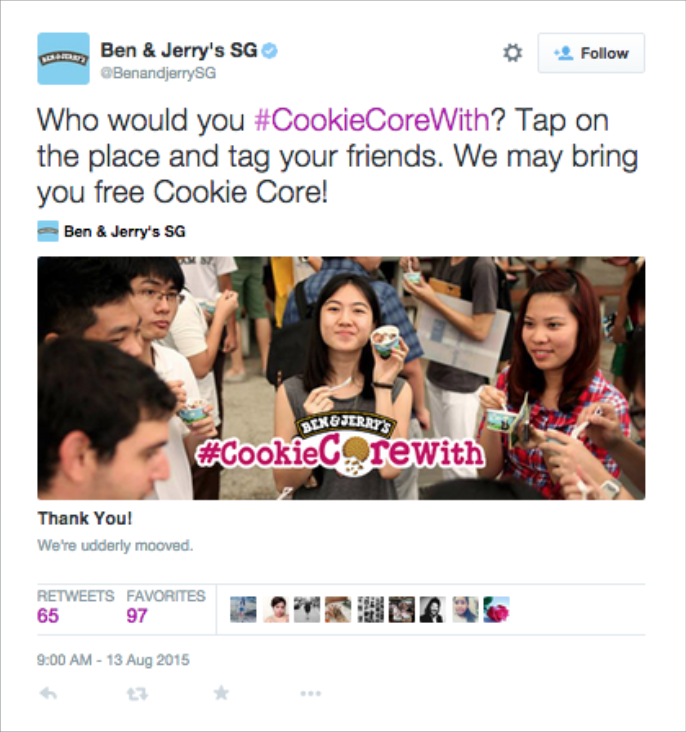 Ben & Jerry's saw its Twitter engagement increase from the first day of the campaign, with 400 mentions of the hashtag #CookieCoreWith just on the first day alone, culminating in 85x account mentions for the duration of the campaign.
Fans eagerly invited friends they would like to #CookieCoreWith, and according to Kimberly Tan, brand champion of Ben & Jerry's: "We're very pleased with the response from the #CookieCoreWith campaign.
The use of polling cards drummed up the excitement and most importantly, the responses from our followers and ice cream fans on Twitter. The most difficult part of this campaign was choosing who would get the new Ben & Jerry's Cookie Core ice cream delivered to them!"

"There are thousands of Tweets about ice cream everyday. There's immense value for brands like Ben & Jerry's to join these conversations on Twitter and meet the needs of customers" Steve Kalifowitz, Twitter's head of brand strategy, Asia Pacific, Middle East and North Africa, said.

The core tenets of engagement
Twitter and Ben & Jerry's shares some tips for an udderly irresistible engagement campaign.
Tip #1: Let your followers have their say
Through a Twitter polling card, fans of Ben & Jerry's were asked where they'd prefer to #CookieCoreWith their friends - office or school?
The #CookieCoreWith campaign also coincided with a public core tour launch at Ben and Jerry's Flagship Scoop Shop @313 Somerset.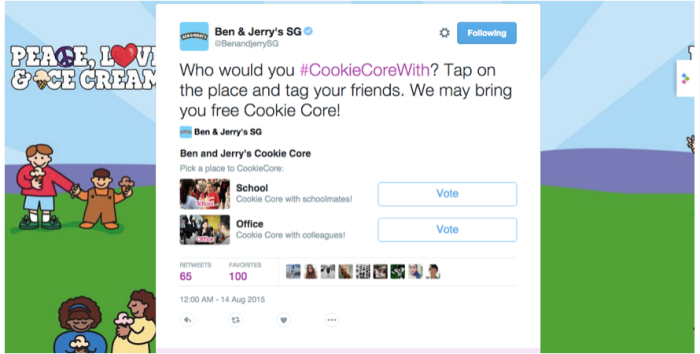 Tip #2: Choose a hashtag that implies engagement
Ben & Jerry's campaign hashtag #CookieCoreWith suggests an indulgence best shared, and invites users to share the campaign with their friends and followers.  Tweets with hashtags can increase engagement almost 100% (2x) for individuals and 50% (1.5x) for brands.
Buddy Media found that only 24% of Tweets contained hashtags. Keep in mind that the sweet spot is two hashtags per Tweet; any more and you risk diminished engagement.
However, it's worth bearing in mind that brands can go without hashtags, depending on the situation. For specific actions such as driving visitors to a website, Tweets that don't include a # or @ mention will generate 23 percent more clicks. On the other hand if you're trying to join a conversation, you should absolutely use a hashtag.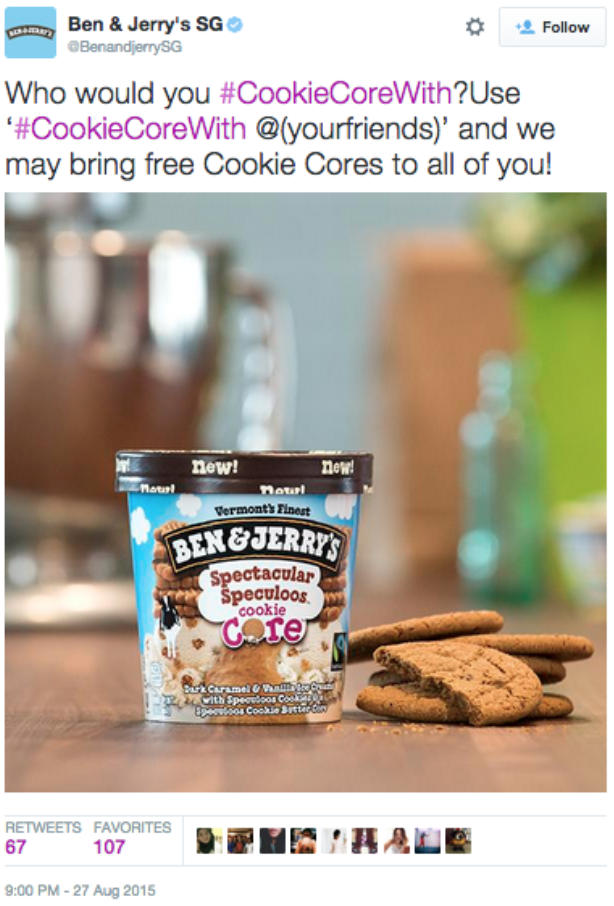 Tip #3: Timing matters
Scheduling your Tweets at the right time can help maximise audience reach and engagement.
The #CookieCoreWith campaign ran during August; typically one of the hottest months of the year, setting the perfect stage (and excuse) to dig into a bowl of refreshing ice cream.
Well-known for creating unique, themed flavours, Ben & Jerry's also got into the conversation around Singapore's August 9 Jubilee celebrations by unveiling Singapore-unique artwork for their That's My Jam core ice cream.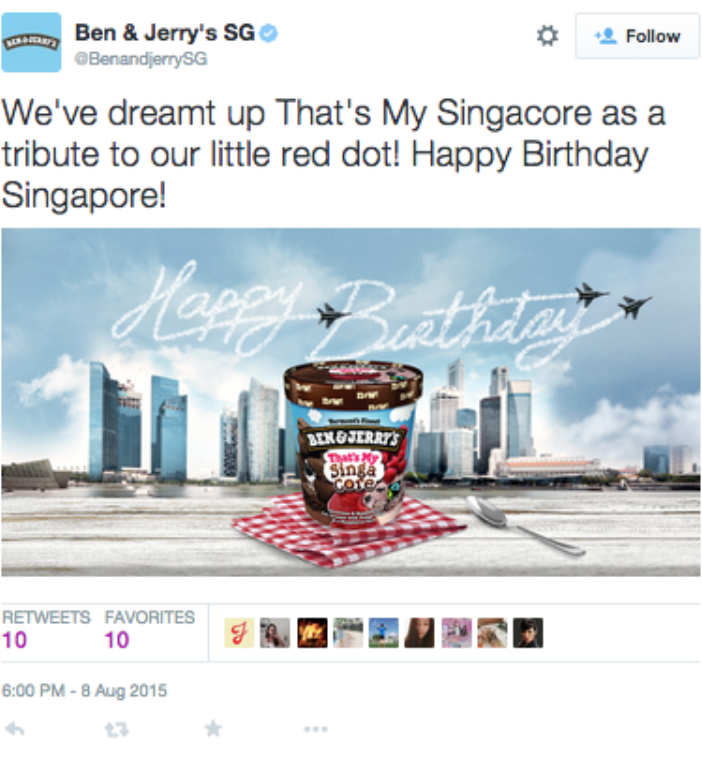 Tip #4: Keep it visual
Inserting images into your Tweets isn't a new idea, but having attractive visual elements can help increase engagement levels versus straight-up text. Photos average a 35% boost in Retweets, while videos get a 28% boost. Twitter's rich Tweets, whether via photos or Vine videos, can help bring your followers closer to what's happening, and make them feel like they're right there sharing an ice cream with you.
Images that cut to the core of what your product is about increase interest and shareability, and if your product is as mouth-watering as the Ben & Jerry's Cookie Core line, don't be shy about putting it front and centre.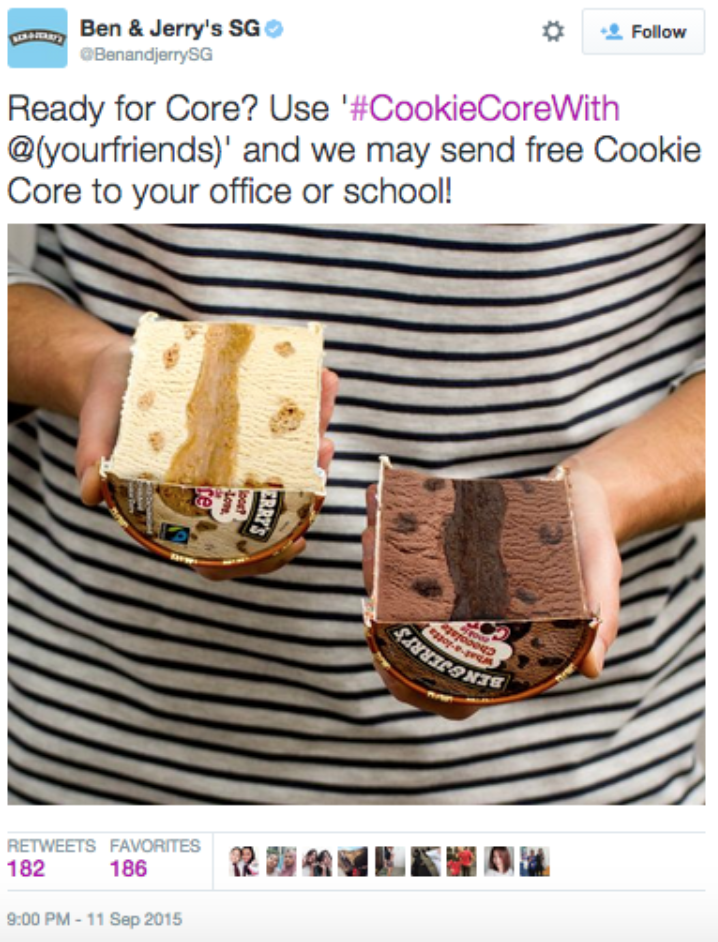 The results
85x normal account mentions

20x normal follows

High engagement rate of 1.9% on companion Tweets

Nearly 400 mentions on official hashtag #CookieCoreWith in a single day!