With so many brands jumping on the festive cheer during major holidays such as Chinese New Year, cutting through the clutter may prove to be challenging. While many may choose to just stick to the tried and tested way of issuing free red packet envelopes to its customers to spread brand awareness, DBS decided to take it one step further. This was through a digital and social media push to reach out to its 300,000 combined Facebook audience with POSB.
The campaign garnered much success, allowing DBS to clinch the silver award in the recent Marketing Excellence Awards 2017 Singapore for the category Excellence in Viral Marketing for its campaign "Spreading Joy this Festive Season".
This post was done in conjunction with Water's Edge.
Problem
Traditionally, DBS celebrates the Lunar New Year by distributing more than 1 million red packets to customers during over-the-counter in-bank transactions. However, other banks would also vie for attention during this period with red packets of their own.
On top of that, an additional challenge in increasing brand engagement during the festive period surfaced: with POSB celebrating its 140th anniversary this year, its mascot, Smiley the squirrel, had to feature somehow.
As a result, they needed to find a way to reach out to its target audience – not merely in terms of focusing on red packet design, but finding a different angle to break out from the noise and create emotional association, all while keeping the user journey simplified and light-hearted.
Solution
Since the strategy was to drive brand engagement on an emotional level, DBS turned to the 300,000 combined Facebook fan base they shared with POSB to drive the campaign, as well as showcase its standing as an institution at the forefront of digital innovation. Most DBS communications were fronted with the boy and girl (i.e. Xing & Jaan) mascots typically featured on DBS red packets, considering its deep association with the brand, while POSB communications showcased highly recognisable Smiley the Squirrel.
Noting the increased use of mobile devices, each consumer interaction was designed to be mobile-first, without the need for them to download yet another app to its already saturated phone storage. Extending from this, other creative ideas that conform to current media consumption habits were developed.
Objective
With a distinct strategy and mode of engagement, team DBS defined two key objectives:
Leverage cultural opportunities to drive brand engagement on an emotional level through relevant content delivered through digital and social channels
Deliver subtle brand messages via these engagements, to improve brand sentiment and association
Execution
Considering the objectives in mind and broad target audience, the execution was split across two phases to build initial excitement, then drive engagement, so that fans would continually be drawn to take part in the planned activities, week after week.
Before Lunar New Year
Riding on well wishes for the festive season, a "Huat Huat Huat" 360 degree Panorama Contest leveraged new technology that allows 360 degree photos on Facebook, attracting fan participation through a count-and-win mechanism. All they had to do was count the number of gold coins within the image, comment with the right answer, and stand to win a limited edition red packet containing SG$88 in cash.
This was complemented by digital stickers featuring Xing & Jaan – image files of DBS' mascots that served as a "hack" around not being able to create actual Facebook stickers. These were forwarded as festive greetings after downloading onto one's phone, in line with the positive seasonal sentiment. They were also posted in a photo album on DBS' Facebook page for Singapore, Hong Kong, and Taiwan, and subsequently used by DBS customer service officers in its replies to Facebook comments, garnering likes in return.

An internal platform was also built to allow DBS staff to send personalised e-cards out, with recipients able to then forward it to their own friends and family, initiating a chain of goodwill.
During Lunar New Year
In keeping with the festivities, a POSB "Where's Smiley?" online game allowed users to experience addictive gameplay and prizes. Gameplay was deliberately kept as simple as possible: users had to search for POSB's Smiley mascot and five pineapples within a time limit and one of three random background images featuring a Singaporean icon and subtle POSB branding. With SG$100 given away on each of the Lunar New Year's 15 days, fans were given ample reason to cheer.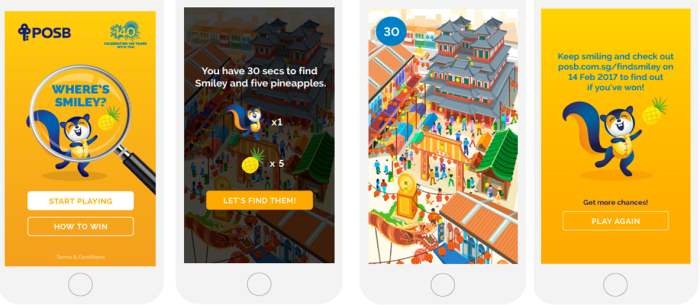 Results
Over the course of the campaign, DBS managed to achieve a record-breaking 180,000 total digital engagements*, exceeding the initial target of 50,000.
The "Huat Huat Huat" 360 degree Panorama Contest alone pulled in more than 6,500 Facebook shares and over 9,100 comments, with two times contest posts recording the highest number of engagements in DBS Singapore's Facebook page to date – vindicating the ground-breaking use of 360 degree photo format as a novelty draw.
Xing & Jaan digital stickers also gathered overwhelmingly positive feedback, with more than 6,600 digital engagements. More significantly, DBS customer service officers received good feedback when utilising these stickers in their Facebook replies, a seldom-witnessed occurrence in the demanding world of customer service.
In addition, 5,403 digital e-cards were sent to DBS staff, clients, and their affiliates, resulting in 10,402 visits to the campaign microsite.
Even the POSB "Where's Smiley?" online game brought about a measure of resounding success, seeing 524,989 gameplay instances, 258,629 contest submissions, and more than 1 million page views. 64% of users played the game on their mobile phones, justifying the mobile-first strategy.
The simple and short gameplay proved to have mass appeal and encouraged repeat plays – each user played an average of 19 times and submitted an average of 9.4 entries. Better yet, more than 2,000 visits were recorded even after the contest had ended, contributing to the campaign's fantastic reception on social media.