Sun Life Malaysia is a relatively new player, having only ventured into Malaysia in August 2013. It offers a range of life insurance, and Takaful products and services to Malaysians across the country. The company focuses on helping clients achieve lifetime financial security.
The brand attributes are based on bringing positivity and optimism to the lives of Malaysians.
This post was done in conjunction with Sun Life Malaysia. The campaign - SHYNÉ 3-in-1 Mobile App won silver - Best App – Community Service / Government, bronze - Best App – Creativity and bronze - Best App – Utility during the recent Mobex 2017 awards.
Background:
It aims to build a relationship that Malaysians could relate to and that goes beyond the "process" of purchasing the products and services. More importantly, the company wants to be seen as a "value provider" that creates valuable and lasting engagement instead of just a service provider.
Objective:
Surveys and reports have concluded that Malaysians generally do not save enough for their future. According to the Employees Provident Fund (EPF), one in three Malaysians do not have a savings account; 90% of rural households have zero savings, while in urban households, 86% do not have savings. That's pretty scary.
There are always excuses and reasons for why Malaysians cannot save. The main reasons being "My income is too low for saving" and "I have a lot of commitments. I don't even have enough money to eat"
So, is saving really that difficult? There is this classic Malay proverb: "Sikit-sikit, lama-lama jadi bukit" which means, "Even little grains of sand, over time, will build a mighty mountain."
With this in mind, Sun Life Malaysia conceptualised a three in one mobile app that helps Malaysians track small expenses so that they can watch their savings grow. Moreover, the company added key features that can also help them save time, and maybe even their lives in time of need
Strategy:
Most financial tracker apps in the market only come with the functionality of tracking expenses and without the ability of e-filing receipts for future reference. Similarly, these apps also do not alert the users when they overspend which means they do not actually help in financial planning and budgeting.
With nearly four million apps available across mobile stores, smartphone users are starting to become more selective. After all, who would want to download apps that will only take up storage space in their phones?
Hence, right from conceptualisation stage, Sun Life Malaysia focused at functionality, relevance and value as the topmost considerations. A stand-alone financial tracker app will definitely not spell 'sexy' nor 'interesting' to most users. As such, the company decided to build in not just one function but three functions all-together into the app, allowing users to do away with the need to have three separate apps.
The app's name also went through a thorough creative brainstorming where instead of using the conventional word of 'Shine' to relate to Sun Life Malaysia's brand attributes of sun, bright, positivity and optimism. Hence, the company decided on SHYNÉ which reflected the creativity and personality of the brand.
Sun Life Malaysia launched SHYNÉ on 19 May 2016 which not only helps Malaysians track small expenses to save money, but also locates nearby services and be their saviour in time of need. Its total production cost was less than MYR200,000.
SHYNÉ's features:
1. Plan your money:
Track daily expenses according to your set budget, so that the users do not overspend. It comes with the ability to store receipts in your Photo Gallery, alerts you to key in your expenses three times a day, alerts you when you overspend and gives you a complete summary of daily, monthly and yearly expenses.
2. Service locator
Features categorised key services such as hospitals, police stations, petrol stations and more so that users can easily find their way around and save time.
3. S.O.S
Notifies users' five emergency contacts with just a tap so they can quickly reach them in the time of need.
[gallery ids="169091,169092,169093"]
Execution:
As a mobile app, it was important for it to be easily accessible, and hence the marketing platforms focused on the mobile and digital sphere.
A one-month campaign was carried out from end of May to end of June, with a total budget of MYR100,000, to promote the app to Malaysians and encourage downloads.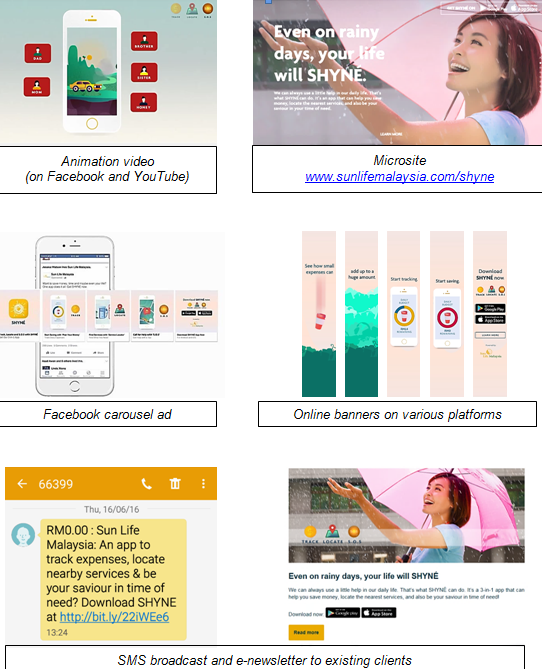 Results:
At the end of the one-month campaign, SHYNÉ achieved remarkable results:
There were a total of 30,976 installs, exceeding the targeted download of 25,000.
Over 77% of users who rated the app on Google Play Store and gave it four and five star rating.
We acquired 7,425 new Facebook fans during the campaign period.
Our online banners have 238,509 impressions with the 'Plan Your Money' financial tracker performing the best with impressions of 172,540.
Overall media performance:
Platform
Ad Unit
Impressions
Delivery
Delivery %vs KPI
Facebook
Video ad
193,493
42,719 views
190%
Affle
Banners
238,509
14,853 installs
121%
Inmobi
9,182 installs
115%
Google
4,584 clicks
104%
YouTube
Pre-roll ads
25,943
433 views
100%
Facebook
Carousel ad
N/A
5,970 installs
119%
Organic
N/A
N/A
971 installs
N/A