At the iClick x Marketing event, "Discover the secret to adopting data-driven marketing", Yan Lee, chief product officer of iClick Interactive, opened the conference with an overview of data and how it can be applied to marketing effectively.
Fundamentally, iClick Interactive provides a single unified platform to manage online marketing, particularly in China. But China is no easy beast to master, and to understand why a single platform is an absolute necessity, a bit of background is required.
"In the beginning, it wasn't even about automation yet; it was about bringing together all the marketing and media channels, and at the tip of the iceberg back then, bringing together all the data to start performance marketing in a single dashboard," Lee said.
But the landscape has changed dramatically since those days, with new media and new channels – and the market has experienced a lot of fragmentation across platforms.
"In China, we don't even talk about fragmentation anymore, they call it 'dustification'. The fragments are so tiny; there's a specialised player in every single field and it is changing all the time," Lee said.
For example, when live-streaming started, there were a number of players and marketers scrambling to jump on board, but within a few short years, the market changed again – now it's about short videos. Keeping track of these consumption trends is a behemoth task.
"We keep getting asked – what's the latest trend, who's the hottest? It's really hard to catch up," he said.
The only option that remains then, is to rely on data to determine who to talk to, where, when and how. But that begs the question – how do you do that? The answer is, unfortunately, not as simple as one would hope.
"We run China's largest consumer database, with about 639 million monthly active users – which represents about 95% of China's internet users. These consumers are tracked anonymously, and the data is used to find out what they're interested in and how that can be connected to the brands – essentially matchmaking." Lee said.
But that fragmentation and enormous user base aren't the only obstacles when it comes to breaking into the Chinese market – it's also understanding the huge cultural, market and consumer differences. While some may have a macro-understanding of China, Lee points out that nobody in China really lives on the average GDP line. Mostly, it's divided between the very rich and the very poor.
So going by averages is ineffective – it's crucial to generate insights from the data collected and target specifically, rather than demographically. The problem is exacerbated by the big three players (Baidu, Alibaba and Tencent) having, for example, very different definitions of what a "high-net-worth individual" is.
Additionally, there's a big discrepancy between spending habits and high-net-worth – for example, a lot of people spend more than they make, which would be debt, not high-net-worth. While Hong Kong is about 60:40 in terms of ratio of mobile to desktop users, China is about 80:20. It's a mobile-first economy, Lee points out, and online marketing has already exceeded offline marketing, growing about 18% to 20% YOY.
Backing up this sentiment is Raymond Ng, digital marketing manager for Cartier. He pointed out that Chinese tourists spend about 25% of their travelling budget – or on average US$762 per person – on shopping, whereas non-Chinese tourists typically only spend about US$486. And 65% of those shoppers used mobile payments to make their purchases. And their purchases aren't exactly typical either.
"We have to recognise the power of China's millennials in determining the future of our businesses," Ng explained, as the sales of luxury goods on the Mainland jumped more than 20% in 2017 alone, and the average age of a luxury goods buyer is just 35.
Getting attention and keeping it
But that's only part of the problem. Rupam Borthakur, CEO of consumer insights at Kantar Hong Kong, pointed out that US$335 billion will be spent on digital ads by 2020 – this means consumers are seeing more brand-related content than ever.
And what's more, two-thirds of consumers are willing to pay a premium to avoid ads, and 44% actively block them. "Attention is the new currency. We know we have an attention span that is less than a goldfsh," he quipped. Due to the large amount of content available to consumers, most branded efforts fall on deaf ears.
"When is the last time you put yourself in your consumer's shoes?" he asked the audience. "Consumers would like content that matters to them. They want to be told a consistent story across all the channels that matter, and get experiences that reinforce brand choice."
For example, he pointed out that to be successful, brands need to create content that makes consumers feel something, as the average time of skipping an ad is only eight seconds. "Create intrigue, stand out and be distinctive," he said. "Think more about customer relevancy than you ever did – people may not want to hear your brand story, make them want to." And content can (and should) be customised to different consumers and their attitudes – and should be featured across channels.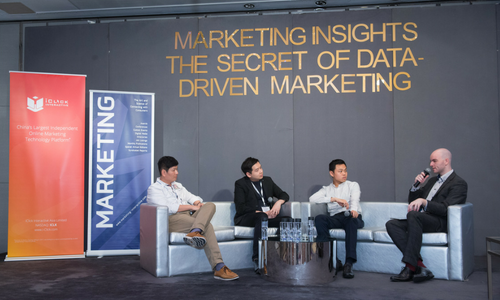 Kantar Millward Brown's research shows that more brand integration cues are required to improve campaign integration and performance.
Cartier's Ng agrees, and feels that multichannel engagement is key – especially for targeting tourists from the Mainland. Utilising different channels before, during and after the trip can be key to converting tourists when they land in Hong Kong – and ensuring loyalty when they go back home. As an example, you could have KOLs review the product, and put ads on WeChat prior to the trip, while during the trip you would geo-target those consumers and provide coupons, while after the trip CRM would kick in.
And customised content for different segments can be the difference between a customer won or lost, Ng explained. Asia Miles' audience analytics and partnerships lead Alan Tsui agrees – and explained that much of the loyalty giant's focus has been on adopting a "customer-first experience mentality". That manifests itself in intelligent targeting and personalised content. For example, if the DMP (through either first or third-party data determines that a customer has the intent to travel to Seoul, it would dynamically show ads featuring Seoul, rather than a fixed destination.

This was demonstrated live on stage, with Tsui showcasing the power of leveraging data and ads being displayed in a more personalised fashion based on who you are and what your interests are.
Making data work for you
Naturally, all this can quickly become an intimidating endeavour, and on top of the wish list of many a marketer is automation to help them orient, strategise and free up time. When it comes to automation, the talk of the town is AI, and how we now conceive AI as self-driving cars, AlphaGo and robots.
But Lee points out that in reality, automation should be about alleviating tedious tasks – and that is not exactly happening.
"AI in marketing is most like a self-driving car. It allows you to set a destination, where you want to go – your marketing KPIs – and then it starts running the system and identifying obstacles. It will register changes in traffic from here to Central and will help guide you to the most optimised path to get to your objective faster and more safely," Lee said by way of simile.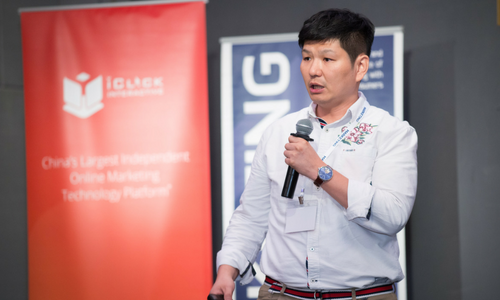 IBM's Terence Chow said: "Cognitive systems are not programmed; like humans, they learn from experts and from every interaction, and they are uniquely able to find patterns in big data. They learn by using advanced algorithms to sense, predict and infer. Doing so, they augment human intelligence, allowing individuals to make faster and more informed decisions." And the development comes at a good time – as data growth has far outpaced marketers' ability to consume it.
For example, in just a single minute, some 30 million WhatsApp messages are sent; 3.5 million Google searches are performed; and some 3.3 million Facebook posts are posted. This would be impossible for any marketer to keep track of, but IBM's Watson Analytics can comprehend 800 million words a second – and perhaps more importantly, it can understand tone, personality, emotional state and more. "Watson Analytics can help you understand your customers in new ways, uncover insights and engage in new ways and make decisions with more confidence."