Callebaut has announced the first ruby chocolate produced in Belgium by the Callebaut chocolate makers – ruby 'RB1'- will be officially available for artisan chocolatiers and chefs in Hong Kong this September, less than a year after it was first revealed in Shanghai.
Ruby is the fourth category in chocolate after dark, milk and white. Research shows that it resonates strongly with a new generation of consumers, mainly millennials (18-35 years old) who balance a healthy lifestyle with the quest for pleasure.
"We are proud to offer the chef communities in Hong Kong this fourth category of chocolate under the Callebaut brand and our Finest Belgian Chocolate range," said Denis Convert, Barry Callebaut's vice president for gourmet in Asia Pacific. "Belgian chocolate has a solid reputation with an image of higher quality standards among the professional chocolate users in Hong Kong."
Ingenuity and international outlook makes Hong Kong ideal for launching ruby RB1. Research shows that strong purchasing power and growing popularity of innovative food products among consumers will boost chocolate consumption in Hong Kong.
According to analyst firm Euromonitor, value sales of chocolate confectionery segment in Hong Kong grew 3% reaching HKD$2.1 billion in 2017. Hong Kong has one of the largest annual per capita chocolate consumption at 1.5 kg in 2017 among Asia Pacific countries -- second behind Australia (5.7 kg) and more than Japan (1.2 kg) and Singapore (1.0 kg).
"Consumers in Hong Kong are seeking more than just a product," said William Gong, gourmet sales and marketing director for Mainland China and Hong Kong. "Offering ruby chocolate to artisans and chefs will unleash a wave of creativity that will lead to exciting new products and concepts for people to enjoy. Enough reasons to look out for the innovative creations that will soon pop up in Hong Kong."
Gong expects ruby RB1 will be most attractive to leading hotels, restaurants, cafes as well as bakery and pastry outlets in Hong Kong.
To celebrate the launch, RB1 was presented at an showcase with illustrious chefs for a handful of chocolatiers in Hong Kong.
Master chocolatier and Belgian chocolate champion, Marijn Coertjens, demonstrated several applications using the ruby RB1 the showcase. Coertjens said: "Without exaggerating: ruby is the most exciting thing to happen in the chocolate industry in decades. With ruby, you need to unlearn what you would traditionally do with dark, milk or white chocolate. This chocolate opens up a host of new ideas."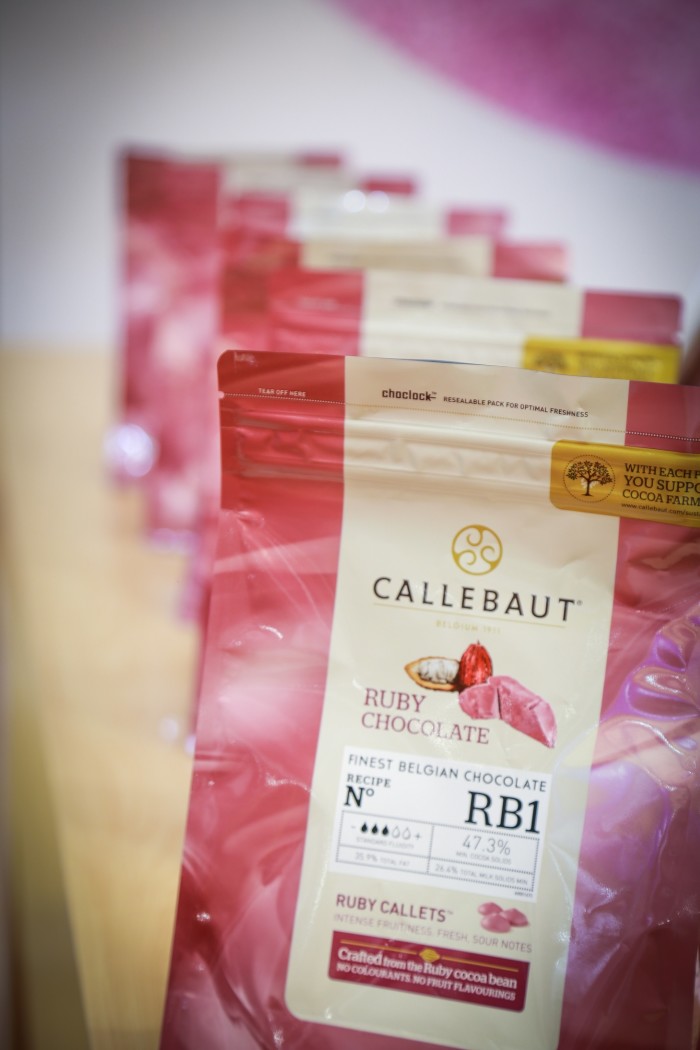 Ruby chocolate was discovered over a decade ago. The invention is the work of the global R&D center of Barry Callebaut, based in Belgium, in collaboration with the Jacobs University (Germany) and over 175 years of expertise in bean selection and chocolate making.
The researchers found out that ruby chocolate was linked to precursors in a specific type of bean: the "ruby" cocoa bean. Identifying the ruby cocoa beans, which hold plenty of these precursors, and finding the best way to process the beans during the chocolate-making process has taken many years of research.
RB1 owes its color and specific taste solely to the expert selection and meticulous processing of the ruby beans -- no fruit flavoring or colorants are added to the chocolate.
"The RB1 recipe has been crafted by the Callebaut chocolate makers in collaboration with Belgian chocolatiers, to encourage creative freedom with its remarkable taste and color. It is low in sweetness, maximizing the fresh fruity character and sour notes." said Convert.
Barry Callebaut, the world's leading manufacturer of chocolate and cocoa products and the company behind the Callebaut brand, has been making waves in China. After the successful premiere of ruby chocolate in Shanghai, the company Shanghai to more than 50 intern introduced the chocolate ritual tasting inational chefs from around the world last month, for the first time in Asia. Callebaut has also gained market share and mindshare among the semi-professionals bakery and pastry users through its e-commerce platform on Alibaba's Tmall.