British Airways' social media team has made a hilarious faux-pas of sharing flight deals for its rival, Virgin Atlantic, but decided to laugh it off.
It all started last Friday, when British Airways accidentally shared Virgin Atlantic's post, which read, 'There's never been a better time to visit London. Book today with Virgin Atlantic.'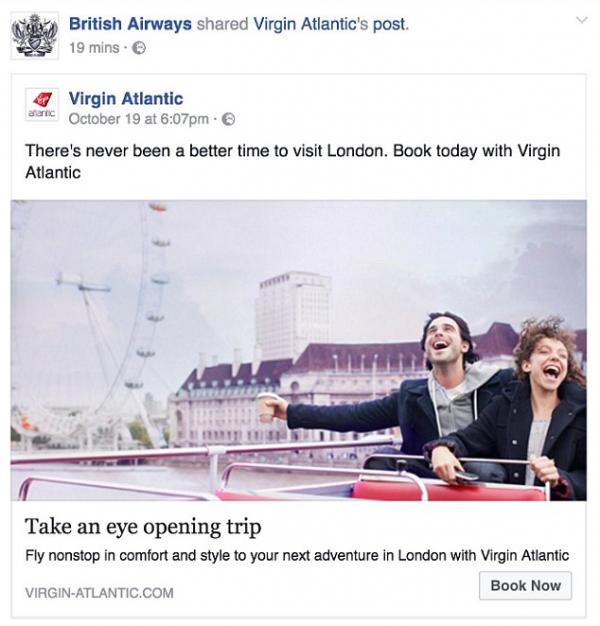 The post indistinctly garnered thousands of likes, with people writing comments and sharing the post - far too late for the team to remove it.
"u(you) guys gd friends with Virgin?" mocked one of its customers at the comment section. Another suggested the airline might be trying to get rid of some customers. "It's like how you secretly check out your ex bf/gf 's Facebook and accidentally click like LOL," said one of them.
Virgin Atlantic surely did not miss the opportunity for a cheeky response.
"Thanks British Airways! So kind of you to share! #onethingweagreeon #flyvirginatlantic".
And just when the situation was reaching peak cringe, British Airways made light of the faux-pas and edited the post: "Finally we agree on something except for how to get there. #FlyBAtoLondon," with a link to their website.
The caption impressed some of its customers, one of which said that British Airways nailed great opportunistic advertising, and that the humor came with a good time. But whether or not you agree British Airways has turned the table, Virgin Atlantic are here to stay - the unintentional plug was a nice boost for Virgin Atlantic,which already has 510,000 followers on Facebook while British Airways has 2.5 million.