Singapore Airlines has beaten other brands when it comes to successfully marketing around the SG50 campaign.
Digital marketing technology company Amobee has monitored online consumption in the months leading up to SG50 to come up with a list of brand winners.
Based on the SG50 theme, the digital consumption – or how often a term or brand was actually "seen" online – was analysed to determine their success in marketing around the initiative.
Below is a list of how brands stacked up in terms of being most associated with SG50 during 1 January and 1 July.
1. Topping the chart was Singapore Airlines with at least 2.4 times more SG50 associated consumption than any other brand. The national carrier offered special SG50-related rates and made the event a marketing centrepiece for its tourist outreach.
2. Google – it is running a contest to create the Google Doodle that will be featured on the Google home page on 9 August.
3. MediaCorp – it created a contest for producing an anthem for the anniversary celebration.
4. DBS Bank – it gave all its employees a SG$1,000 bonus for the event.
5. Lego – it created an SG50-themed commemorative Lego set for the celebrations.
Here are the full rankings: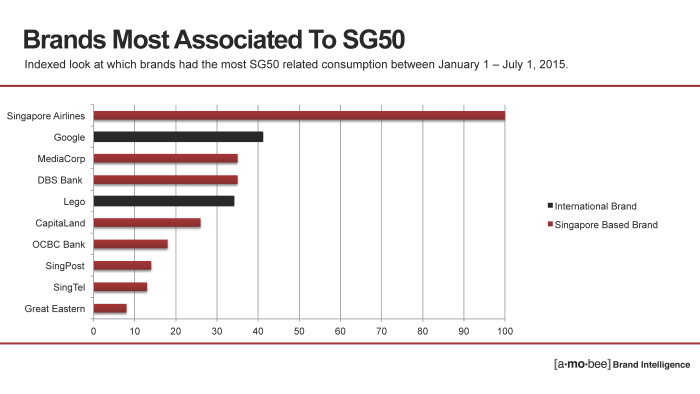 According to Amobee's data, local brands were better at taking advantage of the marketing opportunity.
In the top 10 were Singapore brands, Singapore Airlines, MediaCorp, DBS Bank, Great Eastern, Singtel, SingPost, OCBC Bank, and CapitaLand, while Google and Lego are the only two brands not based in Singapore.