By now we have all heard the new woes that has hit Apple fans with its latest iPhone 6 which can apparently bend out of shape when placed in our pockets. There's even been a hashtag created (#Bendgate) for the new finding. (Read also: iPhone 6 + users bend it like Beckham)
Leading the Apple trolling this time around is Kit Kat. Check it out:
We don't bend, we #break. #bendgate #iPhone6plus pic.twitter.com/uippCg4kCi

— KITKAT (@KITKAT) September 24, 2014
Last year Google also announced that its Android mobile operating system will appear on 50 million KitKat wrappers around the world – which makes this a double burn for Apple! Aside from product placement, the partnership also gave consumers a chance to win Nexus 7 tablets, Google Play credits and coupons for the candy.
Good one Kit Kat.
Competitors LG also tried to take a jab at the new bendable feature. A little half-hearted if you ask me, but you decide:
Our phone doesn't bend, it flexes…on purpose. #bendgate pic.twitter.com/d1DudxDQgf

— LG USA Mobile (@LGUSAMobile) September 24, 2014
#bentgate ??? #GFlex pic.twitter.com/cj5R49Rlkq

— LG Electronics UK (@LGUK) September 22, 2014
#Bendgate http://t.co/LfyW1sPIHR

— LG Electronics UK (@LGUK) September 24, 2014
And no way will Samsung miss out on this epic opportunity. Check it out:
Curved. Not bent. #GALAXYNoteEdge pic.twitter.com/OTPIYlI07f

— Samsung Mobile (@SamsungMobile) September 25, 2014
Meanwhile, this image has also been making its rounds. We're not sure if it was done by Samsung or a fan but its hilarious nonetheless!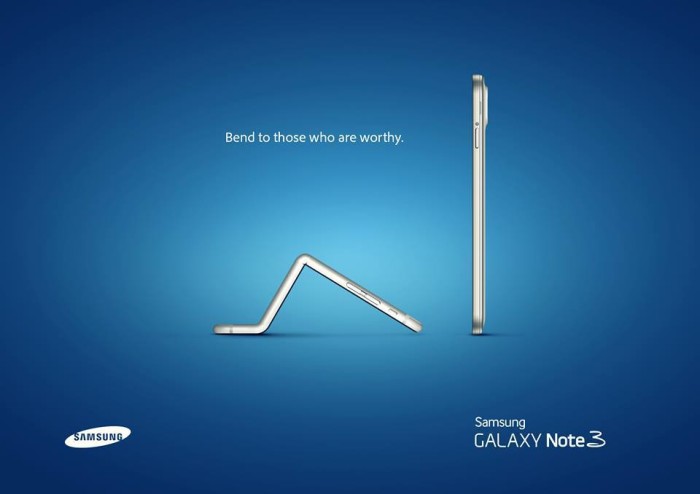 HTC and Nokia joined in the fun as well!
Designed to withstand the most demanding environments. Like your pockets. #HTCOneM8

— HTC USA (@HTCUSA) September 24, 2014
Nicht mal auf Biegen und Brechen. #unBENDable #bendgate http://t.co/XvwsR2iFdC

— Nokia Deutschland (@NokiaHomebase) September 25, 2014
And a hilarious one from Heineken followed soon after:
Dear Apple… #BendGate pic.twitter.com/XJ8zVEUog9

— Heineken NL (@Heineken_NL) September 25, 2014
Have you seen any more jabs? Share with us below.