Brands are stepping up in times of tragedy to help those in need in the aftermath of Nepali earthquake and avalanche that has claimed over 2500 lives and displaced people from their homes. Following the earthquake on Sunday, brands are quickly stepping in to offer their services as well as raise funds for those affected by the quake.
As part of a disaster relief effort, Google and Facebook quickly activated apps for people to find their loved ones.
Google immediately launched a person finder tool to help people locate visitors and residents, while Facebook's Safety Check helps to track loved ones who may be displaced in the areas affected.
We've just launched a Person Finder instance to help track missing persons for the #Nepal earthquake, http://t.co/olPoKniVrZ

— GoogleCrisisResponse (@GoogleCR) April 25, 2015
In a statement released on his Facebook page, Facebook CEO Mark Zuckerberg was quick to announce the apps' activation of Safety Check-   an app that sends a notification to its users to verify their safety. The app also allows users to check on the safety status of their friends and family members.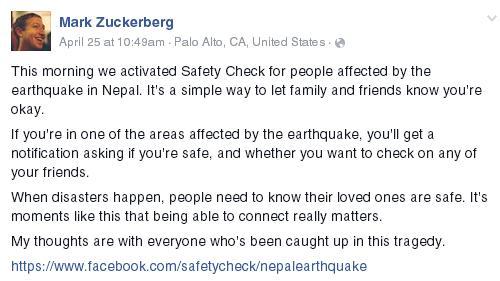 Apple's altruistic efforts sees the brand raising funds for the American Red Cross via its iTunes and the App Store in suggested amounts ranging from $5 to $200. Donations are made even more convenient via American Red Cross' "Emergency App" on Apple Watch. Apple CEO Tim Cook has since shared the link to the donation on his Twitter page:
Our thoughts and prayers go out to everyone affected by the tragic earthquake in Nepal. Donate to the relief effort at #iTunes and #AppStore — Tim Cook (@tim_cook) April 26, 2015

The Humanitarian Open Street Map Team (HOT) is also providing maps online to assist in navigation amidst the rubble and debris.
HOT is actively responding to the #NepalEarthquake by updating base maps. Full info and how to help map at http://t.co/6Bp9NpyCB9

— HOTOSM (@hotosm) April 25, 2015

In a bid to facilitate communication and connect worried family and friends overseas, Viber has stepped in and announced free international calls for all users calling from Nepal.
In response to the earthquake in Nepal we have switched off Viber Out billing so users from Nepal can call any destination for free, allowing them to update their loved ones who are overseas.
— Viber (@Viber) April 26, 2015
Responding to demands for free inbound calls to Nepal, Viber also announced on its Viber Help Twitter page that calls to any Nepalese numbers will also be free of charge. Its Twitter page also provided steps for making free international calls.
Viber users can now use Viber Out to call Nepalese mobile and land line numbers for free. #NepalEarthquake
— ViberHelp (@ViberHelp) April 26, 2015
How to call Nepal for free on Viber: 1) Dial the number in keypad with code +977 or 2) Select "Viber Out" from contact page
— ViberHelp (@ViberHelp) April 26, 2015
Nepali native fashion designer Prabal Gurung has also been raising funds for relief efforts by the Shikshya Foundation Nepal, where he is a board member and brand ambassador, according to Brand Channel. Gurung's Twitter feed revealed that that the Council of Fashion Designers of America Foundation (CFDA) has donated $10,000 to his fundraising campaign raising the totally amount to $125,000.  
Pls. help my fundraiser: Nepal Earthquake Fund. Donate & spread the word. Every dollar counts-PG. http://t.co/y2rJRYCbGu — Prabal Gurung (@prabalgurung) April 25, 2015

Image by Krish Dulal on Wikimedia Commons.