You read that right, a bus shelter just got punched - literally.
In its latest Chinese New Year campaign in Hong Kong, Brand's created the first-ever punched bus shelter with World Boxing Organisation super flyweight world champion, Rex Tso Sing-yu.
Tso was asked to land a punch directly on a metal-made bus ad at Tsim Sha Tsui to leave traces, then the team polished the traces to create three Chinese characters, "好精神". The Chinese can either mean good vibes and positive attitude, or describe individuals being energetic and full of strength.
The punched bus ad is now on display in Tsim Sha tsui near the Kowloon Masjid and Islamic Centre. Other copies of the punched ad were placed at bus shelters across Hong Kong. TVC and online videos are also covered in the campaign to show the punching process, and link the energetic blessings with Brand's, referring to it as the perfect choice for a useful, healthy gift.
Stephen Chung, creative partner of Secret Tour Hong Kong, the creative agency in charge, said the main challenge for Chinese New Year campaign is to break through the traditional CNY ad culture, such as bombarding the customers with red ads or giving standardised blessing sentences.
"Although everyone is calling themselves the best gift, Hong Kong people see new year gifts as boxes of confectionery, and couldn't wait to transfer the 'gift' to someone else on other occasions. So what the brand is doing is to add meaning to the product, and bring the gifting message into action," he said.
Another way to differentiate itself from the stereotype, Chung said, is not to use red as the themed colour in the ad.
Since its launch yesterday, the online video has netted more than 3.2k views and 49 shares.
Magazine print ads, in-store posters, as well as Fai Chun (traditional decorations for CNY), will be covered for an all-rounded campaign.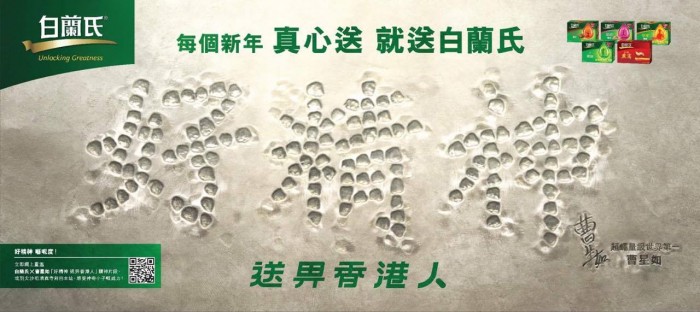 Credit List:
Client: Brand's Hong Kong
Agency: Secret Tour Hong Kong
Creative Director: Arra Tang, Jennifer Yip, Stephen Chung
Account Director: Sammi Chan
Senior Account Executive: Abby Chui
Art Director: Monn Mak
Copywriter: Sze Ling Ling, Eryn Chan
Video Director: Qleg
Photographer: Ben & Thomas
Retoucher: Hoi Wong