Out of 365 days in a year, April Fool's Day is the one day where brands find a reason to unabashedly prank their own customers out of good fun. But what happens when the joke goes too far?
Well, here are three brands which really got their consumers fooled.
IKEA Singapore and Malaysia
IKEA is probably one of the most well loved brands in Singapore and Malaysia with its tongue and cheek stunts. But on April Fools' Day, when it which decided to turn its Småland playground into what it calls a "press-play-ground", it rubbed some parents the wrong way.
In a Facebook post announcing the move, IKEA explained that its "studies" of children's play habits reveal that kids today prefer tablets to physical activity, hence its jump on the bandwagon. Read it here:
Needless to say, IKEA had many parents fooled, and even one occupational therapist.

Some parents even thought that the move was in a bid to reduce responsibility in the event the child injures his or herself at the original Småland playground, hence the implementation of tablets. IKEA's social media team however, was quick to respond, and entertained comments from angry parents.

It even entertained a name change consideration.

Overall, IKEA had many parents and netizens fooled, with only a few initially realising that the Småland tablet playground was announced really close to April Fools Day, and hence likely to be a joke. Good one IKEA!
iPrice and Amazon Malaysia and Singapore
Well we nearly got tricked with this one!
A press release was sent out to news outlets which said Amazon was launching with exclusive affiliate partner iPrice Malaysia. The release stated that Amazon was slated to be launched late 2017 and "millions of local and international products will be made available to Malaysians with same-day delivery service countrywide".
Maintaining the ethos of Amazon, the new e-commerce platform in Malaysia will be guided by four principles: customer obsession rather than competitor focus, passion for invention, commitment to operational excellence, and long-term thinking, said the release.
Among the first special merchants is self-proclaimed Raja Bomoh Sedunia Nujum VIP premiering the popular device named Bomoh Search Engine, Full Set. The product set is made exclusively for Malaysians and includes a pair of fresh coconuts, a pair of the "All Seeing Stick", a wooden basket and a magic carpet. Made in Malaysia, the Bomoh Search Engine is compatible to traditional Bomoh spells and Harry Potter spells, said the release.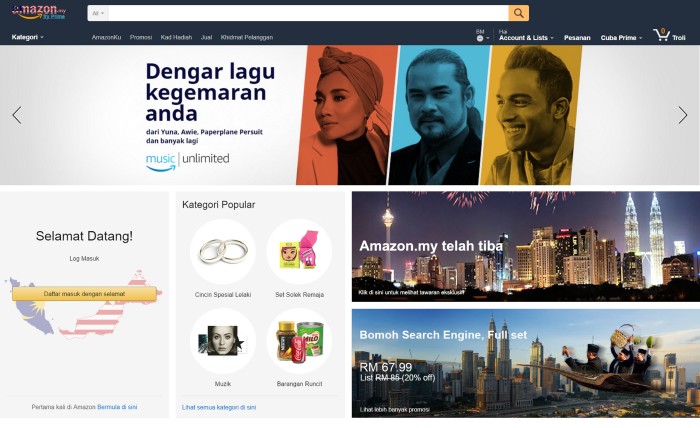 [gallery link="file" ids="171195,171196"]
This was picked up by papers such as  New Straits Times Online and Techseen.com .
Golden Screen Cinemas (GSC)
From the controversial Beauty and the Beast to Power Rangers, having highly-anticipated movies go under internal review due to sensitive, often homosexual-related content has been a familiar happening to Malaysian movie goers. Out of good fun, Golden Screen Cinemas (GSC) decided to set its sights on the upcoming Fast & Furious 8 movie for April Fools Day.
It published a note on its Facebook page, informing movie-goers that Fast & Furious 8 is currently undergoing "internal review" and is "postponed indefinitely" due to "intense chemistry" between the characters played by Dwayne the Rock Johnson and Jason Statham.
Read it here:
[gallery link="file" ids="171216,171214,171215"]
Some Malaysian movie fans were disappointed with the news, with one user pointing out that this feeling was all too familiar. A couple voiced concerns over their pre-booked movie tickets.


This was later revealed to be an April Fool's joke, and movie goers who were affected by the prank were compensated with free cupcakes on Saturday.
Stadium Astro
Stadium Astro, Astro's sports programs website, decided to prank its own TV host Amanda Chang, by making her think she was playing a prank on Liverpool soccer star John Arne Riise.
Chang was tasked to ask the Liverpool star overly personal and poorly researched questions. Not only did Chang partake in a series of overly personal and poorly researched questions, she even got his soccer club name wrong, misidentifying him as a Manchester United player, one of Liverpool's greatest competitors.
The interview documents Riise's growing impatience with Chang's offensive commentary and sees him eventually cussing out the network and walking out of the studio, much to Chang's surprise. Watch the video here:
Later, on Chang's Instagram, it appears as if the joke is on her as she reveals the whole prank, with Riise being in on the action the entire time.
However, netizens did not find the prank funny, with many criticising Chang and the Stadium Astro for being "disrespectful" and giving a bad name to Malaysians.
Yikes.
So which was your favourite prank this April Fool's Day? Let us know in the comments below.