On the occasion of its launch on WeChat, BNP Paribas wanted to communicate its digital presence in an effective way to its audience with its first digital campaign.
The bank then partnered up with social and mobile agency KRDS Shanghai to recruit followers on WeChat, and thus an internal campaign 'BNP Paribas brand ambassador' was launched on WeChat on 16 August to 25 August.
The campaign strategy included recruiting new members using a QR code assigned to each employee. Following this, the employee was encouraged to share their unique code with BNP Paribas stakeholders (clients and partners) so they can scan the code to follow BNP Paribas on WeChat.
The focus was to build a relevant and rich community on the WeChat account and this was possible through the external connections of BNP Paribas employees.
It was launched on 16 August and hit over three times the target followers within three days of the campaign.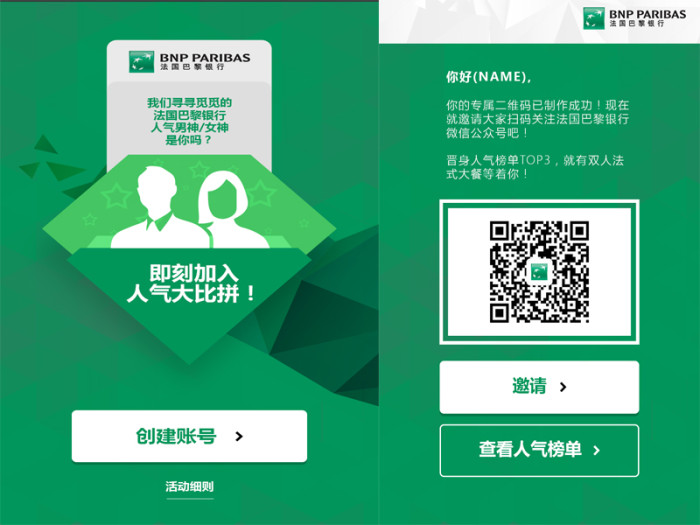 Maggie Ma, head of brand and communications of China at BNP Paribas said: "We are very pleased to see the big success of our very first digital campaign on WeChat. Appreciate KRDS for their expertise and flexibilities in responding to our requests. We look forward to continuing the cooperation as we gradually build up the BNP Paribas presence in the digital marketplace."
Aurelien Ferrie, general manager of Greater China at KRDS Shanghai said: "Staff is one of the most powerful resources as they best represent the brand in front of clients and partners and so we deemed it important for them to be included in this WeChat strategy. We are glad BNP Paribas believes the same."
KRDS Shanghai also bagged a community management contract with the bank for a period of one year and upcoming social media and digital campaigns.