Behind BLWN's curtain: Crafting brands with passion and precision
This post is sponsored by BLWN.
In the dynamic world of marketing and branding, where innovation and creativity reign supreme, one agency stands out like a shooting star across the night sky – welcome to the realm of BLWN, where the universe of ideas converges with precision, passion, and purpose.
Beginning its journey in 2020, it has been relentlessly crafting success stories ever since. With a vision to offer a comprehensive 360-degree end-to-end solution that transforms nascent ideas into synchronised marketing campaigns, BLWN was born out of the desire to bridge the gap between raw creativity and strategic execution.
Its ethos orbits around the theme of the universe – a representation that its ideas and solutions are not just grounded in reality, but transcends the ordinary to craft brand experiences that are truly out of this world.
BLWN's reasons for success revealed
Within the realm of branding strategies, BLWN employs three essential and impactful processes that lay the foundation for its approach. These processes, executed with finesse and dedication, serve as the pillars on which its success stands.
1. Strategy-first approach (why are we doing this?)
In an industry often muddled with fluffy statements and aimless actions, BLWN emerges as a beacon of purpose-driven creativity. What sets it apart is its unwavering commitment to a strategy-first approach.
Each of its creative endeavours is not a mere stroke of inspiration; it's meticulously crafted around a well-defined strategy and a clear objective. This ensures that every creative output is not a shot in the dark, but a deliberate step towards achieving a specific goal for the brand. The outcome of this approach is a seamless fusion of innovation and intention, a harmony that propels brands towards their objectives with unwavering precision.
2. Result-oriented mindset (what does this give us?)
The landscape of campaign execution is a complex one, brimming with myriad possibilities and paths. In this intricate terrain, BLWN distinguishes itself with a result-oriented mindset that remains unswerving.
While its methods of execution may vary, the destination remains constant – results, and its dedication to this principle is unparalleled. It channels its efforts with a laser focus on the end goal, collaborating closely with clients to navigate the complexities of marketing with finesse.
BLWN prefers to view its working relationship with clients as a partnership and through this, it drives campaigns on various degrees towards tangible outcomes and achievements.
3. Committed to success (we got this!)
The realm of marketing is no stranger to surprises and unforeseen challenges. BLWN, however, takes these in stride with an unyielding commitment to success. It understands that not every strategy will unfold precisely as planned, but it is its adaptability and readiness to pivot that sets it apart.
The ability to adapt in the face of uncertainty transforms potential success from a distant aspiration into an inevitable reality. It's this commitment that underlines BLWN's resilience and assures clients that, come what may, success is not just an aspiration, it's the destination we will reach together.
A culture of cultivating excellence
The universe within BLWN extends beyond the strategies it creates to encompass the very culture it nurtures. At the heart of its operations is a commitment to taking care of each other, fostering career growth, and creating an environment where excellence flourishes. In the expansive universe of BLWN, there's room for everyone to learn, grow and revel in their achievements.
Its philosophy isn't just about work; it's about creating an atmosphere where individuals thrive, accompanied by a sense of camaraderie and the assurance that everyone's potential is valued and nurtured. When you have a chance to visit its office, just be prepared for loud waves of laughter, heated debates in meeting rooms, and the constant munching of snacks behind the scenes!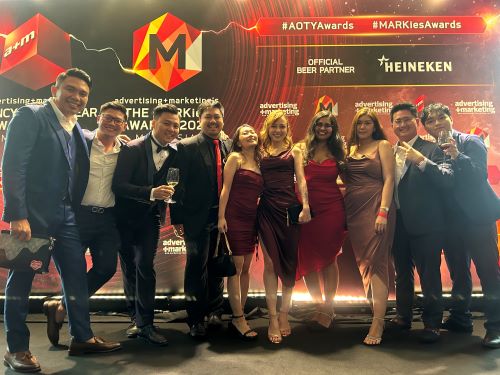 Beyond the Stars with BLWN
The path ahead for BLWN is etched with purpose, guided by its mantra: "Only when marketing is guided by purpose, will it be able to deliver value." This guiding principle ensures that its future is shaped by meaningful endeavours. As we journey forward, we envision BLWN as a lighthouse of innovation, illuminating the way for brands to rise above the ordinary.
In a nutshell, BLWN isn't just an agency; it's a universe of ideas, innovation, and impact. Its journey from inception to becoming a purpose-driven branding team is a testament to its commitment. In a realm where creativity and strategy intertwine, BLWN has redefined the art of crafting brands and it is leaving an indelible mark on the world of marketing and branding.
Follow us on our Telegram channel for the latest updates in the marketing and advertising scene.
Follow
Free newsletter
Get the daily lowdown on Asia's top marketing stories.
We break down the big and messy topics of the day so you're updated on the most important developments in Asia's marketing development – for free.
subscribe now

open in new window