Batman fans would jump at any chance to tip off Batman and get him to come and save them from a criminal.
A mini-site game launched by Times Square allows you to do exactly that – in the virtual world of the internet and mobile phones.
After a Whatsapp-style Q&A with Gotham City Police Department (GCPD), the user inputs the address of where he or she is located to receive an image of Batman arriving on scene at the location they entered.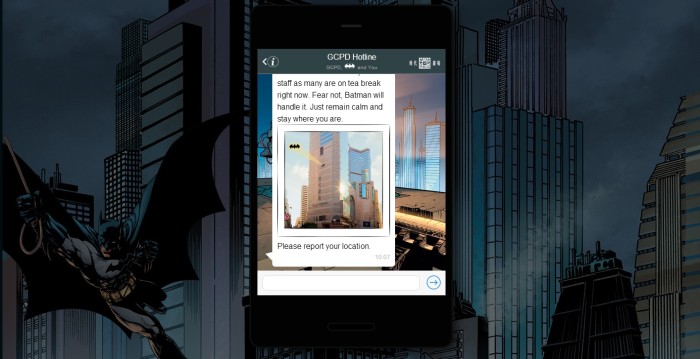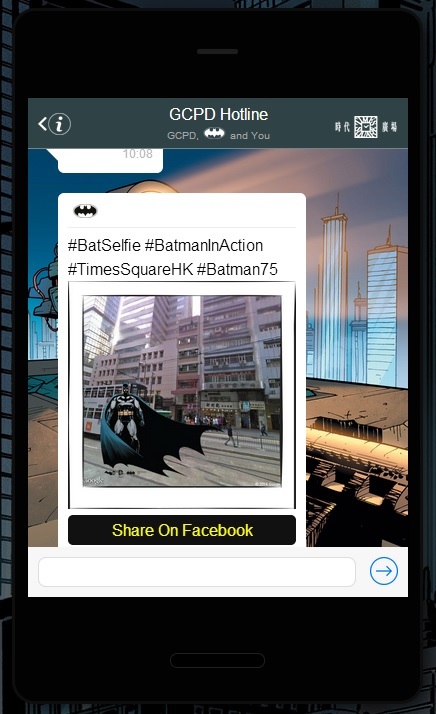 "When we think of Batman, we often think of turning on the Bat Signal to summon Batman to come and save the day. Based on this idea, we decided to create a virtual crime reporting hotline where participants can report a location to Gotham City Police Department and summon Batman," Vernon Ma, manager of promotions and centre operations at Times Square, said.
"Since most Hong Kongers use SMS or Whatsapp to communicate with their friends and family, the hotline comes in the form of an instant messaging format on the mobile and PC versions of the mini-site, allowing people to interact with and text Batman for help."
Users playing the game more than once will realise that Batman takes up various poses in different images.  Surprise elements are built into the game to keep things interesting, where for example, you might receive an image of Batman on the MTR because he was stuck in a traffic jam.
Print ads featuring a QR code linking to the mini-site was also part of the campaign.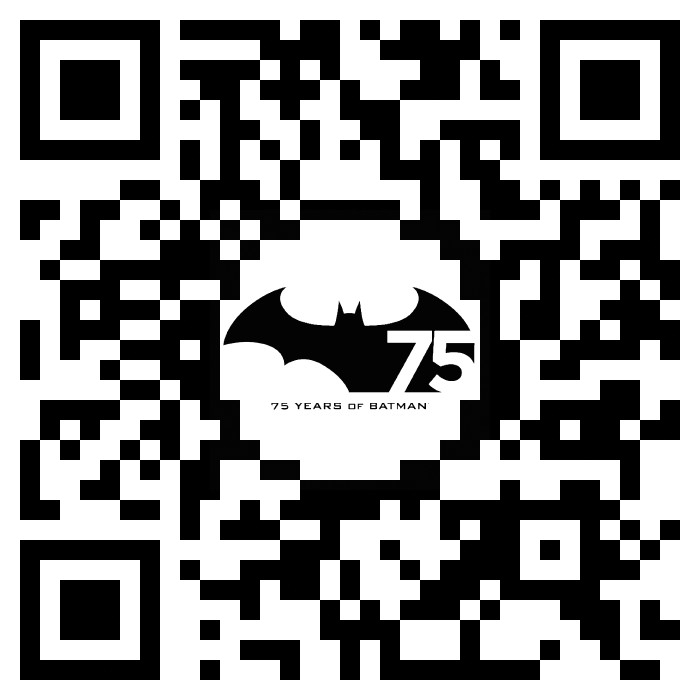 At the end of the game, a message is sent to users promoting the 75 Years of Batman exhibition at the shopping mall.  The campaign will run until July 20 along with the exhibition.
In the first week of the campaign, 3,500 unique users have participated in the game.  The number of unique users that Times Square hopes to reach is 5,000.
The drive to promote the exhibition through social media is clear.  Through the "Share on Facebook" button prominently located below the image of Batman juxtaposed against the user's current location.
Ma said, "We are trying to extend our level of awareness online by making use of technology and social media.  Social media allows more people to find out about our interactive Bat Signal campaign and the Batman exhibition."
If informed consent was given by the user, the campaign would have provided an excellent opportunity to collect location-based data of prospective customers but for this campaign, Times Square decided not to collect such data.