The BAT companies — Baidu, Alibaba and Tencent — combined will account for the lions' share of programmatic expenditures in China, eMarketer predicts.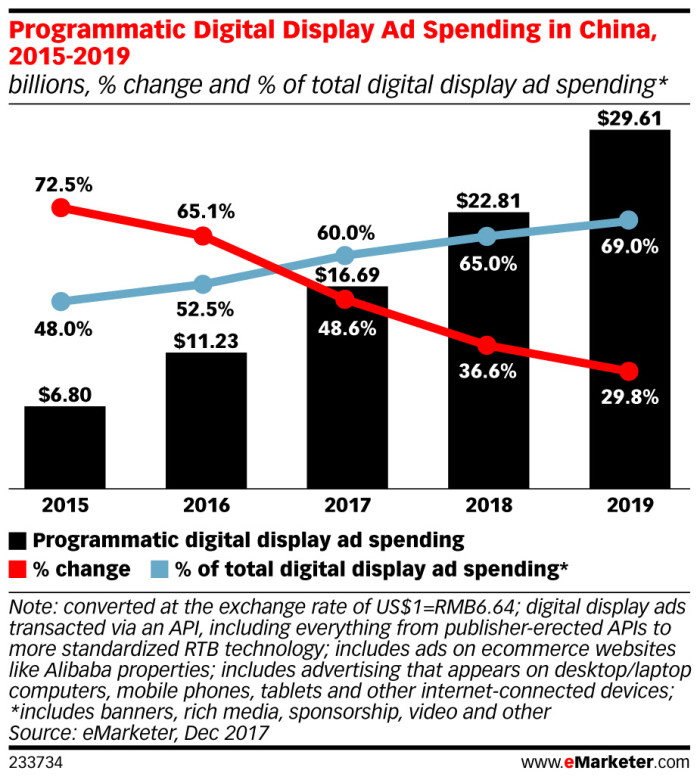 By the end of 2019, eMarketer predicts programmatic digital display ad spending in China will reach US$29.61 billion, representing 69% of total digital display ad spending in the country.
Thanks to the high smartphone penetration in China, mobile will continue to be a major growth driver of programmatic spend.
"eMarketer raised its estimates on programmatic ad spend in China, thanks to the growing influence of the BAT companies," said Shelleen Shum, senior forecasting analyst at eMarketer.
While over 60% of digital advertising spend already goes to BAT, their influence on the programmatic market is even more dramatic.
"Despite the relatively sophisticated ad buying technology on the BAT platforms, the players outside the big three remain few and undeveloped. China's programmatic market still remains behind the US and the UK as BAT's outsized influence stymies the growth of a competitive ad tech ecosystem."