You would think marketers have wisened up by now and not market their products during times of calamity. But with the following incidents, it appears not.
While the world rallies together to get aid to the victims of the recent earthquake in Nepal, (read also Brands step in on Nepal earthquake disaster) other brands seem to have landed themselves in PR disasters of their own.
Online eye wear seller LensKart sent out an SMS' to its customer base to "shake it off" like the earthquake by buying its sunglasses. This led to netizens rallying together on social media to create a hashtag called #ShameonLenskart.
Following a backlash online, co-founders of Lenskart, Peyush Bansal and Amit Chaudhary put out an apology on a blog post which said the promotion was done in " poor taste". It added that the move was "completely unacceptable" and "is against the standard" that it has set for company to operate as a responsible member of society.
"We are really sorry that this has happened. We have already taken steps to put safeguards in place to ensure that is never ever repeated. We would like to tender an unconditional apology to the society at large and especially to the affected families and to everyone whom we have offended. We sincerely hope that you will be able to forgive our lapse," the apology letter said.
Meanwhile e-retailer American Swan also took on a similar tactic sending out SMS' to its consumer base stating : "Whooaaa! This is an Earth Shattering offer".
Responding to all the backlash online, the e-retailer apologised to all of those who had posted on its Facebook page and slammed it on Twitter, saying that it is deeply apologetic for the lapse and is owning up our error.
Meanwhile property developers also seem to be taking a dig at the situation. The Prasad Group also put out this ad for its property soon after the Earthquake hit. The ad reads: "Rare Earth in the heart of the city. Earthquake resistant design."
Take a look at an ad the company put out: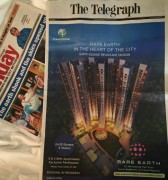 (Photo courtesy: Shutterstock)