Asiaray Media Group, an outdoor media company focusing on airport and MTR advertising, has priced its Hong Kong initial public offering at up to HK$7.02 a share. The group is issuing a total of 110 million shares globally, of which 99 million is for international placing and the remaining is for Hong Kong.
The company hoped to generate around HK$698.2 million. The new IPO marks the company's most aggressive move to take a bigger bite of the lucrative China market. Here's the ad it put out in the local media.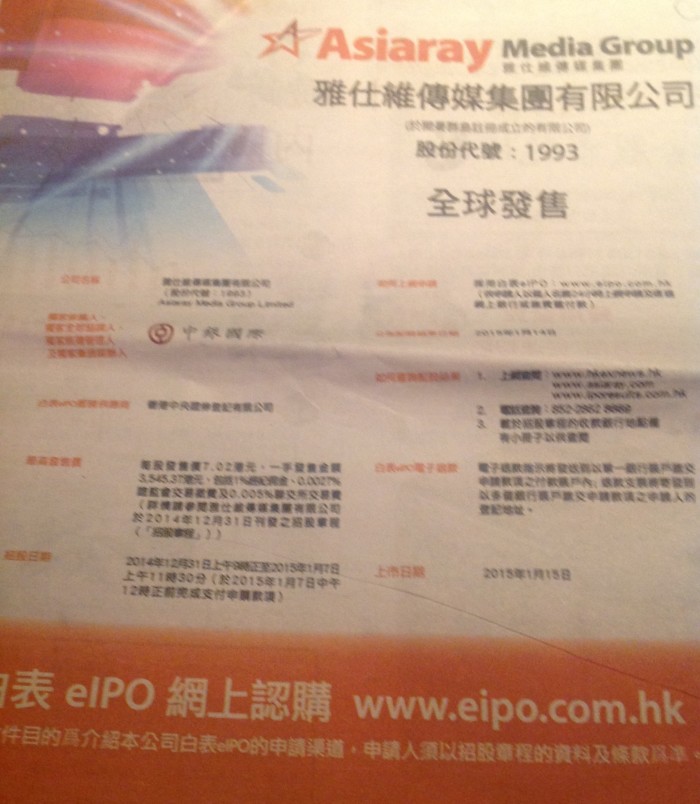 According to the company, a big chunk of the net proceeds will be spent on media resources for new airport terminals in the mainland, including 42% for media resources in the new airport terminal at Hangzhou Xiaoshan International Airport, additional investments in Henan Airport Asiaray and additional media resources in the planned new terminal at Zhengzhou Xinzheng International Airport.
Another 38.2% will be spent to boost its metro lines offerings in China, including Wuxi, Zhengzhou, Ningbo Metro Line No.1, and Shenzhen Metro Line No.4.
The remaining 19.5% will be used for billboards developments, building solutions, working capital and other general corporate purposes. To date, the out-of-home media broker has businesses across 33 cities in Greater China with operations at 26 airports, 10 metro lines and more than 340 billboards and building solutions.