ZenithOptimedia predicted global ad expenditure will grow 4.7% in 2016, reaching US$579 billion by the end of the year.
For Advanced Asia, a classification that includes Australia, New Zealand, Hong Kong, Singapore and South Korea, the agency predicted a disappointing 2.7% growth in 2015 as Singapore continued to suffer from a weak property market, and a slowdown in China and other emerging markets which has hit exports from all markets.
It expected growth in Advanced Asia to average 2.2% a year through to 2018.
Meanwhile, mobile is now the main driver of global adspend growth. Mobile is forecasted to contribute a full 87% of all the extra adspend between 2015 and 2018.
Television and desktop internet will be the second and third-largest contributors respectively, accounting for 13% and 6% of new ad expenditure respectively.
The gains made by outdoor, radio and cinema will be outweighed by the continued decline of newspapers and magazines, which we expect to shrink by a combined US$10 billion over the forecast period.
Fast-track Asia
Growth is set to soar for the rest of Asia, classified as Fast-track Asia (China, India, Indonesia, Malaysia, Pakistan, Philippines, Taiwan, Thailand and Vietnam).
These economies are growing extremely rapidly as they adopt Western technology and practices, while benefiting from the rapid inflow of funds from investors hoping to tap into this growth.
Fast-track Asia barely noticed the 2009 downturn and since then has grown very strongly, ending 2014 up an estimated 10.7%.
However, the Chinese economy – the main engine of growth in Fast-track Asia – is finally starting to slow after years of blistering growth, and the ad market is slowing down alongside it.
Ad expenditure in Fast-track Asia is predicted to grow 8.9% in 2015, and at an average rate of 8.4% a year between 2015 and 2018, down from 14.7% a year between 2009 and 2014.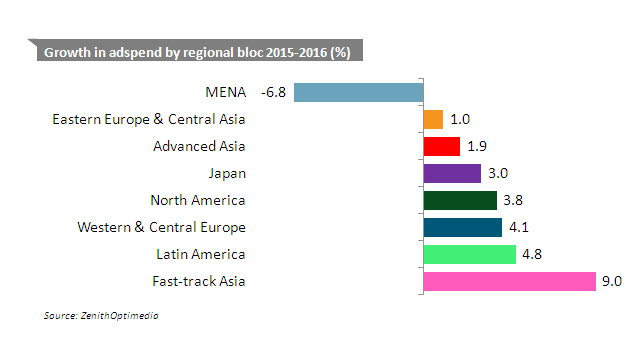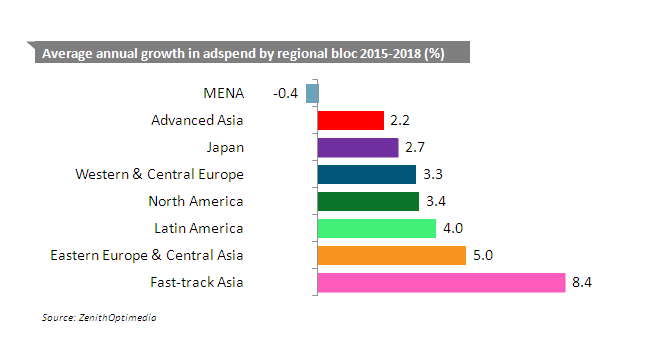 Forecast by leading advertising markets
Despite the rapid growth of the Rising Markets, the US is still the biggest contributor of new ad dollars to the global market. Between 2015 and 2018 we expect the global ad market to grow by US$77 billion. The US will contribute 26% of this extra ad expenditure, closely followed by China, which will contribute 24%. The UK comes third, contributing 7%, and Indonesia fourth, contributing 5%.
Five of the ten largest contributors will be Rising Markets, and between them they will contribute 36% of new adspend over the next three years. Overall, we forecast Rising Markets to contribute 54% of additional ad expenditure between 2015 and 2018, and to increase their share of the global market from 37% to 39%.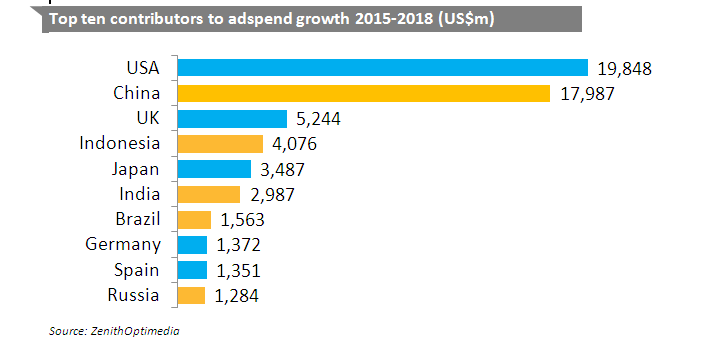 Global advertising expenditure by medium
The internet is still the fastest growing medium by some distance.
Internet adspend is predicted to  grow 18% year on year by the end of 2015, with an average of 13% annual growth between 2015 and 2018. Iinternet advertising will account for 29.0% of global ad expenditure across 2015, up from 25.5% in 2014.
By 2018,internet advertising is forecasted to attract 36.6% of all global advertising, overtaking television for the first time to become the world's largest advertising medium.
Display is the fastest-growing internet sub-category, with 15% annual growth forecast to 2018.
Traditional display (such as banners), online video and social media are all included.
All three types of display have benefited from the transition to programmatic buying, which allows agencies to target audiences more efficiently and more effectively, with personalised creative.
Online video and social media continue to grow much faster – a forecasted annual growth of 20% and 22% respectively over the same period.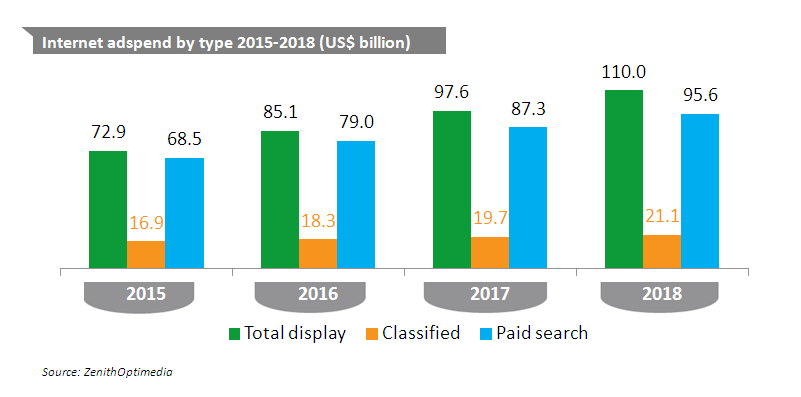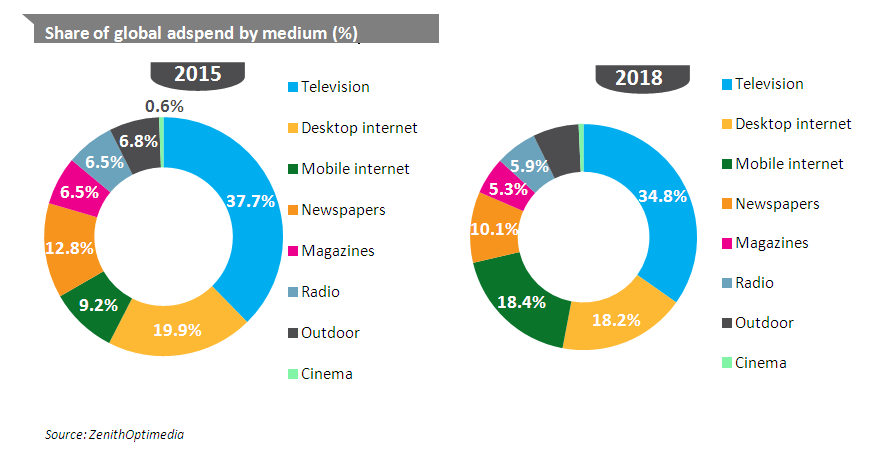 Paid search is expected to grow at an average rate of 12% a year to 2018, driven by continued innovation from the search engines, such as personalising search results, automatically matching search terms to content available on advertiser websites, and enhancing local and real-time search.
Looking at internet adspend by device reveals the dramatic ascent of mobile advertising (including internet ads delivered to smartphones and tablets, whether display, classified or search, and including in-app ads).
Mobile advertising will end 2015 up 71% year on year, with a forecasted average annual growth rate of 32% a year between 2015 and 2018, driven by the rapid spread of devices and improvements in user experiences. By contrast, desktop internet advertising is set to grow at an average of just 1% a year.
Television is currently the dominant advertising medium, expected to attract 38% of total spend in 2015. As mentioned earlier, however, it is now expect the internet to overtake television to become the largest medium in 2018.
Looking at the ad market as a whole, including search and classified,  television's share peaked at 39.7% in 2012, estimate it at 37.7% in 2015, and expect it to fall back to 34.8% by 2018.
However, one of the reasons for television's loss of share is the rapid growth of paid search, which is essentially a direct response channel (together with classified), while television is the pre-eminent brand awareness channel.
Television does not compete directly against search, and indeed the two can complement each other, for example by running paid search activity take advantage of the increase in searches driven by a television campaign.
Taking internet classified and search out of the picture, television will remain the principal display medium for many years to come.
Audiovisual advertising as a whole – television plus online video – is in fact gaining share of display advertising. Television offers unparalleled capacity to build reach, while online video offers pinpoint targeting and the potential for personalisation of marketing messages. Both are powerful tools for establishing brand awareness and associations.
Thus, audiovisual advertising will account for a record 48.4% of display advertising in 2015, up from 44.1% in 2010, and expect its share to reach 48.9% in 2018.